Pictures of Burkes
Pictures of Burkes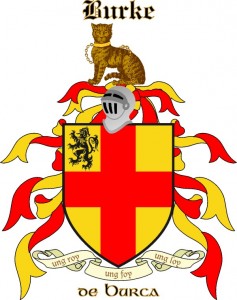 The Burkes took their name from "De Burgh", which was French for, "of the borough".  They were Norman warriors who helped William the Conqueror to conquer England, then helped Strongbow to conquer Ireland.  They were granted lands in county Galway in the late 12th century.  Over the years, their name changed to its current form and the Burkes were known for "being more Irish than the Irish themselves".  Today, Burke is one of the most common names in Ireland.
Burkes were among the warriors that participated in the Crusades.  In fact, their coat of arms bears a red cross on a gold shield, which was customary of a veteran of the Crusades.
The earliest Burke recorded in the US was an Ann Burke who came to Virginia in 1647.  The Burkes were known for being among the earliest settlers of Southwest Virginia.  My Burke heritage comes specifically from Blackwater in Lee County, Virginia.
God's Word is very important in the Burke family.  My great uncle, great grandfather, and great, great grandfathers were all Baptist preachers.