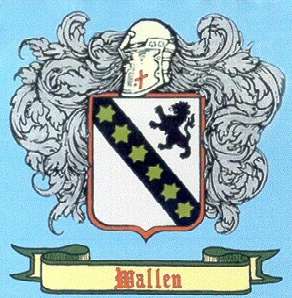 The Wallen surname is Swedish in origin(Wallén): from vall 'grassy bank', 'pasture' (see Wall) + the common surname suffix -én, from Latin -enius.
Our line of Wallens came to Plymouth Colony from London, England in July 10, 1623 on the ship "Anne".  The Wallens were Baptist in belief and disagreed with the Puritans on the age at which a child should be baptized.  So, they migrated to New Jersey, then Rhode Island, then Pennsylvania, and later Virginia.  In historical records, their surname has been mislabeled as "Walling", "Wallin", "Walloon", and "Walden".
Probably the most famous Wallen was Elisha Wallen II, the Long Hunter.  He was a contemporary of Simon Kenton and Daniel Boone and helped pioneer Tennessee, Virginia, Kentucky, and Missouri.  At one time, he had claim to the land around the Cumberland Gap, including the present day site of Lincoln Memorial University.