Showing posts from category: Local History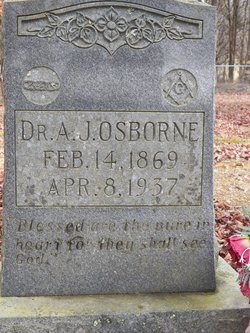 State Route 604 begins at State Route 421 in Duffield, Virginia, and runs through Pattonsville, Blackwater and Jonesville on its way to the Tennessee state line.  On the Virginia side, it is named "Doctor Andrew Jackson Osborne Highway".  Those familiar with the area will know that there are many Osbornes from there.  So why was this particular Osborne's name given to the highway?
Dr. Andrew Jackson Osborne was born in Blackwater, Virginia, on February 14, 1869.  He was the son of James Knox Polk Osborne and Elizabeth Robinette (another famous local name) Osborne.  He had one sibling, Enoch Osborne born in 1877.  He had two spouses, Polly Fisher Osborne, born in 1870, and Ollie J. Stacy Osborne, born in 1879.  Through his two wives, he had 15 children.  You can find their names here:  http://www.findagrave.com/cgi-bin/fg.cgi?page=gr&GRid=82058132
Although his families were impressive, that isn't what brought this man his fame. My father told me that he was one of the earliest DO's, Doctor of Osteopathic Medicine.  This form of medical care was founded in 1874 by Andrew Taylor Still, MD, who decided while serving as a physician during the Civil War that the "orthodox" approaches to medical care weren't sufficient and were sometimes harmful.  Osteopathy takes a "whole body" or "holistic" approach and focused on prevention more than treatment.  The first school of osteopathic medicine was opened in Kirksville, MO, in 1892.  This would have made AJ Osborne a pioneer in the new field.  For a history of osteopathic medicine, go here:  http://www.aacom.org/become-a-doctor/about-om/history
The following information is from the Moore Family of Virginia and Kentucky Genealogy site at http://www.genealogy.com/ftm/h/o/w/Peggy-C-Howell/WEBSITE-0001/UHP-0554.html
Andrew Jackson (Doc) Osborne (son of James Knox Polk Osborne and Elizabeth Robinette)451 was born February 14, 1869 in Blackwater, Lee County, Virginia, U.S.A.451, and died April 08, 1937 in Blackwater, Lee County, Virginia, U.S.A.451.He married Polly Fisher.  
Notes for Andrew Jackson (Doc) Osborne: [osborne2[2].FTW] He was a Blackwater, VA physician for more than 40 years. He trained under Dr. William ROBINETTE and made house calls on his horse 'Old Joe'. He had a good treatment record for the flu epidemic of 1917-18. He was a Mason, Odd Fellow, and member of the Blackwater Lick (Big Door) Church. He served three months in the Atlanta penitentiary for prescribing morphine to a Mr. HOBBS; he was turned in by Mr. ELY. He was born on the Caleb Hurd Farm.
Here is some more information from Janet Gover's Blog-Stories within stories… within stories at http://janetgover.com/?p=4021
People would walk for miles to visit his (Dr. AJ Osborne's) medicine house and he would also travel on horseback to see patients long distances away. It was said he often slept on that horse's back. When he reached the medicine house, the horse would nudge the door to make enough noise to wake the doc.
He never charged his patients – but those who could pay something, did.
He was particularly distressed by the infant mortality rates in the mountains – and tragically ten of his own children died at birth or in early infancy.
Doc Osborne ministered to the people all his life and was poor all his life. When he died in April 1937 the Rev Frank Phipps had to find a suit for him to be buried in.
Janet found the information on Dr. AJ Osborne at the Museum of Appalachia in Clinton, Tennessee, where Dr. Andy's entire office is on display.  Here is their website:  http://museumofappalachia.org
But the best website containing Dr. AJ Osborne's story can be found at The Country Doctor and Natural Medicine Newsletter at http://www.jmcnaturalmedicine.com/dr-amjad-library-book-1.html.  There's simply too much information to put on my page.  But I highly recommend reading it.  He was quite a man.
I remember Dad telling me that my great-grandpa, Elbert Roberts, attended a German Baptist Church in Blackwater.  The German Baptist were also known as "Dunkers" since they believed in completely immersing a person three times during baptism.  They are commonly known as the Church of the Brethren today.
I have tried to find a location for this church in Blackwater, Virginia without success.  However, I did find the following reference to it at a very information Church of the Brethren website, http://www.cob-net.org/antietam/dunkers.htm :
"Slavery
What did the Dunkers believe concerning slavery, at the official denominational level? Since the Dunkers or Brethren had migrated from Pennsylvania into a few southern States (Maryland, Virginia) with significant slave populations, the issue of slavery would inevitably confront them denominationally at their Annual Conference. The earliest record of an official mention was in their Annual Conference minutes for 1797, held at Blackwater, Virginia: "It was considered good, and also concluded unanimously, that no brother or sister should have negroes as slaves; and in case a brother or sister had such he or she was to set them free." [1] This had the effect of barring members from Communion and even disfellowshipping those who persisted in retaining slaves. Again the issue was similarly reflected in the minutes of the 1713 Conference held at Coventry, Pennsylvania."
This is interesting since my direct ancestors fought for the Union although they were Southerners.
Here is another information web site:  http://www.nps.gov/anti/historyculture/who-were-the-dunkers.htm.  Apparently, German Baptists played a big part in the battle of Sharpsburg.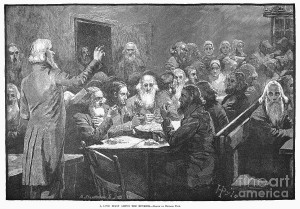 German Baptists or Dunkers typically dressed similarly to the Amish and Mennonites.  They could be easily identified by their beards with no mustaches.  This reminds me of a story that Dad and Grandpa Baker told me when I was a kid.  I'm not sure if it was based on a real story or just a joke, but here is how it goes:
A German Baptist was riding a train and noticed that the man sitting across from him kept staring at him.  Finally, the man asked him, "Why do you wear your beard that way?".  The German Baptist replied that he was a Dunker.  The man responded, "Well, I like to have a drink or two myself.  But I still don't understand why you wear your beard that way."
I hope that I didn't offend you.  My Dad and Grandpa got tickled when they told that story.
If you have any more information on the German Baptist Church in Blackwater, I would love to hear it.  I have found a possible former location on the Blackwater Creek.  But I only have GPS coordinates for it.
http://www.rootsweb.ancestry.com/~vapittsy/1782LandTaxes.htm
Name                                                   Acres
Joseph Bayes                                       350
William Beel                                          100
William Griggory                                  60
Clement McDaniel                               300
James Caldwell                                     300
John Watkins                                       100
Samuel Brooks                                      125
Henry Blanks                                        175
Abednigo Tunner                                50                                                                                                                           Thomas James                                      100
John Onern                                           100
John Bayes Senior                               96
John Bayes Junior                               50
Stephen Coleman                                 800
Richard Brown                                      1166
Martha Stewart                                     400
Isham Farmer                                        445
John Terrill                                            400
William Hughes                                    200
Charles Irby                                          350
William Claibrook                                 400
Mary Dudgean                                     400
Richard Bayne                                      1000
Thomas Shields                                    80
Joseph Leak                                          100
Benjamin Brawner                                160
John Wimbish                                      2556
Beverley Barksdale                              324
Robert Mann                                        300
William Walron                                    670
Rawley White                                       460
Ambrose Hailey                                   225
David Terry                                           516
James Gray                                            880
Catherine Walker                                 800
Martha Lacy                                         400
Elijah King                                             434
Benjamin Terry                                     1000
Amos Thompson                                 900
Floyd Tanner                                        372
Reubin White                                       538
John Shackleford                                 112
Ambrose Corbin                                   100
Rubin Payne                                         1173
William Wright                                     255
Mark Hardin                                          200
John Martin                                          320
Thomas Corbin                                     130
Joseph Mottley                                    1512
Joseph Mottley                                    1512
William Willis                                       400
Braxton Mabrie                                     306
Daniel White                                         259
Joseph Mooreland                               250
Webb Kidd                                           200
Tucker Woodson                                 400
David Mottley                                      500
James Tanner                                        300
Jeremiah Ellington                                830
John Yates                                            100
Joseph Terry                                         550
Joab Meadows                                     100
William Terry                                        200
Enoch Ward Ellington                         200
William Ragsdale                                 270
Lucy Williams                                      510
Henry McDaniel                                   200
Lewis Williams                                     95
Roger Atkinson                                    5254
Mattox Mayes                                      480
Joseph Mayes                                      320
Stephen Terry                                       202
Colo. Robert Williams                         3866
Thomas Stratton                                  138
John Fox                                                1100
Abraham Murray                                 400
Francis Wisdom                                   485
Mark Shelton                                        200
William Handey                                    200
Benjamin Handey                                 400
James Conway's Orphans                  300
George Handy Senior                          60
George Handy Junior                          238
Charles Lewis                                       260
John Lewis                                       160
Henry Terry Jr                                      200
Thomas Shaw                                       200
James Haggard                                     200
Henry Terry Senior                              356
Charles McLaughlin                            200
John Fitzgerald                                     400
James Henry                                         5600
Gardner Mayes                                     400
William Hamblin                                   400
Thomas Hill                                      400
Samuel Slate                                     100
Jacob Chainey                                   720
Joseph Chainey                                    100
John Creel                                        260
John Atkinson                                      150
Nathanial Hughes                                100
Hugh Kelly                                            200
Joseph Terry Senior                         150
William Herring                                    870
John H Hendrick                                  400
Mathew Tanner   400
John Prestage                                    400
George Grubbs                                     200
Thomas Shelton                                   190
William Shelton                                    200
Thomas Dodson Senior                      280
Nathaniel Gardner                                50
Lazarous Dodson                                 450
Thomas Madding                                100
John Farguson                                     400
Thomas Dodson Jr                              150
William Ingrium                                    400
Mary Hodnett                                       200
Robert Martin                                       270
Allen Adams                                         100
Spencer Shelton                                   370
Daniel Shelton                                      400
Crispin Shelton                                     1070
Gabriel Shelton                                     415
Abraham Shelton                                 1352
Charles Lanier Jr                                   200
Vincent Shelton                                    356
David Irby                                             370
Thomas Jones                                      1266
William Warmock                                 270
Jeremiah White                                     908
Elijah Walters                                       188
William Bennett                                    200
Creed Tanner                                        200
John Wilson                                         192
John Spencer                                        188
Roberts Walters Senior                       722
Robert Walters (son of Robert)         165
William Runnalds                                 204
Luke Miller                                            157
Robert Clopton                                     100
Gidion Shelton                                      500
Joshua Owen                                        100
James Diverson                                    100
Samuel Morris                                      100
Heath Garner                                         150
Matt Anderson                                    130
George Dodson                                    250
David Dodson                                      219
Joshua Dodson                                    150
Moses Hanks                                    220
Ezekiel Chaney                                100
James Watson                                      100
John Hall                                          500
John Bennett                                        180
Thomas Bennett                                   100
Alexander Lee                                       100
Joseph Flipping                                629
Capt John Walters                               200
Jonathan Hill                                    303
John Walters                                        200
Robert Walters (Son of Thomas)     200
Chechester Matthews                         200
Thomas Walters Senior                      775
Joseph Slayton                                     400
Peter Martin                                          150
Nimrod Scott                                         163
William Richardson                             76
Daniel Slayton                                      400
Robert Martin                                       130
James McMunday                               300
Rhoderick McDaniel                            100
William Madding                                 140
Faunious Dodson                                100
James Madding                                    176
James Adams                                        374
Jonathan Weldons's Orphans           250
Rubin Watkin's Orphans                    180
Pleasant Shields                                   230
John Hall Senior                                   175
Nathaniel Murry                                   230
William Murray                                    175
John Scott                                             175
Jeremiah Stimpson                               192
Euramus Stimson                                 122
Robert Stimpson                                  123
Daniel Everett                                       275
George Cook Jr                                     100
John Waller                                           710
James Hollaway                                    97
Absalum Hindrick                                295
Joseph Echolls Jr                                 440
Samuel Prunett                                     392
Abraham Murick                                  304
John Stamps                                         194
Edward Burgass                                   270
Thomas Wynne                                   915
William Harrison                                  249
William Durrott                                     300
Gabriel Richards                                   250
Moses Ayres                                        360
Joshua Handy                                      314
William Owen                                       200
Thomas Ayres                                      161
Colo. John Lanier (Bind)                     1140
Cap William Thomas                           2649
William Combs                                     320
John Woody                                         1000
Benjamin Stratton                                375
Charles Payne                                       62
John Worsham                                     666
Samuel Jones                                        200
George Lumkin Jr                                 150
Nathan Jones                                        200
Jacob Stillwell                                       200
Jacob Stillwell Jr                                   200
George Allen Davis                             300
Sythe Gowning                                     400
William Parr                                           400
Martain Beard                                       200
William Travis                                      109
Charles Wynne                                    600
Robert Wynne                                      150
John Wynne                                         208
Thomas Fearn                                       375
Robert Payne                                        200
William Dix                                            500
John Dix                                                 903
James Dix                                               200
William Dennison                                350
Daniel Worsham                                  63
Thomas Wilkinson                              151
John Haskins                                        190
John Wier                                              300
Bezaliel Wier                                         286
Thomas Pistol                                       150
Gabriel May                                          400
James Nelson                                        100
William Tweddle                                  200
Robert Glascock                                   400
William Wilkinson                               621
Joseph Jackson                                    335
Thomas Burgas Jr                                400
Orlando Smith                                       739
John Kirby                                            350
William Price                                         600
William Stratton                                   213
Charles Cates                                        400
Jacob Farris                                           320
Charles Lewis Senior                           240
Henry Snider                                         250
Simon Rowland                                    300
John Bird                                              200
Henry Mitchell                                     383
Benjamin Fambrough                          70
Edm'd Taylor 195
Martha Clark                                         200
Peter Irby                                               800
John Thurston                                      300
John Shelton                                         225
Thomas Davis                                      257
John Cates                                            200
William Paine                                        500
Thomas Paine                                       240
Richard Keezee                                     300
John Waller                                           100
Beverley Shelton                              396
Armistead Shelton                               2457
Mary Wade                                           200
James Wade                                          391
Peter Legrand                                       800
Cain Adams                                          175
John Adams Senior                             513
John Adams Jr                                      175
John Parks                                             255
Colo. Robert Wooding                        800
John Davis Jr                                        100
Stephen Yates                                      50
Nathan Adams                                     266
George Rowland                                   100
Thomas Harkins                                   100
Allen Burton                                         100
Thomas Doss                                       370
William Tucker                                     810
William Pace                                         800
Newsam Pace                                        162
John Pace                                              280
Morrice Hamblett's Orphans             130
James Parham                                       265
Mary Buford                                         235
Moses Childners                                  90
Thomas Burgass Senr                         740
Theophelus Carter                               1860
James Lawless Jr                                  200
John Wright                                          134
William Cotterall                                   396
Henry Hardin Senr                               520
Henry Hardin Jr                                    188
Burwell Vadin                                       388
Thomas Chambers                               182
William Summers                                  307
Peter J Bailey                                        150
David Tanner                                        150
Joseph Rogers                                      596
Ambrose Nelson                                  136
Ann Fallin                                             200
William Lynch                                      2396
Alexander Murray                                1000
Samuel Bynum                                      200
Philip Adams                                        200
Ignatius N Tennerson                         200
Samuel Harris                                        4890
William Duncan                                    138
Larkin Dix                                              165
Robert Lumkin                                      366
Henry Mickleberry                               200
Moses Freeman                                    100
John Gee                                                100
James Burton                                        500
James Burks                                          318
David Lay Senior                                 150
Daniel Ragsdale                                   400
Jacob Whitworth                                 50
James McDaniel                                   100
Jasper Billings                                      100
William Runnalds                                 200
Thomas Clay                                         1000
Charles Clay                                          1000
Charles Smith                                        1700
Elizabeth McDaniel                              400
John May                                              200
John Asher                                           120
John Harness's Orphans                    100
Joseph Hamblin                                    300
John Mullins                                         100
Josiah Cook                                          130
John Cook                                             100
John Long                                             162
Jasper Tomberlain                                290
Mathew Clay                                        1000
Nathan Asher                                       500
Priscilla Hall                                          200
Richard Elliott                                       162
Starling Cates                                       677
William Quinn                                       152
Eliazar Clay                                            770
William Connar                                     100
William Munday                                  50
Francis Rose                                         100
Richard Ardin                                       100
Redmond Fallin                                    75
John Southerland                                 1252
George Southerland                             1763
Hames Gwinn                                        400
George Homes Gwinn                          190
William Astin Senior                           318
Peter Wilson                                         599
William Wilson                                     1000
Charles Williams                                  75
Edwin Hammonds                                250
John Stone Senr                                   85
John Stone Jr                                        130
John Ware                                             350
William Shelton                                    278
Sylvester Adams                                  4450
Jonathan Church                                  404
Richardson Whiteby                           300
Colo. John Wilson                               4070
Rich'd Gwin                                          730
Thomas Smith                                       2287
John Smith                                            4048
Hezekiah Smith                                     930
John McMillion                                    65
Thomas Drake                                      90
John Fulton                                           1140
John Vandegrief                                   400
Moses Vincent                                     150
Robert Cullum                                       100
James Fulton                                         890
Barnett McCullock                               300
James Boaze                                          734
William Vincent                                    575
Shadrick Boaz                                       180
Thomas Boaz                                        3377
Robert Wooding                                  240
Edward Atkins                                      700
Moses Johnson                                   130
William Roberson                                562
Thomas Roberson                               470
William Astin                                        700
James Craine                                         312
John Poyner                                          480
William Rickett                                     185
Henry Cornwell                                    250
Jesse Carter                                           1300
John Chattin                                         492
Zachariah Waller                                  200
Henry Hall                                             100
William Jones                                       400
Phillmon Payne                                     170
William Parks                                        170
Edmund Payne                                     244
William Davis                                       700
Richard Farthing                                  300
Joseph Midkiff                                     296
William Hames                                      400
Moses Hurt                                           400
Wm Lightfoot's Orphans                   4400
Jacob Nicholas                                     400
Joseph Roberts                                    464
Benjamin Shelton                                 570
Joel Shelton                                          200
Daniel Jenkins 296
Jesse Hodges                                       380
John Ballinger                                       950
Edward Burton                                     245
Cornelius McHaney                            1000
William Chick                                        400
Thomas East                                         342
John Pemberton                                   250
John H Patrick                                    800
Wm Luck                                               500
Joel Hurt                                                149
John Craddock                                     390
James Mitchell                                      400
Benj. Lankford                                      400
James Buckley                                      700
James George                                        597
William Alford                                      170
Charles Lynch Adams                         500
George Allen                                         350
Edward Munford                                  400
John Barrott Jr                                      50
James Bruice                                         190
John Buckley                                        728
Thomas Collins                                    633
John Clements                                      533
Rich'd Chick                                         300
Charles Crenshaw                                2500
Pleasant Thurman                                300
William Doss                                        271
James Doss Senr                                  377
John Doss                                             135
Thomas Davis                                      410
James Dejarnett                                    100
Joseph Echolls                                     400
Joshua Abston                                     292
William Ervine                                      510
Joseph Harris Senr                               300
Joseph Fanning Jr                                100
Charles Fanning                                   100
Edward Flowers                                    400
Michael Gilbert                                     100
Benjamin Hendrick                               100
Philip Perkins                                        150
Nathaniel Hendrick                              407
Colo. Charles Lynch                            614
James Hunt                                           200
James Henderson                                 492
David Hunt                                           1204
Nathaniel Hunt                                     400
Francis Irby                                           409
John Johnson                                       300
Samuel Lattamore                                 185
Thomas Mustein                                  340
Daniel Morgan                                     299
Thomas Musteen                                 570
Blanks Moody                                      400
James Moore                                        212
Haynes Morgan                                   658
Jesse Pattey                                          223
Edward Pryor                                        150
Thomas Robinson                               200
John Robinson                                     100
Joel Short                                              70
Joshua Short                                         39
Misheck Tanner                                   1166
Richard Thurman                                 550
Robert Templeton                                100
William Vaughan                                  300
John Vaughan                                      392
Thomas Vaughan Jr                             396
Thomas Vaughan Senr                        170
Odediah Hendrick                                400
George Wilcox                                      168
Owen West                                           700
Absalum Ramey                                   170
Nathan Glenn                                        307
Benjamin Clements Exor                      375
Capt. Isaac Clements                           746
Thomas Carlton                                    370
John Short                                             186
Elizabeth Holden                                  50
Burwell Vadin                                       360
Thomas Adams                                    300
Robert Adams                                      400
Joseph Prunitt                                      50
Moses Hutchings                                350
Ann Thompson                                    737
James Burks                                          218
Basdale Nelson                                    100
Christopher Hutchings                       1022
Samuel Dillard                                       510
Elijah Parkham                                      267
Charles Clay                                          1300
Daniel Ragsdale                                   600
Joseph Richards                                   150
Jonas Lawson                                       600
Leonard Tunstall                                  700
Sylvanus Stokes                                  1537
George Hamblin                                    650
Edward Ware                                        490
Aaron Hutchings                                 540
Hezekiah Pigg                                       1800
Joshua Cantrill                                      987
Jesse Robinson                                    1941
James Bleakley                                     500
James Magabee                                    200
Jacob Isaac                                           300
Henry Rollins                                        410
Jonathan Thomas                                250
Samuel Shields                                     775
James Garner                                         585
John Bowin                                           400
William Shields                                     473
Matthew Sparkes                                 796
James Young                                        150
John Harris                                            100
John Young                                          120
Shadrick Turner                                    200
Joseph Shields                                     651
Gilbert Burnett                                      96
James Denton                                       142
John Beggarley                                    100
Elizabeth Cunningham                        100
Henry Burnett                                       261
Thomas Shields                                    70
Thomas Cunningham                          157
John Shields                                         150
William Beck                                         600
Benjamin Crawley                                488
Spencer Runnalds                                200
Rich'd Tanner                                      150
John Cox                                                109
James Cox                                              437
Zachariah Sneed                                  150
James Burnett                                       400
Jacob Riger                                           210
Joseph Cunningham                            916
Shadrack Scare                                     100
William Booker                                     100
John Gammon                                       409
Benjamin White                                    200
Edward Legg                                         60
John Owens                                          308
William Owens                                     100
Thomas Finley                                      113
Rich'd Gibson                                       100
Jiles Gibson                                           100
Richard Lay                                           100
Robert Payne                                        560
James Lyle                                             96
Thomas Duncan                                   200
Hal. Dixon                                              1200
John McLane                                        300
Samuel Bynum                                      200
William Barton                                      300
William Duncan                                    170
Robert Clements                                   300
William Thaxton                                   640
Elizabeth Yates                                     130
John Yates                                            270
William Harrison                                  1644
Nicholas Perkins                                  927
Constant Perkins                                  2598
Hardin Perkins                                      370
William Wodley                                   246
Jonathan Church                                  700
Nehemiah Trayham                              236
Nathaniel McGufford                          200
Robert Crockett                                    300
Nathan Watson                                    650
John Norton                                          140
William Sutton                                      375
Thomas Sparks                                     350
Thomas Hill                                           786
John Still                                                662
Jacob Norton                                        300
Nehemiah Norton                                 300
William Watson                                   366
Edward Givins                                      700
George Davis                                        180
John Davis                                            192
William Davis                                       350
George Conn                                         150
William Mitchell                                   150
Ignatious Wilson                                 164
Presley Thornton                                 150
Elizabeth Conely                                  40
Zadock Barnett                                     100
John Brown                                           134
Joseph Minter                                      190
Edward Cahall                                       217
Edward Warren                                    250
John Briscoe                                         250
Charles Oakes                                       221
Miss Clay & Company                        4000
James Oakes                                         221
Joseph Conn                                         1337
Philip Jenkins                                        100
Butter Stone Street                              150
Ellender Norton                                    100
William Oakes                                       75
Samuel Lewis                                        300
Samuel/Lemuel  Smith                         632
Daniel Dodson                                     700
Philip Perkins                                        300
Thomas Hampton                                495
David Harris                                          100
William Southerland                            100
Thomas Stephens                                100
Isham Lansford                                    100
David Stephens                                    100
Henry Lansford                                    250
Joseph Harris                                        200
George Fuller Harris                             200
David Scales                                         300
Mathew Nance                                     200
Sarah Watkins                                      223
Robert Bullington                                400
Giles Nance                                           800
Minen Smith                                         112
William Mitchell                                   160
Zachariah Grooms                                100
James King                                            200
George Young                                      200
Capt. Joseph Morton                          1053
John Govin                                            400
John Pigg                                              900
Benjamin Burnett                                 440
Thomas Price                                        400
Rich'd Chamberlan's Orphans           400
Pyrant Easley                                        205
Samuel Davis                                        150
William Short                                        800
George Prosize                                      100
Nathaniel Thacker                                190
Joseph Thacker                                    60
George Miers                                        200
Thomas Wade                                      200
Thomas Hardy                                      700
Joshua Welch                                       230
David Weatherford                              100
Wm Hardy's Orphans                         500
Charles Wright                                     100
Wyth Allen                                           180
Roger Atkinson                                    800
William Easley                                      715
William Parsons                                   50
Joseph Parsons                                    120
George Parsons                                    270
Samuel Parsons                                    50
William Moore                                      100
John Medkiff                                        400
Richard Pigg                                         40
Majar Willis                                          200
Major James Johnson                         150
Thomas Armstead                               1600
Edmund Hodges                                  750
John Hodges                                        137
Thomas Hodges                                   260
George Dyer                                          50
Abraham Allen                                     240
Watson Hindy                                      376
Joel Atkins                                            110
William Atkins                                      100
Nathanial Atkins                                  100
James Atkins                                        50
Joseph Hundley                                   250
Luther Hopper                                      300
John Martin                                          100
Elizabeth Mayes                                   50
Richard Atkins                                     100
William Prosize                                     300
William Lucas                                       100
Walter Lamb                                         800
Jesse Duncan                                       100
Epapa White                                         588
John Emmerson                                    400
Rich'd Prewitt                                       150
William Pigg                                          360
Robert Duncan                                     297
Samuel Emmerson                                390
William Devin                                       731
William Leak's Orphans                      400
William Devin Jr                                   200
James Biggers                                       100
John White                                           349
John Biswell                                          800
Joseph Austin                                      702
John Morton                                         1885
Daniel Johnson                                    200
Joseph Ballinger                                   305
Martin Webb                                        200
Samuel Mosley                                     100
Arthur Nash                                          234
Daniel Hankins                                     7167
Jacob Cooley                                        270
Joseph Alsup                                       200
Thomas Johns                                      555
Thomas Searenton                               740
John Stocktone                                    1546
Jacob Cleaverland                                200
Arthur Fuller                                         105
Zachariah Fallin                                    200
John Warren                                         250
Benjamin Benie                                    500
John Peancey                                      100
Peter Fields Jefferson                          1100
George Jefferson's Estate                   1561
William Matthews                                200
John Wooton                                       130
Wm/Mr Hamblin                                  320
Abraham Aaron                                   220
James Brewer                                        1273
James Mitchell                                      200
Drury Oliver Estate                              492
John Philpot                                          500
James Roberts                                      1386
William Roberts                                    546
Robert Onn                                           1000
Hugh Runnalds                                    65
Leonard Delosher                                250
Benjamin Sampson                              288
George Smith                                        894
William Nealley                                    50
Rebecca Mahan                                   250
Joseph Reynalds                                  260
Benjamin Duncan                                 100
Edward Jones                                       400
Samuel Martin                                      160
Thomas Read                                        200
John Ball                                                280
Samuel Calland                                     415
John Cheedle                                        280
James Dunough 400
John Cornwell                                       100
James Shockley                                    350
Elijah Watkins                                      500
Charlton Shockley                               250
Harmon Cook                                        1052
Joseph Walker                                      100
John Watson                                        523
Simon Justice                                        220
William Wright                                     400
John Junley 302
Charles Rigney                                     200
William Wright                                     800
James King                                            130
John Swinney                                       100
Alexander Lackey                                480
Colo. John Markham                           1600
Robert Bruce                                         247
John Griggory                                       260
William Dunning                                  240
John George                                          1159
John Bailey                                           400
Samuel Hughes                                    633
James Lawless                                      611
John Dyer                                              333
Aaron McKenny                                  162
John Cleaver                                         250
Thomas Finny                                      260
Thomas Lackey                                    400
Joseph Maples                                     257
William Hopwood                                400
George Murphy                                    238
William Goodman                                 582
Hugh Henry                                          400
James Taylor                                         271
William Bucknall                                  100
Samuel Crain                                         1200
Noton Dickinson                                  488
Jeremiah Worsham                              338
Josiah Farguson                                   60
John Duncan                                        395
Thomas Watson Jr                              466
Thomas Watson Senior                      200
Humphrey Hendrick                            700
John Pond                                             200
William Maples                                    163
William Griffith's Estate                      400
Frances More Petty                             300
Killian Kreck                                         150
Thomas Black                                       498
Benjamin Leprad                                  430
Alexander Robinson                            322
John Kirby                                            100
William Burdet                                      120
Robert Cowan                                       100
Sarah Davis                                           170
William Irving                                       150
Michael Gilbert                                     200
William Justice                                     266
Peyton Smith                                        612
Peter Finney                                          400
Henry Conway                                     1026
Lodowick Tuggle                                 600
George Peak                                          100
Joseph King                                          185
Thomas Ramey                                     200
William Young                                      1232
David Polley                                         673
William Sheilds                                     100
William Witcher                                   100
John Witcher                                        190
James Witcher                                      202
William Parker                                       50
Jeremiah Ward                                      431
Peyton Wade                                        50
Daniel Lovell                                         500
Richard Bennet                                     256
Thomas Bennett                                   75
Booker Smith                                        150
Jesse Keezee                                         250
James Kann                                           450
George Herndon                                   250
David Ross                                           6792
James Mitchell                                      546
William Mitchell                                   400
Bryant Ward Nowling                         318
David Dalton                                        126
Robert Dalton                                       85
William Thompson                              450
John Hensley                                        100
Abraham Goad                                     180
George Phillips                                     150
James Dalton                                        100
Benjamin Tarrant                                  645
John Dalton                                          270
William Bennet                                     275
Reubin Bennet                                      274
John Lawson                                        290
William Ward                                        1626
John Collin                                            300
John Wheeler                                       300
Richard Walden                                   1030
William Baber                                       224
Charles Callaway                                  500
Ralph Smith                                           898
John Talbot                                           570
William Smith                                        150
Nathan Thurman                                  700
Littleberry Patterson                            400
Thomas Tunstall                                  1142
John Ward                                            1388
Thomas Barnett                                    100
Preston Gilbert                                      250
Thos Tunstall from Rich'd Brown     96
Jeremiah Keesee                                   450
Sarah Vaughan                                     149
Roger Atkinson                                    13000
Jonathan Phillips                                  400
Nottley Wheate                                    100
Charles Goad                                        200
Pattience Dalton                                   200
Gidion Shelton                                      170
James Downey                                     400
Edward Hampton                                 200
Arthur Keezee                                      200
Jesse Evins                                           160
Benjamin Shelton Jr                             200
John Williams                                       200
John Doss                                             200
William McDuel                                   200
Jacob Barryer                                      240
Daniel Bates                                          200
Ambrose Hunt                                      120
Peter Perkins                                         1000
James Andrews                                    300
William Allin Senr                                190
William Betterton                                 434
Henry Brown                                        210
Major Childres                                      200
Gilbert Hunt                                          637
John Kelly                                             50
Joshua Stone                                        1413
John Ward Jr                                        913
Joseph Cook                                         400
William Vason                                      300
Joseph West Senior                            350
James Magbee                                      100
William Todd                                        600
Richard Todd                                        100
Robert Farguson                                  75
A Copy Teste
Jos. Akin   D.C.P.C.
http://www.rootsweb.ancestry.com/~vapittsy/Oaths.html
copy done by Cynthia Hubbard Headen
source: The Magazine of VA Genealogy, v.23, #1 (Feb.1985), transcribed by Marian Dodson Chiarito
These lists were taken from a typewritten copy found in the Clerk's Office, Pittsylvania County, at Chatham, Virginia.  The two following affidavits found attached to the copy are self- explanatory.
I, S. H. F. Jones, do hereby certify that about the year 1930 I personally copied and had checked the names of persons who took the oath of Allegiance in 1777 as shown by manuscripts then in the Clerk's Office of Pittsylvania County, Virginia.  The writing was faded and a few names could not be deciphered.  Every effort was made to transcribe the names as they appeared on the manuscripts.  The names of the foregoing Lists are a true and correct copy of the aforesaid manuscripts to the best of my knowledge and belief.  The lists were also checked by Mr. Langhorne Jones, atty. Given under my hand and seal this 8th day of November, 1939. S. H. F. Jones (Seal)
State of Virginia Pittsylvania County, To-wit: I, E. E. Friend, Clerk of the Circuit Court of Pittsylvania County, Virginia, the same being a Court of Record, do hereby certify that Mrs. S. H. F. Jones whose name is signed to the foregoing writing bearing date 8th day of November 1939, personally appeared before me in my county, Office and State aforesaid and made oath that the foregoing statements are true to the best of her knowledge and belief.  Given under my hand this 8th Nov. 1939. E. E. Friend Clerk Pittsylvania Circuit Court Chatham, VA
List of George Carter Beverly Barksdale William Bennett Jno. Campbell Abrm. Chaney Jacob Chaney Joseph Chaney Zekial Chaney Chas. Chelton Mark Chelton Thos. Chelton Jno. Chilton William Chilton Matthew Cox Thomas Crain James Craine Thomas Creal Jno. Creel Jeremiah Deadman Elisha Dodson Geo. Dodson Lazarus Dodson Rolly Dodson Thos. Dodson John Fitzgerald Daniel Gardner Heath Gardner Nath. Gardner Sylvany Gardner James Haggard Henry Harding Martin Harding Geo. Hardy, Jun. Joshua Hardy William Hardy Micajah Harley John H. Hedrick William Ingram Jeffry Johnson Chs. Kennon Elisha King Francs. Kirby Henry Kirby Henry Kirby, Sr. John Kirby, Jun. William Kirby Jno. Walter Kupper James Lawless Chs. Lewis Jno. Lewis Thos. Lomox Matthias McBee Chas. McLaughton James McLees John Madden, Jun. Joshua Owens Rolly Owens Jno. Paul Thomas Peyne John Prestridge Jno. Prestridge, Jr. William Price William Ryburn Nimrod Scott Joshua Shirlock Samuel Slate Ben. Stratton Thos. Stratton Jno. Talleaferro William Taylor Barton Terry Ben Terry Charles Terry David Terry Harry Terry Henry Terry Jno. Terry Joseph Terry Joseph Terry, Jun. Thos. Terry Jno. Waller Richd. Watson John Winters Elias Wodson Jno. Wright Malachiah (unknown)
Persons Refusing to take Oath Abrm. Campbell Saml. Kirby Uriah Pruitt William Russell
Thomas Dillard, List Chas. L. Adams Henry Barton William Bingham John Bowmer Henry Brown James Brown Robert Bruce William Cash William Chick James Childress Major Childress Matthew Childress Isaac Clement Stephen Clements Joseph Collon William Collon John Dillard James Doss James Doss John East, Sen. Joseph East Thos. East Samuel Eblin Richard Ellis Edward Evens George Evens George Evens, Jr. Moses Faris William Fealder Nathl. Handrake Thomas Hardie Tho. Harris Jacob Holland Sec. Hook David Hunt Thomas Kersey Harmon King John Luck Moses McDaniel James Markin Henry Mullins Jacob Nichols John Owen Thorpe Parrott Jessey Pattey Green Wood Payne John Pemberton William Pemberton Joseph Slater Christopher Sutton Issac Tynes James Vaughan John Vaughan Thomas Vaughan William Vaughan George West John West Joseph West Joseph West, Jr. Owen West George Wilcox, Jr. George Wilcox, Sen.
Stephen Coleman's List Richard Bayn Charles Beasley Henry Blanks John Boise Joseph Boise Josiah Boise Ben. Brawner Samuel Brooks John Brown Nathan Brown Richard Brown, Sen. James Cardwell William Childress Richard Chumney William Connelly William Donaldson Moses Estes John Farguson Joseph Farguson Isham Farmer James Farmer James Farmer, Jun. David Gwyn Thos. Gwyn Ambrose Haley John Hammond David Henry Hugh Henry Isaac Henry Thos. Hutchings David James Edward Jones Thomas Jones John Justice Joseph Leak Thos. Leak John Martin Jacob Meadows George Murphy James Murphy, Jun. James Murphy, Sr. John Owen Thos. Pass Reuben Payne William Porter William Ragsdale William Right William Russell John Shackleford Cornelius Short James Singleton Thos. Sparks Abrm. Spencer John Stewart John Stone Saml. Stone Stephen Terry William Terry David Walker Jno. Watkins David Watt George West Rawley White Beverly Willard John Williams Joseph T. Williams William Williams John Willis William Willis John Yates Richard Yates
Capt. Hankin's List Joseph Akins William Akins Abraham Aron Henry Atkins Henry Atkins Richard Atkins William Atkins John Ball Joseph Ballinger Caleb Brewer Frances Bucknall John Bunkley Jacob Cleveland Thomas Clift William Coggin John Cook William Cook David Dalton James Dalton, Sen. William Day Leonard Delosher James Devine John Devine William Devine Robert Duncan James Durrey George Dyer Arthur Fuller Brit. Fuller Zachariah Fuller William Goodman James Gravely, Junr. Watson Henry Edmund Hodges Jesse Hodges Thomas Hodges Luther Hopper Robert Hopper Harrison Hubbard Caleb Hundley John Jackson Samuel Johnson William Johnson Alexander Lackey James Lynch William McGeehee David McKinney Stephen McMillan Mathew Martin William Mathews William Mayes James Mitchell William Morgan John Mullins William Mullins William Neally William Oliver John Pearson William Pigg Richard Prewitt Hugh Reynolds Joseph Reynolds John Roberts William Roberts Benjamin Sexton George Smith Joseph Standley John Warren John White
Lankford's List John Ballinger John Barrett, Jr. John Bay, Jr. William Betterton John Brewer James Buckley John Buckley Francis Chumley John Cleaver Stephen Collins Soloman Cross John Dickerson William Doss Abraham Downey Peter Downey Elisha Dyer Charles Farris, Jr. James Farris, Jr. Joseph Farris, Jr. Joseph Farris, Sen. Thomas Farris, Sen. Robert Ferguson James George John George John George Collins Hampton Thomas Hampton John Harness James Harris, Sen. William Harskins James Henderson, Sen. Thomas Henderson Benjamin Hedrick John Keezee Geo. Landsdown Joseph Lankford Franc. Luck James Maybee Henry Mitchell Joseph Moody Daniel Morgan George Morgan Francis Short Joel Short William Sizzer John Stone Joshua Stone Rich. Todd Willm. Todd Meshack Turner Shadrick Turner Abner Vance Matthew Vance Thos. Vaughan, Jr. Thos. Vaughan, Sr. Willm. Vaughan John Whelock R. Williams L.C. Wilkin John Wyatt
Jas. Morton's List Joseph Austin James Biggers William Bisnell James Bleakley John Bleadley Joshua Cantrell Edward Covington James Cox, Sen. John Cox, Sen. Benj. Crowley Richard Cullom Jesse Duncan James Fulton Archd. Gibson John Gibson Randolph Gibson Samuel W. Gouley James Granly William Hankins Thomas Harget Daniel Johnston Thomas Johnston John Jones James King Adam Lackey John Lackey Thomas Livingston Zachariah McCubbins James McGeehee Walter Matney George Mays Jehu Morton John Morton John Nelson Joshua Nelson William Oakes David Payne Edmd. Payne Mathew Pigg David Rawlings William Read Ignatius Redmond James Richey James Robertson John Robertson Wm. Robertson Matthew Sparks John Stocktone Robert Stocktone Adam Stultz David Watson James Whitesides James Young
Robert Payne's List Jana. Abbott William Astin, Jun. Henry Baldwin Chas. Barnett Lewis Barton James Brown Sam. Bynum Jno. Cargill Thos. Charlton Jacob Chipman Jno. Chipman Wm. Cornelius Ben Craigg James W. Daniel James Dix John Dix Jno. Dix William Dix William Dix Thomas Dudley Lewis Garrett Richard Gibson Will Gillaspy Richard Gwynne Saml. Harris Jno. Haskins George Hudson George Humphries Jno. Jones William Kennon Benj. Lawless, Jr. Jno. Lawrence David Lay Geo. Lumpkins, Sen. Peter McCaul Jno. McMillion Hugh Mahoon Wm. Muncas Michl. Obarr Luke Pendergrass Thos. Perkins Thos. Pestal Benj. Ratcliff Jno. Ratcliff Wm. Richardson James H. Roberson David Rolls George Southerland William Stubblefield Parmenas Taylor Ben Theasher James Thornton Wm. Travis Geo. Twedell Jacob Whitworth Davd. Worsham Jno. Worsham Bazald Wyer Jno. Wyer William Wynn, Sen. John Wynne Robert Wynne John Yates, Jun. Geo. Yunt
Reuben Pain's List Absolem Addams Allen Addams Cain Addams John Addams, Jun. John Addams, Sen. Nathan Addams Thomas Addams William Addams Zebulon Brynson Daniel Cofman Samuel Dilerd John Dupays Pryant Easley Josiah Fargeson Moses Freeman Thos. Gee Henry Hall John Hall John Hall Daniel Hankins Thomas Hardy Thomas Hardy, Sen. William Hardy Hugh Henry, Sr. Nathaniel Hughes Aaron Hutchings Charles Hutchings Charles Hutchings Christopher Hutchings Moses Hutchings Benjamin Lankford Francis Lamson Jonas Lawson Daniel Lovell Marcom Loval John McGhee John Martin John May John Mode William Moore John Nuckels Josiah Nuckles Edmund Pain Philemon Pain John Parsons Joseph Parsons Samuel Parsons George Perseye Hezekiah Pigg James Pigg Benjamin Porter Joseph Porter Joseph Pruett Bird Pruitt Levey Pruitt Daniel Ragsdale Frederick Ragsdale Joseph Richards Armstead Shelton John Short William Short Burel Vading Zachariah Waller William Waters Archebel Weatherford Harding Weatherford John Weatherford Joshua Welch John Wilson John Wimbush William Witcher
Charles Kennon's List James Adams Baker Ayers Moses Ayers William Barker Thomas Beach Jno. Bennett Thomas Bennett Benj. Burgess Edward Burgess Zack Bowles George Carter Jno. Carter William Carter William Cauthern Tunis Cole Charles Collie William Collie Bartholomew Crowder James Daniel John Ditty David Dodson Fortunatus Dodson Geo. Dodson Greenham Dodson Hightower Dodson Jesse Dodson Rolly Dodson Tho. Dodson William Dodson William Durrett Patrick Early Joseph Echols Richard Echols George Eubanks Daniel Everett David Hall John Hall John Hall, Jr. Joseph Hall Joses (?Moses) Hanks Benj. Harrison Jonathan Hill Joseph Hill Thomas Hill Edward Howard
Ezekial Howard Alexander Lee Charles Lewis Howell Lewis John Lewis (Byrd) Robert Lewis William Lewis Ratherick McDaniel John Madden Robert Madden Thomas Madden William Maddon Smallwood Coghill Marlin Peter Martin James Menasco James Sml.wood Owen John Owen Uriah Owen William Owen William Owen, Jr. Michael Ozbrooks John Payne John Payne John Payne Poyndexter Payne Robert Payne William Petty Zack.h Pruitt Phillip Pruitt Samuel Pruitt James Roberts Buckner Russell Jeremiah Simpson John Stamps Isham Tatum William Thomas William Twedel Elijah Walters John Walters Robert Walters Robert Walters, Jun. Thomas Walters Thomas Walters, Jr. William Walters James Watson John Watson Jonathan Weldon Peyton Wood Thomas Wynne
Capt. Jas. Roberts' List Martin Bailey Wm. Bailey Lemuel Black Thomas Black Samuel Bolling Robert Bolton Thomas Brandon James Brewer James Brewer Thomas Bucknall William Burdeth Samuel Calland Charles Calloway John Campbell Stephen Center John Cock Benjamin Cook James Dillard Benjamin Duncan Samuel Duncan John Durham Joseph Dyer John Ellis Peter Finney William Fitzgerald Michael Gilbert Benjamin Hammmond William Hammond John Hanna William Heard Noble Johnson John Kirby Nathaniel Kirby Adam Lackey Thomas Lackey William Lackey Saml. Langbee Thomas Lawrence Benjamin Leprad Littleberry Mallock John Melton William Peak William Pigg David Ray Payton Smith Robert Smith William Still James Stockley Jeremiah Stone George Taylor Ludwick Tuggle William Turner John Walker William Webb
Refused James Lander
Abraham Shelton's List Absolem Bransom William Bucknal John Caffey Seth Caldwell Stephen Coleman Alex Donelson John Donelson, Esq. John Donelson, Jun. Charles Dowel William Easley Joseph Farris John Farthing Richard Farthing Tandy Farthing Edmund Fitzgerald Harris Gammon Jonathan Griffeth William Griffith William Griffith, Jr. Holmes Gwinn John Gwinn Daniel Hankins, Esq. John Henry Henry Hix George Holland James M. Hugh John Jones William Jones John Kirby William Lewis Joseph Maples Samuel Martin James Metcalf John Metcalf Joseph Metcalf Joseph Morton, Esq. John Norton Bryan Oneal William Pace Joseph Parsons Richard Parsons William Parsons Reuben Payne, Esq. Richd. Pilson William Purnell John Rigney Jesse Robinson Jesse Rowland Nath. Rowland Symon Rowland Crispin Shelton, Esq. Daniel Shelton John Shelton Phil. Southerland Jas. Semore Swinney John Swinney James Taylor Joseph Terry William Thomas Jeremiah Warsham John Watson John Watson, Jr. Thomas Watson William Watson Nattey Wheat William Widby Major Willis Stephen Yates
Refused Chas. Rigney, Jun. Chas. Rigney, Sen. Jonathan Rigney
Crispin Shelton's List David Barber John Barber John Barrott Richard Barrott James Bruce Uriah Cammeron Abednego Castiel Thomas Davis John Doss John East Elisha Farris Thomas Farris, Jun. Robert Foster Thomas Gazaway John Greggory Benjamin Gudger James Heneerson, Junr. Joshua Hudson Paul Hudson David Irby Francis Irby James Irby Peter Irby Jesse Keezee Richard Keezee Moreman Lawson Charles Lewis, Jun. Charles, Sen. (Sic) Abraham Motley Avery Mustain Jesse Mustain Thomas Mustain Leonard Pace Lewis Parrott Abraham Payne John Payne Josiah Payne Leonard Payne Thomas Payne William Payne Joseph Roberts George Russ Thomas Shields Abraham Shelton Beverly Shelton Crispin Shelton, Jun. Gabriel Shelton Vincent Shelton William Shelton Young Shelton Edmund Taylor
William Short's List Samuel Askey Peter James Bailey Thos. Burgess John Cartin Daniel Davis John Gee Henry Hardin Mark Hardin Martin Hardin Wm. Hartin Daniel Lynch (unknown) Perdew Isaac Sartin Page Sartin Sillvanus Stokes Geo. Strother Gabl. Tutt
William Ward's List Joshua Abston William Baker Reuben Bennett William Bennett John Bobbitt John Bosswell Jeremiah Burnett John Byrd Charles Calloway Benjamin Clements Benjamin Clements James Clements Thomas Colley Shadrick Collier John Collin James Dalton John Dalton Joseph Dalton Randolph Dalton John Ellis William Ellis David Evens Benjamin Foster John Goard Thomas Goard William Goard Richard Halloway John Hargess John Holland Thomas Holland George Keysee John Lawson Benjamin McDowell William McDowell Michael Mullings Benjamin Mullins Thomas Music John Neal Little B. Patterson David Perry Elisha Pruitt Field Robertson John Robertson Thomas Robertson Joseph Smith Ralph Smith William Smith William Spragins Nathan Thurman Charles Walden
John Wilson's List George Adams Richard Anders John Anglin John Asher John Ashworth, Jr. Bob Baker Thos. Billing John Booth George Brittian Thomas Brown James Brumfield Charles Burton James Burton John Anderson Burton Wm. Burton Sterling Cats Joseph Cook John Davis Thos. Cooper Dickerson Larkin Dix Thos. Drake Charles Duncan John Duncan James Elliott Benj. Fallow Edmund Fallow Thos. Fletcher Julas Gibson James Gossett James Gossett, Sr. Shadrick Gossett Thos. Gossett James Gowing Geo. H. Gwin John Gwin Edmund Hammons David Harris Gosdale Hollis Joseph Irwin Wm. Irwin Charles Lacy David Lacy, Jr. Geo. Lacy John Lacy Richard Lacy John Fuller Lane James Lawles Edward Legg Charles Longmir John McClain Daniel McDaniel (unknown) Mahaney John Marr Nathan Morefield Nehemiah Morton David Owen John Owen William Owen William Owen James Parrott Peter Perkins John Phillips John Prewett John Price Timothy Reagain William Ricketts Francis Ross John Ross Bazela Scott Simon Scott John Shelton William Shelton David Shockley Edward Smith Hezekiah Smith Mathew Sparks Thomas Sparks Levy Stockley John Stone, Jr. John Stone, Sr. Wm. Stublefield Geo. Sutherlin John Sutherlin Joseph Tomling Lewis Tucker Geo. Vincent Moses Vincent Thos. Vicent Elisha Walker Thomas Waroham (?Worsham) Thomas Watson Benj. White Thomas Wilkerson Charles Williams Thos. Williamson Peter Wilson William Wilson Thomas Wright
William Witcher's List Jesse Atkenson Moses Atkenson Morris Atkinson Henry Atkinson John Barnard Bery Bennett James Bennett Richard Bennett Stephen Bennett Thomas Bennett Wm. Bennett, Sr. Randal Bobit Robert Bomer Jno. Clement Dan'l Collins David Dalton, Jr. John Dalton Robert Dalton Robert Dalton Samuel Dalton Soloman Dalton Thomas Dalton Timothy Dalton Wm. Dalton Jacob Dyer William Dyer Arthur Fearn Richard Fowler Jas. Garrison Abraham Goad Charles Goad Robert Goad Wm. Goad Richard Hammock James Harrison George Henderson John Henslie, Jr. Jno. Henslie, Sen. William Henson James Hill Nathan hill Jno. Hudson Jno. P. Hudson John Hunt, Sen. Jno. Jennings James Johnston Henry Kirby William Lawson James Lidleton Wm. Lovell James Mitchell William Moore Patrick Morrison Brain W. Nowlin James Nowlin Charles Partin Jno. Partin Geo. Peak Jno. Peak Jonathan Phillips Tobias Phillips James Phipps David Polley Christain Pryant Thomas Ramsey, Sr. Thomas Ramsey, Jr. Abraham Razor Paul Razor, Sr. Paul Razor, Sr. Paul Razor, Jr. Robert Sevier Thos. Shockley Elias Smith Wm. Smith Benj. Tarrant William Thompson Simon Toshes Jas. Turley Jno. Turley Daniel Wade Edward Wade, Jr. Edward Wade, Sr. Peyton Wade Isaiah Waldrup Jno. Waldrup, Jr. Jno. Waldrup, Sr. Joseph Walker Sanders Ward David Willis Daniel Witcher Ephraim Witcher James Witcher John Witcher, Jr. John Witcher, Sen. Ruben Witcher William Wright
Last name of next three unknown Geo.– James– Joseph–
Originally posted at http://www.danielboonetrail.com/historicalsites.php?id=80.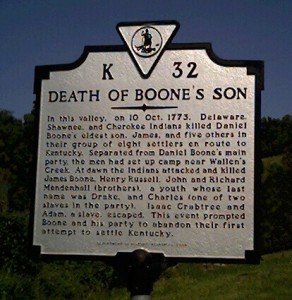 AN EXCERPT FROM THE BOOK ON THE WILDERNESS ROAD  BY THE AUTHOR copyright November 2006 All rights reserved
Lawrence J. Fleenor, Jr. Big Stone Gap, Va.
The site of the 1773 massacre of the son of Daniel Boone and of the son of William Russell – James Boone and Henry Russell – is the subject of a long and continuing controversy in Lee County.  The state historical road side marker commemorating this event was originally placed along side US 58 in Eller's Gap on Powell Mountain between Pattonsville and Stickleyville.  A rival claimant later developed in western Lee County, and roadside marker was dug up in the middle of the night and replanted near Kaylor.  In recent years a new road side marker was erected by the State in the center of Sticklyville.
Local traditions still abound, especially near the various springs that head up Wallen's Creek north of Duffield and east of Stickleyville, and down Wallen's Creek all the way to its mouth.  The following is a review of the murders, and of the evidence on the location of the site.
The Great Warrior's Path was the most significant of the numerous Indian trails in the eastern United States.  It connected the Northeastern and Midatlantic regions with Kentucky and the region between the Ohio and Mississippi Rivers.  Daniel Boone's name is indelibly stamped upon it, and it is also known by the names The Wilderness Road and the Great Kentucky Road.
There are several variations of this trail in western Scott County and eastern Lee County.  The Hunter's Trace skirted the southern face of Powell Mountain from Pattonsville to Blackwater, where it crossed Powell Mountain at Hunter's Gap, and passed on a mile and a half west of the mouth of Wallen's Creek on Powell River, which it crossed at White Shoals.  Another route crossed Powell Mountain via Kane Gap between Duffield and the head of Wallen's Creek, which it followed to Stickleyville.  Here one version crossed Wallen's Ridge to the head of Station Creek, and on to the west to the northern end of the White Shoals ford.  Back at Stickleyville, another variation continued on down Wallen's Creek for 2 ½ miles to Fannon's Spring, and crossed Wallen's Ridge via Slagle's Gap to the mouth of Station Creek.  The last version continued down Wallen's Creek and for a mile and a half past its mouth, where it joined the Hunter's Trace.
In 1773 the western extent of pioneer settlement was Castlewood in Russell Co. and the Blockhouse in Carter's Valley in Scott County, near Kingsport, Tennessee.  Daniel Boone had decided to move his family from the Yadkin Valley of North Carolina to Kentucky, and had persuaded Capt. William Russell of  Castlewood to do so also.  On September 25, 1773 the Boones and five other families sat out, and upon reaching Wolf Hills at present Abingdon, Daniel dispatched his seventeen year old son, James, and the Mendenhall brothers, John and Richard, to leave the main party and to go to Upper Castlewood to pick up Capt. Russell and his party at Russell's Fort.  Daniel continued on down the main Wilderness Trail to east of Kingsport, and then on up old US 23 to Duffield.  There is no record of whether he accessed Powell Valley by way of Kane Gap, or of Hunter's Gap.  Once in Powell Valley the Boone Party joined the party of William Bryan, which contained about forty people.  We know that he camped that night on the northern side of Wallen's Ridge, which itself is north of Wallen's Creek.
James followed present US Alt. 58 to Castlewood and found that Russell and his party of about forty pioneers were not ready to leave.  To carry this news to Daniel, Russell's seventeen year old son, Henry, and James Boone along with Isaac Crabtree, the Mendenhall brothers, and two slaves, Adam and Charles, were dispatched on Oct. 8th ahead of the main Russell party.  Also among the emigrants from the Russell Party were the Hargis brothers – Samuel, Whiteside, William, James, John, Benjamin, and their families.  They left Russell's Fort with James Boone and his party, which traveled down the Clinch Valley branch of the Wilderness Trail until they regained the main Wilderness Trail just north of Natural Tunnel.
Daniel and his party camped along the Wilderness Trail on the north side of Wallen's Ridge somewhere in Powell Valley, and waited for the Russell party to catch up.  It was, of course, the party of James Boone that was trying to catch up with Daniel, and not that of Russell.  Somewhere James' party lost the trail, and night fall caught them somewhere on Wallen's Creek, three miles east of Daniel's camp.
James could have lost Daniel's trail either at Duffield or at Stickleyville, depending whether Daniel had taken the Hunter's Trace, or the Warrior's Path over Kane Gap and then on to the head of Station Creek.
It is at this point that the speculation begins.  The Wilderness Trail at this time was just a foot path.  Horses were usually led as pack animals, and not ridden.  The Trail from Kane Gap was a corridor rather than a single path, as it followed a branching network of buffalo trails.  At times of low water the travelers tended to stay on the flat northern bank of Wallen's Creek, but during muddy and wet times they took the ridge line further to the north of the creek bank.
There are three variations of the Wilderness Trail leaving Stickleyville to the west, and we do not know which versions were being traveled by James, and perhaps Daniel.  All three versions enter Wallen's Creek Valley via Kane Gap, and proceed down Wallen's Creek to present Stickleyville.  There is a fork in the trail at this point, with one following present US 58 on across Wallen's Ridge into the Valley of Station Creek, which runs parallel to Wallen's Creek, both emptying into Powell's River.
Another variation of the Wilderness Trail continued on west down Wallen's Creek to Fannon's Spring, which is about two and a half miles west of Stickleyville.  Implicit in the circumstances of this story is the fact that the party would have camped by a spring.  The pioneers did not usually drink out of creeks anymore than we do.  Fannon's Spring lies between the road and the creek, and its flow is so great that it boils in a mushroom shape up out of the ground.  Its fresh cold water attracts fish as it empties into the creek.  It is simply the best spring for miles around.  It was at this point that the trail began its ascent of Wallen's Ridge on its way to Slagle's Gap, and joined the trail on Station Creek at its mouth on Powell River.
A third version continued on down Wallen's Creek to its mouth on Powell River, and crossed to the north side to rejoin the versions of the Wilderness Trail coming west from the ford at the mouth of Station Creek.
The militiaman John Redd, who had gone with Joseph Martin in 1775 to Martin's Upper Station at Rose Hill by way of the Wallen's Creek route, stated that "the old Kentucky Trace crossed Walden's ridge at the head of Walden's Creek".  This is the current route of US 58 west of Stickleyville.  It implies that Redd believed that Daniel would have gone this way, but Redd admitted that his first trip to Kentucky was in 1780, some seven years after the massacre, a situation that gave plenty of time for the route of the trail to have changed.
Tradition does say that Daniel Boone changed the route of the trail after James was killed.  In 1884, Col. Auburn Pridemore, CSA, of Jonesville, wrote a treatise entitled "Routes East", and which now is MS 4.8.12 within the Draper Manuscripts.  A transcription of a portion of this document is as follows:
"I have mentioned that Boone after this (the James Boone massacre) changed his rout, that was told me by Genl. Peter C. Johnston, brother of General Joseph E. Johnston of Confederate memory, he had it from a Mr. Fleener whose father Camped at the top of Walden's ridge at Stickleyville; when Boone and Gov. Dunsmore's surveyors located the road, and he gave the Killing of Boone's Son as the reason for the change of route.  This was told me incidentially as Genl. Johnston (who had a great fund of Indian tales and Border adventures) was relating a very thrilling story of a contest of the elder Fleener with an Indian at the same place."
The location of the murder of James Boone depends on which version of the Wilderness Trail Daniel was traveling, and which route James took in the process of getting lost.  We know that nightfall of October 8th caught the party of James Boone and Henry Russell still on Wallen's Creek.
"Wolves" howled all night around the camp of the James Boone party.  The Mendenhall brothers paced up and down all night.  At dawn, a mixed party of Shawnee and Cherokee Indians attacked, and shot James Boone and Henry Russell through the hips so that they could not escape.  They were tortured with knives.  Boone recognized his torturer as Big Jim, a Shawnee who had been a guest at Daniel's home in the Yadkin.  Boone resisted for a while, but with his hands shredded from fending off the knife, he pleaded with Big Jim to kill him and to put him out of his misery.
Russell was clubbed, and his dead body shot full of arrows.  The Mendenhalls, and Whiteside Hargis were also killed.
It is not clear how Crabtree made his escape, but he returned to the settlements in the east.  Adam hid under a pile of drift wood on the bank of Wallen's Creek, and witnessed the massacre, and later returned to the settlements where he spread the news.  He and Crabtree were the sources of the information that was written into the dispatches of the Holston Militia that wound up as part of the Draper Manuscripts, which are today's documentation of this event.  Charles was carried away toward captivity.
The story varies somewhat at this point.  One tradition says that the massacre was discovered by a deserter from Daniel's party.  Another source says that Capt. William Russell's party came upon the scene, and dispatched a runner to Daniel.  The party of Daniel Boone returned, and Rebecca, James's mother, wrapped the bodies of James and Henry up together in a linen sheet, and they were buried in a common grave.  The Boone and Russell parties returned to Castlewood.
The Indians, taking Whiteside Hargis' wife, John and William Hargis, and John's son who was named after his Uncle Whiteside, along with the slave Charles, made their way back up Wallen's Creek to Dry Creek at Stickleyville, and thence to Kentucky, probably by way of Lovelady Gap, and either Olinger Gap or Eola Gap to the head waters of the Cumberland River.  Somewhere along the trail, John Hargis and his wife and daughter made their escape, and settled back in Castlewood.  Young Whiteside was adopted by the Shawnee, and later in life joined Chief Benge in his raids against the settlers in the area of his capture.
The Indians along their way began to argue about the ownership of Charles, and the issue was resolved by his being tomahawked.
These events are documented by the Draper Manuscripts 6 C 14; 6 C 7-20; 6 S 79-83; 11CC 12; 13C 133; which are well collated in the book Indian Raids and Massacres of Southwest Virginia by Luther F. Addington and Emory Hamilton.  The Fannon's Spring data is contained in an article in the "Powell Valley News" written by J. M. Moseley and published in 1958 or 1959.   Moseley had frequented the Fannon home at Fannon's Spring a little over a hundred years after the massacre, while the oral traditions were still fresh and widely held.  The Hargis information is obtained from Henrietta Hargis Reynolds' article in The Heritage of Russell Co. vol II.
The most persuasive information concerning the location of the murders of the James Boone Party is the testimony of Adam, whose story was recorded by militia officers at the time.  Adam said that he hid under a pile of driftwood beside Wallen's Creek beside the Wilderness Trail.  Wallen's Creek is too small to build up such a large pile of driftwood much above Fannon's Spring, so the reputed sites upstream from Stickleyville are impossible.  This is especially true of those sites at the head of Wallen's Creek, which is so small there that it can be stepped across.
We know that Daniel and James took different trails, as James "got lost".  Since James was on Wallen's Creek, and was lost from Daniel's trail, this means that Daniel had taken either the Station Creek version of the trail, or the Hunter's Trace.  If the Russell Party was the one that discovered the massacre of the James Boone Party, and since we know from several sources that the massacre occurred on Wallen's Creek, then it would seem that Russell had known to follow the parties of Daniel and of James down Wallen's Creek.  It is important to note that at its nearest point, the Hunter's Trace passes 1 ½ miles to the west of the mouth of Wallen's Creek.  Therefore Russell in his following of the Boones had known that they were not to have traveled on the Hunter's Trace.
If one discounts the Fannon's Spring tradition, and discounts Russell having discovered the massacre, there are only two possibilities for these events to have unfolded.  The first is for Daniel to have camped north of Powell River (which is north of Wallen's Ridge) somewhere in the Flatwoods or White Shoals area, and for James to have camped near the mouth of Wallen's Creek.  The Wallen's Creek Trail and the trail that had come from Station Creek come together at White Shoals.  This would have placed James about three to four miles east of Daniel, and also would have allowed the deserter from the Daniel Party to have backtracked to the east on a different trail from the one he had followed with Daniel.
The other possibility is for Daniel to have camped at the mouth of Station Creek, and James to have camped at Fannon's Spring.  The distance between these two sites is also about three miles, and would have also allowed the deserter to have taken a different route back east and to have stumbled upon the massacre.
However, if one credits either the Fannon's Spring tradition of Mosley, or the tradition that Russell discovered the massacre there is only one possibility.  The preponderance of evidence points to Daniel's having camped at the mouth of Station Creek, and James at Fannon's Spring.  It is, after all, about fifteen miles from Fannon's Spring to the mouth of Wallen's Creek and to the Flatwoods segment of the Wilderness Trail.
The Wallen's Creek location documented by the Draper Manuscripts excludes the tradition locating the massacre in western Lee County near Kaylor.  Also, the western Lee County site is over a hundred miles from Castlewood, easily twice the distance that the James Boone party could have made in the one day that they travelled.
After burying their dead, the Boone and Russell parties returned to Castlewood.
Originally posted at http://www.danielboonetrail.com/historicalsites.php?id=46.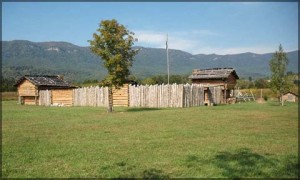 The Revolutionary War was fought on two fronts; from its beginning in 1775, until the treaty of peace in 1783, it was fought on the western front against the Indians, chiefly by the pioneers of Kentucky and frontiersmen of Virginia, Pennsylvania, and the Carolinas. It was fought in a more conspicuous theatre along the Atlantic seaboard by the colonists against the British regulars.
Curiously enough, almost exactly at the time of the firing of the first gun of the Revolution at Lexington, Massachusetts, the Wilderness Road was connected up into a bridle path, which joined the western Virginia border with Central Kentucky. ?This alone made Kentucky's settlement possible, at that time, and that settlement, in turn, furnished the necessary base for the conquest of the Northwest by the frontiersmen under George Rogers Clark. The road is significant, therefore, not only in the history of Kentucky, but in that of the Revolutionary War.
Martin's Station was the feature of man's providing on the road that was most important in making it a practical way into Kentucky. It was a long, hard road. The road through the wilderness began at the blockhouse, which faced Moccasin Gap, where the Indian country began. It ran its winding course through valleys and along creeks, across the Holston, Clinch, Powell, and Cumberland rivers; over Powell Mountain and Wallen's Ridge (as difficult as Powell Mountain), down Powell Valley, over Cumberland Gap, through the gorge where the Cumberland River cuts its way through Pine Mountain, and then through the foothills until it reached the plateau of Central Kentucky at Crab Orchard and Berea. Its course had been followed, in a general way, by a few hunters and land lookers in the ten years before 1775, but it was definitely marked to Boonesborough by Boone, when he led the party for Col. Henderson and the Transylvania Company from Long Island to Boonesborough in March and April 1775.
Its whole course, from the time it passed Moccasin Gap, was in a country which the Indians infested. They resisted the invasion by the whites, not only to protect their hunting ground, but at the instigation of the British, who recognized the danger to their hold on the West by the thrust of the Kentuckians into the heart of it.
For the 200 miles of the course of the road through the wilderness, there was neither Indian nor white settlement. There was no base of supplies and no refuge, save only at one spot, and that was Martin's Station in Powell Valley. That was what made Martin's services in the establishing of his station along the Wilderness Road so important.
Martin's Station was located 20 miles eastward of Cumberland Gap. It was the halfway house between Virginia and Kentucky; the lone station midway of the journey through an uninhabited district. Every traveller over the road had the support of Martin's Station on his mind, and those who made written records of their journeys mention it in a way to indicate the importance attached to it.
The station was located exactly on the Wilderness Road where it crossed a creek, later called Martin's Creek, in Lee County, Virginia. The present state road between Boone's Path on the east, a third of a mile away; and Rosehill on the west, half a mile away, passes through the old station grounds.
The cabin stood on a low mound about 70 yards to the east of Martin's Creek, a stream big enough, as Martin said, "to turn a mill;" and 30 yards from a bold, overflowing spring, both of which were doubtless included within the stockade of the station.
Martin was born near Charlottesville, in Albermarle County, Virginia, in 1740, of an affluent family. From boyhood, he took to Indian adventure, and it is probable that he entered Powell Valley as early as 1761.
In 1769 he was allotted, by Dr. Thomas Walker, 21,000 acres for the first settlement in the valley, and in the endeavor to hold this land, he undertook to found a station there in the spring of 1769. The station was attacked by Indians. As a result, it was abandoned in the fall of the same year.
In January 1775 Martin went back with a party of 16 or 18 men and built a station, which included four or five cabins for the men and a stockade on exactly the old site. Thereafter, the station remained, although, at times, unoccupied throughout the period of the early emigration to Kentucky.
The reestablishment of the station in January 1775 was, perhaps, in anticipation of the organization of the Transylvania Company, which was consummated in March of that year. Whether that is so or not, when Boone (and a little later, Henderson) went to Kentucky with their parties in the spring of 1775, Martin was at his station; and furnished a base for the final journey into Kentucky.
He effectively cooperated with Henderson throughout the existence of the Transylvania Company. Henderson, indeed, seems to have used Martin, the executive and diplomat with the Indians, as his business agent at this outpost; as he did Boone, the hunter and explorer, for leading his expedition into Kentucky.
In 1777 Martin reestablished himself at his old station, where he conducted Indian affairs for a wide district, until he retired as Indian agent in 1789.
Martin's Station is well-known to students of the Wilderness Road, but Joseph Martin had no Filson to celebrate his feats, as Boone had, and he has been almost forgotten. Professor Stephen B. Weeks, of Johns Hopkins, resurrected him in an accurate biographical sketch, which he read before the first meeting of the American Historical Society. But this, in turn, was buried in a government report.
Martin's work in connection with Martin's Station and the emigration to Kentucky constitutes only a small part of the accomplishments, which entitle him to be remembered. He was not only one of the most important men in Indian affairs, but in all public affairs in western Virginia and North Carolina. Until 1789 he was chiefly engaged with Indian business. After that time he was a leader in public affairs, in general, on the southwestern frontier.
In 1777 Gov. Patrick Henry commissioned him agent and superintendent of Indian affairs for the state of Virginia, a position he retained until 1789. Because of his influence in restraining the Cherokees, he, more than anyone else, kept the Indians off the backs of the settlers on the Virginia and Carolina frontiers and left them free to cooperate with the other colonial troops against the British in the South. That made victory at King's Mountain possible, and that, in turn, assured a few months later, the hemming in and capture of Cornwallis at Yorktown.
Until he was nearly 60, Martin was engaged in all sorts of public affairs in a way that marked him as a leader: Indian agent (not only for Virginia, but also for North Carolina), on peace commissions, on boundary commissions (notable that on the western boundary between North Carolina and Virginia, and that between Virginia and Kentucky); brigadier general on appointment of Gov. Henry Lee, of Virginia, and for many years in the Virginia Legislature.
He gave up participation in public affairs in 1779, in his 60th year, and retired to his estate in Henry County, Virginia, where he died on December 8, 1808, in his 69th year.
Originally posted at http://www.danielboonetrail.com/historicalsites.php?id=85.
Written by Sally Kelly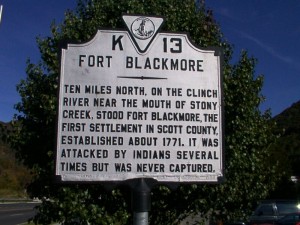 The site of Fort Blackmore can be reached from Gate City, Virginia. At the Daniel Boone Wilderness Trail sign in front of the Scott County Courthouse, proceed East (right) on Jackson Street/Rt. 71. After approximately two miles, turn left onto Rt. 72, following signs for the present day community of Fort Blackmore. After about ten miles, you will cross over the Clinch River on a large bridge. Historical Fort Blackmore was on the north bank (far bank), to the left of the bridge. The site is on private property. At the north end of the bridge, on your left, is a monument erected by the DAR which tells about Daniel Boone and his connection with Fort Blackmore. To return to the Daniel Boone Wilderness Trail, turn around and retrace the route.
John Blackmore settled on land at the mouth of Stoney Creek on the Clinch River in 1773. He purchased 518 acres from the Loyal Land Company, and his acreage was surveyed on March 25, 1774 by Captain Daniel Smith, deputy surveyor for Fincastle County. At about the same time, surveys were entered for Isaac Crisman, John Thomas, Dale Carter, and John Blackmore, Jr. John Blackmore came to this area from Fauquier County, Virginia. At this time, Daniel Boone and his family had been living on land owned by David Gass, near Castle's Woods, some dozen or more miles east; ever since Boone's son James was killed by Indians as a party of settlers made its attempt to go to Kentucky in October, 1773. Young Boone, on that occasion, was traveling separate from the main party, in company with Henry Russell and others. Russell, son of Captain William Russell, "a Gentleman of Some distinction." according to Royal Governor Lord Dunmore, was the organizer of that attempt, and Boone was the logician. After the murder, the immigration effort was aborted and some of the settlers returned to the Yadkin, and a few stayed on in the Clinch and Holston settlements.
In the aftermath of the murder of the boys, one of the survivors, one Isaac Crabtree killed an innocent Cherokee at a horse race near what is now Jonesborough, Tennessee. This event, and another brutal slaying by white frontiersmen of the nine members of the Mingo tribe on the Ohio in April of 1774 had stirred the tribes along the frontier into a war-like mood. Those few men taking up land on the Clinch were brave souls for many "families on the river had moved back to safety" according to surveyor Smith. Much of the detail that is known of Fort Blackmore comes from the correspondence of officers of the militia during the following months, in what became known as "Lord Dunmore's War."
The commanding officer of the Fincastle County Militia was Colonel William Preston, who resided near what is now Blacksburg, Virginia, on the New River. Officers reporting to him included Captain Russell on the Clinch; Major Arthur Campbell, Fort Shelby – at what is now Bristol; and Captain Daniel Smith, mentioned above. In a letter dated May 24, 1774, Colonel Andrew Lewis, of Augusta County, advised Preston that "Hostilities are actually commenced on the Ohio below Pittsburg." In a War Council in June at the Lead Mines, near Fort Chiswell on the New River, it was decided to send militia under Colonel William Christian, Augusta County, to aid William Russell; and "at Preston's instigation, William Russell sent Daniel Boone and Michael Stoner to tell John Floyd and other surveyors to come in from Kentucky. These two left for Kentucky on June 27, 1774." This mission would first bring the previously obscure Boone's name to widespread public attention.
It was a tense time among the scattered settlers along the Clinch River. On July 12, Colonel Christian wrote Preston that "four forts [are] erecting in Capt. Russell's Company; one at Moore's, four miles below this, another at Blackmore's 16 Miles above this Place [Castle's Wood] I am about to station 10 Men at Blackmore's." On the 13th, Captain Russell notified Preston "there are four families at John Blackmore's near the mouth of Stoney Creek, that will never be able to stand it, without a Commd. Of Men, therefore request you, if you think it can be done, to Order them a supply sufficient to enable them to continue the small fortification they have erected." Thus the fort took the name of the man on whose land it was built.
Captain James Thompson was the first officer put in command of the little fort. Men in the community were quite eager to join Lord Dunmore's expedition to stop the Indians on the Ohio before they could come into the frontier settlements. Col. Preston had stated, "the plunder of the Country will be valluable. . . . it is said the Shawnese have a great Stock of Horses." Those in command along the Clinch and Holston had difficulty manning the local forts with many eligible men wishing to go. On August 27, Daniel Boone returned from his mission to Kentucky; and almost immediately begged of Major Campbell to be sent on to Point Pleasant on the Ohio. Lord Dunmore had agreed to meet the forces from back country counties there with men he brought along from Tidewater. Boone set out, but was called back by Captain Russell to help defend the little Clinch River community as officer in command at Moore's Fort.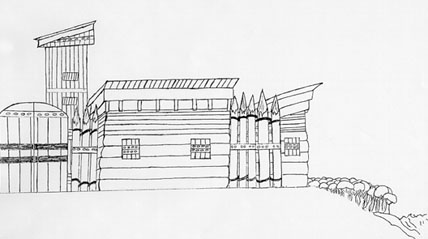 On September 21, Captain Thompson went out with those Ohio-bound forces, and Captain David Looney was put in command at Blackmore's Fort. On September 23 or 24, it was reported that "2 negroes [were] taken prisoner at Blackmore's Fort, on waters of Clinch River, and a great many horses and cattle were shot down." Captain Looney was absent, visiting his family on the Holston. Major Campbell wrote Col. Preston on the 29th that "Mr Boon is very diligent at Castle Woods and keeps up good Order. I have reason to believe they have lately been remiss at Blackmores, and the Spys there did not do their duty." Two days later he wrote "Mr. Boone also informs me that the Indians has been frequently about Blackmores, since the Negroes was taken; And Capt. Looney has so few Men that he cannot venture to go in pursuit of them, having only eleven men." On the sixth of October Campbell wrote to say that Indians had attacked at Shelby's Fort without success; and the day after that, he said, was the attack at Fort Blackmore. An alarm of their presence was given by Dale Carter, crying "Murder, Murder!" Ensign John Anderson and John Carter ran out of the fort to help, but Dale Carter was killed and scalped; and the slaves were taken. After this, the people of the area were feeling that they needed a commander who lived on the Clinch. October 13, Captain Smith wrote Col. Preston that he had been shown a paper signed by inhabitants requesting the appointment of Daniel Boone to be Captain and take charge of the Clinch forts. Smith endorsed this request and stated "I do not know of any Objection that could be made to his character which would make you think him an improper person for that office." Preston immediately promoted him.
Boone treasured his commission and carried it with him always until he was promoted again during the Revolution. Meanwhile, information was beginning to be received in these frontier parts that a battle had been fought at Point Pleasant on the Ohio between the forces of Colonel Andrews and the Indian tribes on October 10. Those forces met up with the Indians before they could join up with Lord Dunmore's men, and fought a very successful engagement. Shortly thereafter, Dunmore negotiated a peace agreement ending the hostilities at Camp Charlotte. Some portion of the Shawnee nation agreed to give up it hunting rights in Kentucky if settlers would remain below the Ohio River. Local militias were disbanded, and November 21, Daniel Boone was dismissed from his duties. The Cherokee now were the only force with which to be reckoned for the settlement of Kentucky.
Again, Daniel Boone would support a prominent man in a Kentucky settlement venture. Judge Richard Henderson of North Carolina, in late 1774, negotiated with Cherokee chiefs to purchase a large plot on land in Kentucky, irregardless that he could not do so legally; and that the Cherokee had no real claim to the land they sold to him either. He engaged Boone to go among the Cherokee during late 1774 to encourage them to meet at Sycamore Shoals on the Watauga in March, 1775, for the formal agreement and transfer of the goods that would pay for the purchase. Boone returned to the Clinch in early February and gathered some twenty men there to help him blaze the path through Cumberland Gap to the land Henderson wanted. Not all are known, they included Michael Stoner, David Gass, William Bush, and William Hays. It is not unlikely that this group included some of the men from the Fort Blackmore area. Squire Boone brought others from North Carolina and the combined band of trail blazers set out from John Anderson's Blockhouse, on the North Fork of Holston, on March 10. Boone left the new Kentucky settlement, named Boonesborough in his honor, on June 13, 1775, enroute once more for the Clinch. "Boone set off for his family." Henderson wrote in his journal. When Daniel arrived there, he found Rebecca about to give birth. In late July, she gave birth to a son, William, who did not survive.
In mid August, Boone and family, and a party of some 50 immigrants set off for Kentucky. Probably some of them were men from the Fort Blackmore area; and the party would certainly have passed the fort, perhaps stopping overnight, in their westward journey. This ends Boone's association with Fort Blackmore. But the fort continued as a place of refuge for many more years. 1775 was a relatively peaceful year east of Cumberland Gap, but hostilities with the Cherokee came again in 1776. Warriors who did not agree with the chiefs who treated with Richard Henderson, led by one Dragging Canoe, began attacks along the frontier. And there were many Indian attacks in Kentucky that caused large numbers of immigrants to flee back over the Cumberlands to the Clinch, Holston, and Watauga settlements. One such Kentuckian, William Hickman, arrived at Fort Blackmore on the Clinch, where he found other refugees "sporting, dancing, and drinking whiskey in an attempt to forget their fears." "Things could get pretty rancid." he said, "after a long period of confinement in a row or two of smoky cabins, among dirty women and men with greased hunting shirts." In June, two men were killed at the fort. And in September one Jennings and his slave met death at the hands of Indians.
Other forts had been erected along the Powell River, west towards Cumberland Gap, during 1775, including Priests, Mumps, and Martin's. Col. Joseph Martin's station was erected in January of that year, and he noted in his journal the stopover of the Henderson party of Kentucky settlers about the first of April. Col. Martin left in May to visit at his home in Virginia. Soon the people from Mump's and Priest's were driven out. When there were no more than ten left alive at Martin's, those men fled to Fort Blackmore, where they found most of the people from the Mump's and Priest's forts. In July, 1776, Cherokees in force attacked at the fort at Sycamore Shoals on the Watuaga, and battled local militia at the Battle of Long Island Flats, near present Kingsport, Tennessee. About the same time, one Ambrose Fletcher, living near Fort Blackmore, had his wife and children killed and scalped. Colonel William Christian was again called upon by Col. Preston, this time to put down the Cherokee uprising. Jonathan Jennings of Fort Blackmore, and father of the Jennings who was killed, mentioned above, accompanied that expedition to the Cherokee towns on the Middle Tennessee River. After that, mention of Fort Blackmore in the known historical record becomes scanty.
There is one famous story, dating from 1777, that may or may not be true. Men in the fort heard a turkey gobbling. They wanted to go out hunting, but were prevented by a knowledgeable backwoodsman, one Matthew Gray. He convinced them that they were hearing Indians. He directed the men to create a distraction on the bank of the river, while he snuck across the Clinch. He was able to get where he could see the Indian warrior perched in a tree, making the turkey noises. Mr. Gray dispatched the "turkey" and fled back into the fort with the others. In 1779, John Blackmore and his family left the area to travel with the Donelson party, traveling by flatboat, to settle in middle Tennessee. Donelson mentions meeting up with the Blackmore group at the mouth of Clinch where it joins the Holston, so John Blackmore's band must have gone down the Clinch by flatboat. Perhaps not all Blackmores left the Clinch – or possibly some came back – for they are mentioned again in April, 1790 in the journal of Methodist Bishop John Asbury. "We rode down to Blackmore's Station, here the people have been forted on the north side of Clinch. Poor Blackmore had had a son and daughter killed by the Indians. They are of the opinion here that the Cherokees were the authors of this mischief." Asbury goes on to say he had heard of two families being killed and of one woman being taken prisoner, but retaken by neighbors A few days later, the Bishop traveled on, noting that he "Crossed the Clinch about two miles below the fort. In passing along I saw the precipice from which Blackmore's unhappy son leaped into the river after receiving the stroke of the tomahawk in his head . . . this happened on the 6th of April 1789." Indian attacks on settlers along the Clinch, Holston, and Watuaga Rivers did not cease until after 1794, when a half breed, Benge, who had led many of the forays, was killed near what is now Big Stone Gap. Benge committed his last crimes near what is now Mendota, Virginia, on the North Fork of the Holston. He fled, with two captive women, over the Clinch Mountain, Copper Ridge, and, finally, High Knob Mountain before being caught up with.
This route probably took him very near Fort Blackmore. And so, it was right in the middle of Indian unrest from its beginning to its end. Just exactly when it was abandoned as a fort is not known. The land owner believes he is able to point out where the fort stood; but, for the most part, it has disappeared from sight. Its little cemetery is still findable, below the current highway bridge over the river, and to its right, near the bank of the river. Scott Countians who care for old cemeteries keep it cleaned and accessible. Many of its graves are unmarked.
by W. Dale Carter, copyright 2002, Kingsport, TN
The small community of Blackwater has been mostly unnoticed by historians of southwest Virginia. It was given its name of Blackwater by the first hunters that ventured into the area perhaps as early as the 1750s. At that period of time, a spring or stream that contained minerals such as common table salt was referred to as Blackwater [Etymology: "The history of linguistic form"] The term brackish water derives from the Low Saxon word brackwater, which is the water of a brack. A brack is a small lake created when a storm tide breaks a dike and floods land behind the dike.  Low Saxon (in Low Saxon, Plattdüütsch, Nedderdüütsch or Neddersassisch) is any of a variety of Low German dialects spoken in northern Germany and the Netherlands. It also includes Plautdietsch, which is spoken by Mennonites in North America. Blackwater is located at the crossroads of the old trading route from the Cumberland River to the Cherokee nation in East Tennessee and the old hunters trace from the New River to Kentucky. Today, Blackwater is an isolated community as to commerce and transportation, but it was not so isolated in the mid eighteenth century due to the large Buffalo lick. Over the eons of time, herds of buffalo had carved out trails radiating out from the lick to the grazing meadows in Powell Valley, Rye Cove, and south to the Clinch River valley. Herd animals would travel great distances to a salt lick to replenish their need for salt, an essential mineral in their diet. A salt lick is a site where the soil and rocks contain a natural deposit of salt and was called a lick because the animals would lick the soil or rocks to a depth of several feet to satisfy their need for this essential element.
A salt lick was the favorite hunting site of the Indians and long hunters. The hunters would position themselves at strategic points along the trails the animals traveled to the lick and make their kill. Numerous historical records of the frontier give accounts of the well known licks such as the Bledsoe lick in Sumner County Tennessee, the Blue lick in central Kentucky and the French lick in southern Indiana, but little is known about the large lick at Blackwater. Perhaps this is because the Blackwater lick was discovered at least a quarter of a century before the licks in Sumner County in Tennessee, Kentucky, and Indiana and by the time of their discovery the pressure of hunting at the Blackwater lick had depleted the size of the herd animals to near extinction; however, the trails carved out by buffalo remained and were used by the hunters as the choice route leading from the frontier to Kentucky. The long hunters knew about the lick as early as 1761, and it was a landmark on the old hunters path from the New River to Powell Valley.
Land records tell us much about the route the hunters took to seek game around the large salt lick and the grazing grounds in Lee County. The Hunters path is well defined until it reaches the little salt lick, Duffield, but from this point little is known about the route to Powell Valley; however, the land surveyors made notations on their surveys that give clues as to the route of the path. A land grant to Arthur Campbell [LO 45-325] describes the location of the grant as being at the Hunters Gap in Lee County and on both sides of the Hunters path. This tells us that the Hunters path ran along the south side of Powell Mountain from Duffield to Blackwater and crossed the mountain at Hunters Gap. The path ran down Wallen creek to near it mouth on Powell river where again the land surveys pick up the route of the Hunters path.
Another grant to Arthur Campbell [LO Q-318] is described as being on the south side of the Powell River and on both sides of the Hunters path. This grant is located about one mile west southwest of where Wallen Creek flows into Powell river. The Campbell grant [LO Q-318] is adjoined on the west side by a land grant to Robert Preston [LO 27-57]. The Preston grant is described as lying on both sides of the Hunters path. From this information, we know that the Hunters path ran from near the mouth of Wallen Creek across the area known as the Rob bottoms and crossed the Powell River at White shoals. Again, the surveys tell us that the path ran in a north or northwest direction from White shoals as a grant to Robert Preston [LO 27-41]is described as lying on the west side of trading creek and one of the survey points is described as "white oak south side of the old Kentucky trace on John Ewing line with same". From this point, the path or trace ran to Martins station but the exact route cannot be proven by land records.
Records show that Elisha Wallin and William Newman hunted around the Blackwater buffalo lick as early as 1761. Wallins Ridge and Newman Ridge were named after them. Other long hunters surely knew about the lick. Evidence of the buffalo trails remains on modern maps by the names of geographic features such as hunters ford, hunters valley, hunters gap and hunters branch. No doubt the long hunters in quest of game followed the herd animal paths from their favorite grazing grounds to the salt licks. There were many small licks in the area used by deer and other small game, but needs of the herd animals would require the mineral deposits of a much larger lick such as the Buffalo Lick at Blackwater.
The importance of the Blackwater lick is clearly pointed out by the claims of the land speculators. As early as 1775, Thomas Osburn had settled on land adjoining the Buffalo lick and obtained a land grant from the Commonwealth of Virginia by virtue of Right of Settlement.  "Washington County Survey Book 1,Page 389 Commissioners Certificate – on the forks of black water a north branch of Clynch River – beginning at the foot of Powells Mountain on the west side of the Buffalow Lick – at the foot of Newman's ridge on both sides black water joining Powells Mountain, includes improvements, actual settlement made in 1775 – August 22, 1781".
The name Blackwater appears in land claims as early as 1775, and the name was known far and wide. Claims were filed in the Virginia Land Office and the North Carolina Land Office for land at Blackwater so hunters from North Carolina and Virginia had spread the word about the large buffalo lick at the Blackwater.  From the North Carolina Archives, we find that Walter and Robert King filed an entry with the North Carolina Land Office for 250 acres that was to include an old buffalo lick.  "Recorded in North Carolina Land Office File No 28 Hawkins County records. Walter King & Robert King make entry No 1947 entered 12 Oct 1779,250 acres near the foot of Powell mountain by the name of Black Water: Beginning near the creek at a poplar, white oak, poplar s;150 poles to a stake, then W;280 poles to a stake, then n;150 poles to a stake, to include an old Buffalo Lick, surveyed 16 Sep 1793. Thomas Church assigned his interest in the Wilkins land to William Hord and Hord assigned it to Walter King & Robert King 1 Nov 1792".
In the meantime, Walter Preston was issued a land grant from Virginia that bordered the Thomas Osborne grant and included the buffalo lick. To further complicate the issue Arthur Campbell also obtained a grant from Virginia that included the buffalo lick, all of the Thomas Osborne grant and much of the Preston grant. Apparently Preston ended up as the legitimate owner as he sold his grant to James White. The heirs of Campbell made an effort to reclaim their Blackwater grant, but I find no record that they were successful.  The Thomas Osborn grant ended up under the ownership of James and Stephen Osborn. A deed recorded in Lee County Deed Book 3, page 189: "Stephen Osborn & Comfort & James Osborn & Mary to William Roberts, 31 Jul 1810, DB 3-189. 400A by survey only the 1/2 of the Buffalo lick excepted for James Osborn the same being the west side of the said lick running through the middle thereof with the conditional line made by John Osborn & Roberts from thence marked around the lick on or near the bank of the same $650".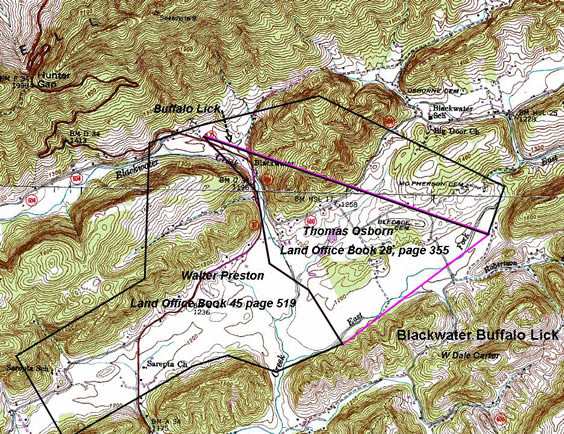 This deed shows that James Osborn reserved for himself ½ interest in the salt lick when the Thomas Osborn grant was sold to William Roberts. Apparently the lick site was developed as a salt works as a deed made 29 December 1817 and recorded in Lee County Deed Book 3, page 399, shows that William Roberts and his wife, Catherine sold ¼ part of a tract known as the Blackwater tract, to Jessee G. Rainey.  "Being a part of tract said Roberts purchased of James & Stephen Osburn. Including the lick premises and well, now occupied by said parties together and including 100 acres".  The deed shows that by the year 1817 a well had been dug at the salt lick site. On 5 June 1818 William Roberts and wife sold 1/8 part including the lick premises and well recorded in Lee County Deed Book 3, page 405, and on 12 May 1818 William Roberts and wife sold ½ interest of the lick tract to Joseph and James McReynolds of Bledsoe County, Tennessee for $3,000. Recorded in Lee County Deed Book 3, page 406. The McReynolds deed shows that something of great potential lay within the boundary of the tract. At that point in time, land in and around Blackwater was selling for $1 to $2.50 per acre. The McReynolds paid $60 per acre.
From this time forward, the land records do not show what happened as to the ownership of the salt lick tract; however, on 19 January 1835, by order of the Lee County court, Jacob V Fulkerson, commissioner of the court, sold one moity of the Blackwater salt lick to Dale Carter of Russell County, Virginia. Carter was a large land owner and land speculator who owned large tracts in the Elk Garden and in present-day Wise County, Virginia.
Why all the interest in the buffalo lick? Most likely these early land speculators had visions of developing the site as a salt works much like the one at Saltville. In fact, a salt works was operated at Blackwater for a period of time.
In conclusion, the first white traders with the Indians and the long hunters used the buffalo lick at Blackwater as a well known land mark to describe the route from the frontier to the hunting grounds in Powell Valley and Kentucky. The buffalo paths from the grazing grounds led to the lick.  Daniel Boone in his aborted journey to Kentucky in 1773 most likely used the hunters path to the Powell river. It was a route well known to him and other hunters. The Boone party consisted of some forty individuals, pack horses and a small herd of cattle. A party this large would have had to follow a well-defined Buffalo trail to keep some order to their journey.
Lee County Order Book 2, page 364 27 Jan 1818; David Burk proposes an alteration in the road leading from the Blackwater salt works up Blackwater to the state line.
Lee County Order Book 2, page 374, 29 Apr 1818: John B Neil, Elisha Rogers; Thomas Roberts; William Wallin and David Lawson view a road from the forks below the Blackwater salt works to John B Neils.
From: Pathfinders, Pioneers, & Patriots
originally posted at http://www.ancientfaces.com/research/story/383170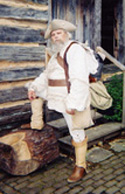 Born in 1732 in Prince George County, Maryland, Elisha Wallen was to become an important character in the history of the settlement of the West.
He stood about 5'10" tall and weighed about 180 lbs., was squarely built, and had a dark complexion with rough features. Although he had little education, he was quick witted, easy-going, and very honest and disciplined.  He lived entirely by hunting, and the knowledge he acquired on his expeditions did much to encourage settlers to follow.
In 1761, as soon as the Cherokee were pacified, Wallen gathered a group of relatives and friends for a big hunt far beyond the settlements in the valleys of the New River. With him were his father-in-law, brother-in-law, William and Jack Blevins, Henry Skaggs, Walter Newman, Charles Cox, and about a dozen other trained woodsmen (including Daniel Boone, who traveled with the party to Wolfe Hills, (Abingdon, Va.) ). They crossed the Blue Ridge Mtns., into the road leading beyond the New River and ranged into the hidden coves and valleys of the Holston, Clinch, and Powell Rivers. They followed buffalo paths to big licks, wandered up and down streams, and crossed rugged mountains. And they found a veritable hunter's paradise. They feasted on the game and collected many skins and furs for the Eastern Market. In camp they built pole scaffolds several feet above the ground on which they piled their pelts. A pole on top kept the skins packed together. An elk or buffalo hide, or strips of bark protected them from the weather. When enough were collected, the men folded and packed the pelts in bales weighing 50 – 100 pounds. Two bales made a horseload.
Their trip lasted for 18 months and covered much of the wild region between Long Island and Cumberland Gap – the country later traversed by the Wilderness Road. They named many ridges and streams. Wallen himself is remembered by Wallen's Ridge and at least two Wallins' Creeks.
Newman's Ridge was named for Walter Newman, a member of the party. Wallen's men changed Walker's Beargrass River to Powell River, because of the frequency with which they came upon "A.Powell" – carved by Thomas Walker's companion on beech trees along the bank. It is also likely that they changed the name of "Cave Gap", to "Cumberland Gap".to conform with the name by which the mountains were now being called.
In 1762, he participated in a second Long Hunt, travelling through Flower Gap to the New River. From there he proceeded over Iron Mountain at Blue Springs, down the South Fork of the Holston River and on to Elk Garden. Between Jonesville and Rogersville, he made a "station camp" for his hunting party to use as a base for their hunting.
In 1763, he went on his 3rd hunt, with approximately the same group as before. They followed the old trail through Cumberland Gap and trapped on the headwaters of the Cumberland River, in South Eastern Kentucky – notably "Stinking Creek", a tributary of the Cumberland, often mentioned in the annals of the Wilderness Road. They extended their hunt to Rock Castle Country, and Westward until they encountered flatter land. They came to a large crab orchard at some great springs. That spot, still known as Crab Orchard, became a significant point on the Wilderness Road. News of Wallen's profitable long hunts, stimulated others on the border. The fur trade was attractive and became an important way for settlers to supplement their income when crops were in.
In 1767, he was elected Captain of the County Militia under Major Theophilas Lay.
Later in his life he built a cabin and resided near his Wallen's Station between Kyles' Ford and Jonesville, Va.
Originally posted at http://sites.google.com/site/descendantsofcorneliusroberts/fsdbhdj
13 Aug 2010
Col. James Robert's Tories were active on the NW side of the Blue Ridge in the Ashe Co., NC area according to Col. Richard Allen's pension claims. By family associations it has been suggested that Cornelius Roberts (Neal Roberts) is the son or brother of this man, but this is far from proven. James is also likely to be the father of Happy Roberts who married William Riddle and William Roberts who also appeared on the William Herbert 1774 militia accounts. A James Roberts appears in the area northwest of today's Martinsville, Henry Co., Virginia, by 1753 and in the late 1760s he is joined by a John and Cornelius. James Roberts may be the man who served at the Battle of Point Pleasant under William Campbell.
On 5 July 1776 the land of James Roberts in Montgomery Co., Virginia was confiscated and sold because he had taken up arms with the British. In 1779 his land in Surry Co., NC was also confiscated by act of the legislature in New Bern.
Benjamin Phipps pension app: " about the year 1779 or 80 he [Phipps] was engaged in making a crop of corn, when Colonel Roberts, at the head of a company of Tories, came there [to Capt. John Cox's] and made prisoners of him and William Craig and Beverly Watkins. The Tories carred him to the British Army commanded by Lord Rogers…"
David Cox pension app: "Sometime after this affair a certain Captain Roberts of the Tory party came into the neighborhood with a company of –, and this declarant with Major Love pursued them into — near the head of New River, determined to overtake them but Capt. Baker of North Carolina heard of them and his party overtook, wounded or killed the whole party except Roberts their captain who made good his escape…"
George Morris Esq. – an old Whig on New River: "When friends and neighbors collected and pursued them to one Capt. Patrick John – near where the town of Jefferson now stands where they overtook them committing outrages on the old Captain – they had but a bridel rein around his neck and were leading him out of his gate to hang him when the Whigs came up – fixed on them – killed two of the English – wounded the other – took him prisoner – and Capt. Roberts and the other Tory narrowly escaped."
In the Draper manuscripts, "Roberts was on his route to Ninety-Six with about 20 men though he did not come with him. Col. Roberts was passing through [now] Ashe County and passed by Benj. Cuthbirth's and robbed his 5 valuable horses. I think this was 1781. Some time after this Capt. James Roberts, son of Col. Roberts passed through Ashe on the same trail that had been traveled by Col. Roberts. The Captain had but 4 men besides himself, one Tory and 3 British soldiers."
Capt. James Roberts (son of Col. Roberts) is thought to be the same man who later settles on the Clinch, in what is now Lee Co., Virginia and who raises some of William Riddle's children. In the 1791 tax list for the lower district of Russell Co., VA (became Lee County) are Joseph and William Ingrahm (m. Happy Roberts [or Rogers] Riddle), James Fulkerson (who lived near James Roberts in Pittsylvania [now Henry] Co., VA and sold land to him in Surry Co., NC), Williamson Roberts, John Rice, George Roberts, Philip Roberts, James Roberts (the Capt.), Thomas Rogers, Aaron Roberts, Doswell Rogers, Thomas Rogers Sr., a second Doswell Rogers, William Tate, John Tate, and the Waller/Wallens: Lewis, Elisha, Thomas, John and William.
Source for much of the facts above: Rodney Veitschegger; replies to a question of mine of Roberts Genforum; Mary E.V. Hill (Riddle Newsletter)
Roberts, Neal
Time-line for Cornelius "Neal" Roberts:
Born before 1746 in Halifax Co., VA, possibly a son of the Tory leader, Col. James Roberts (speculative).
1767 Acquired 400 acres in what is now Henry Co., VA. By 1769 he had a survey of 798 acres along a fork of Reedy or Reed Creek called Grassy Fork or Solomons Branch or Glady fork. Listed as Neel Roberts a tithable to Peter Copland Gent. In Pittsylvania (now northern Henry) Co., VA. In 1769 he had another 398 acres or 798 acres total. Another 800 acres were surveyed off Beaver Creek. This land is northwest of Martinsville. John and James Roberts are in the same area and James' name first appears in 1753. 1771 – on records of Botetourt Co., VA, living on Beaver Dam Fork of Elk Creek in what is now Grayson Co., VA 1772, 1773 – on records of Fincastle Co., VA after it was formed from Botetourt 1774 Served 29 days under Lieut. John Cox, Daniel Boone and Capt. David Looney in Lord Dunmore's War: They were left behind to guard the frontier he did not make the march to Point Pleasant with Col. Herbert's men. June 15 1776 "Roberts with Tories on Elk Creek" (Wm Preston to Edmund Pendleton referring to Col. Or Capt. James Roberts I presume.) 1780 Montgomery Co., VA court record: property confiscated for Tory activities ordered returned due to lack of evidence of participation in the Tory militias. He may have been a member of the Elk Creek militia, but I do not find him on the militia musters (there is a John and James Roberts on the Elk Creek militia muster rolls). 1782 owned 150 acres, Montgomery Co., VA (now Grayson) 1782 Montgomery Co., VA personal tax list: 1 tithe, 0 slaves, 6 horses, 8 cattle
1783 Moved to Russell Co., VA, owned 352 acres along a tributary of the Clinch River.
1787 Sells the 352 acres and buys 200 acres on the Clinch River, also in Russell County. 1788 Killed and scalped by Cherokees, possibly led by Robert Benge on Black Mountain along the border of Lee Co., VA and Harlan Co., KY while digging ginseng.
Cornelius married Mary Benton about 1767 (perhaps a daughter of Sam Benton, her second husband was Rev. Frost. See also William Vaughan below who may have married a sister of hers). Their children: Mary 1768 m. Shadrack Monk (daughter Rhoda married Joseph Riddle), Elizabeth 1770 (d. 1833 Letcher Co., KY m. Abraham Childress, son of John Childress and Rachel Perkins), James 1772 (d. 1858 Pike Co., KY m. Nancy Damron — daughter of Moses Damron and Aggie Owl), Nathan 1774 (m. Abigail Bishop in Knox Co., TN), Amelia 1775 (d. Walker Co., AL m. Edward Frost), Jesse about 1776 (d. 1857 Taylor Co., KY m. Mary Ann Simpson Skaggs), Daniel 1777 (d. 1846 Winston Co., MS m. Elizabeth Kiser), Susanna about 1779 (m. Lot Litteral), Sinai 1781 (d. 1874 Marion Co., TN m. Peter Anderson), Archibald 1784 (d. 1860, Wabash Co., IL, m. (1) Mary Thorpe, (2) Sarah Pennington in Cumberland Co., KY); Isaac 1786 (d. 1839 Caldwell, TX m. (1) Ann Enyart, (2) Rhoda); Mourning 1788 (d. 1866 Jackson Co., AL, m. Jacob Tally 1808). All children were born in Virginia.
Source: Derek Gilbert (Worldconnect); http://mkhgenealogy.com/Roberts/ (Mary K. Harris); New River Notes tax lists and militia musters; Jodie Necaise, Roberts Genforum #14436, Teresa Carlson # 14355, Mary E.V. Hill, Riddle Newsletter Vol 4, Issue 1, December 1997.
Roberts, William
William is probably a brother of Cornelius Roberts and more doubtfully a son of the notorious Capt. James Roberts (Tory leader). He shared an 1780 court venue with Cornelius
He is the William Roberts born about 1744 in old Lunenburg Co., VA who married Elizabeth "Betsy" Walling, daughter of Elisha Wallen and Mary Blevins.
1774: William was among those diverted to Capt. Looney's company on the Clinch and did not fight at Point Pleasant. Instead he was with Capt Looney, Lieut. Daniel Boone and Lieut. John Cox guarding the Clinch frontier.
1780 Montgomery Co., VA court session: George Reeves, James Howell, William Roberts, Neal Roberts, Moses Johnson, Richard Green, Richard Wright, Clem Lee and George Herd were restored their property for lack of evidence that they actively fought against the government.
1782 Montgomery Co., VA personal tax list:    1 tithe, 0 slaves, 12 horses, 13 cattle
originally posted at http://listsearches.rootsweb.com/th/read/COPE/2001-04/0987874434
Capt. David Looney's CO 1774 Fincastle- 34 men listed and here are a few of these men.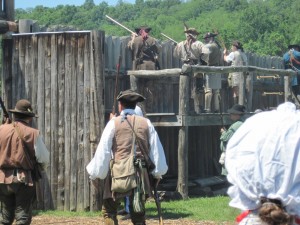 1) Lt. Daniel Boone- Jno. Anderson Ensign 2) Israel Boone 3) Joseph Blackmore- I believe this is Blakemore – has Fort ( 1774 Fincastle ) listed in Russell CO VA- found on petition for Lee CO VA with Copes.Joseph Blakemore listed 1792 Russell/Lee CO VA petition next to William Cope and Jeremiah BOLLING.Joseph Blakemore has dau. listed Molly who marr. Jesse Adams and he was killed by Indians in Russell CO VA. 4) Enoch Osborn- has his own Militia 1782 Montgomery CO VA – listed 1782 Mont. CO VA tax list by the Penningtons. I believe he is related to Caleb Osborn who has a tax list 1761 Rowan CO NC with Ephriam Pennington, Morgan Bryan, John Willcockson, Benjamin Cutbirth and William Linville listed. 5) Edward Boackmore/Blackmore/Blakemore 6) Samuel and David Cowan 7) William, David and Henry Robertson 8) Ephriam OSBORN- 1782 in Capt. Osborn's Militia Mont. CO VA – 1761 Tax list of Caleb Osborn Rowan CO NC. 9) Stephen Osborn- 1777 Osborn Militia and 1782 Mont. CO VA tax list found by the Penningtons. 10) Edward Williams- collecting this name found in Rowan CO NC and KY. 11) Isaac Veaver/Weaver- this name found in a lot of listings including 1782 Mont. CO VA, 1787-1790 Wilkes CO NC. 12) Thomas Hash- 1782 Mont. CO VA tax list, 1782 Capt. Osborn's Militia. 13) William VAUGHAN- 1782 Elk Creek Militia with William and Andrew Cope- one listing shows a William Vaughn filed a pension 1832 Grayson CO VA- age 71- ?- 14) John Colin- 1782 Elk Creek Militia listed as Collings- my guess could be related to the Melungeon Collins. 15) Deswell/Dosewell Rogers- 1777 mont. CO VA Militia Cox's list. 16) Jno. Rice- 1777 Cox's list and 1782 Elk Creek Militia 17) James WALLING- marr. mary White- died 1786 Mont. CO VA- son of Elisha & Mary Walling. 18) Joseph WALLING- marr. Millicent Jones- son of Elisha & Mary Walling. 19) George Jones 20) Micajah BUNCH- I believe this man related to Micajah Bunch list 1755 Orange CO NC as a Mullatoe. The Bunch family found 1830 Hawkins CO TN as FPCs. This name found 1778 Wilkes CO NC. The Melungeons' are found 1780s and 1790s Wilkes CO NC and show up as Black on the 1800 Ashe CO NC census. They are Gibson and Collins who are are listed 1820 Floyd CO KY as FPCs. 21) Thomas WALLING- marr. Mary COX- son of Elisha Walling & Mary Blevins. 22) William ROBERTS- marr. Elizabeth Walling- dau. of Elisha & Mary Walling- William Roberts believed to be a brother of Cornelius Roberts. 23) Cornelius Roberts.
Note: Cornelius Roberts – listed 1782 Montgomery CO VA tax list 17 names from William Cope.  Cornelius Roberts listed next on land deed 1783 Washington CO VA- Glade Hollow- branch of Cedar Creek- Cornelius still had land 1787 Montgomery CO VA  1787.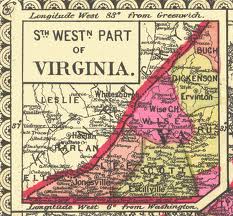 An act for dividing the county of Russell into two distinct counties. (Passed October 25th 1792)
Section 1.  BE it enacted by the General Assembly, that from and after the thirteenth day of May next, all that part of the county of Russell, which lies westwardly of a line beginning on the top of Clinch Mountain, one mile eastwardly of big Maukason gap, thence a direct course to the mouth of Stock creek, thence up the same to Powell's mountain, thence due north to the Kentucky boundary, shall form one distinct county, and be called and known by the name of Lee; and the residue of the said county, shall retain the name of Russell. Section 2.  A court for the said county of Lee, shall be held by the justices thereof on the second Tuesday in every month, after the same shall take place, in like manner as is provided by law for other counties, and shall be by their commissions directed. Section 3.  The justices to be named in the commission of the peace for the said county of Lee, shall meet at the house of Issac Chrisman in the said county, upon the first court day after the said county shall take place, and having taken the oaths prescribed by law, and administered the oath of office to, and taken bond of the sheriff according to law, proceed to appoint and qualify a clerk, and fix upon a place for holding courts in the said county, at, or as near the centre thereof as the situation and convenience will admit, and thenceforth the said court shall proceed to erect the necessary public buildings at such place, and until such buildings be completed, to appoint any place for holding courts as they shall think proper.  Provided always that the appointment of a place for holding courts, and of a clerk, shall not be made unless a majority of the justices of the said county be present; where such majority shall have been prevented from attending by bad weather, or their being at the time out of the county, in such case the appointment shall be postponed until some court day when a majority shall be present. Section 4.  Provided also, and be it further enacted, that it shall be lawful for the sheriff of the county of Russell, to collect and make distress for any public dues and officers' fees remaining unpaid by the inhabitants thereof at the time the said county of Lee shall take place, and shall be accountable for the same, in like manner as if this act had not been made. Section 5.  The governor, with advice of the council, shall appoint a person to be first sheriff of the said county, who shall continue in office during the term, and upon the same conditions as are by law prescribed for other sheriffs. Section 6.  The court of the said county of Russell shall have jurisdiction of all actions and suits which shall be depending before them when the said county of Lee takes place, and shall try and determine the same, and award execution thereon. Section 7.  In all future elections of a senator, the said county of Lee shall be of the same districts as the said county of Russell. To the Honourable the General Assembly of Virginia. The petition of the inhabitants of that part of the county of Russell settled in Powells Valley. Ther'eth:  That the County of Russell is in extent from the East toward the West, at least One hundred and fifty Miles, That the Courthouse of siad County is situated within about forty Miles of the Eastern extremity of consequence the Inhabitants Westwardly has upwards of one hundred Miles to travel to attend Court:  Added to this inconvenience twenty Miles of the way is a Wilderness frequently dangerous to travel through on account of the Indian Enemy. That we believe it would contribute much to our prosperity were we indulged with a division of said County it would contribute to Order and Improvements of various kinds; Encourage the introduction of near Settlers; and of course our strength to oppose our Enemy in time of an Invasion. From these considerations your Petitioners pray:  That a new County may be erected, in that part of Russell County lying Westwardly of a line beginning on the top of Clinch Mountain one Mile Eastwardly of Big Maukason Gap thence in a direct course to the mouth of Stock Creek thence up the same to Powells Mountain and thece due North to the Kentucky boundary. And your Petitioners shall ever Pray George Gibson David Cullum Nate Smith Don Martin Issac Mullen Joseph M. Farland George Collums John cox Abraham Rife Geo. Hatfield John Ward James Alley Joseph Campbell David Wheeler Jeremiah Lewis Rolly Gray John Heck Elisha Wallen William Wallen Thomas Walen Willoboy Lewis James Arbuckle Isaac Chrisman Randal Noe David Noe Gabe Crisman James Noe McJannis Poteet Danier Hobbs Jun.   (Daniel Hobbs) Disciss Hobbs Sgnt.    (Vincent Hobbs Sr.) Bemium Hobs    (Benjamin Hobbs) Absolem Hobbs James Filharson   (James Fulkerson) William Darnell Jno. Overton Jun. James Sims J.D. Hamstead Stephen Thompson Jno. Roach J.W. Williams John Martin Jonathon Bissham Robert Dannell  (Robert Darnell) John Martin Francos Browning Francis Write, Jun. Francis Rite Seg. Joseph Poteet Jun. Samuel Poteet John Noe Segnt. Daniel Young Frederick Jones James Whittaker James Quinley Jun. Edward Ozborn Jun. Nicholas Young Henry Hamblen Frank Hamblen Arch Daniel William Ewing Joseph Panter Manuel Ewing Josh Ewing John Owens York Alexander Scott John Hunter Henry Lewis Seg. Richard Davis James Ward William Mink James Johnson Drury Lawson John Chadwell Joseph Johnston David Colson George Shelton Joseph Hatfield Andrew Smith Jeremiah Hatfield Ephraim Hatfield Thomas Flanary James Campbell John Cambell Robert Butcher Samuel Adams Thos. Johnston Jun. Joseph Davis Jno. Handy Sgn. Jno Handy Jun. Joseph Blackmore Segnt. Thomas Blackmore Joseph Blackmore Jun. Jeremiah Crutchfield John Tretell Lewis Tretell Thos. Tretell James Roberts Drury Hall Absalom Livesay Thos. Rogers Junr. John Hoover Robert Howard George Yalkins John Vaanbibber William Hobbs *William Blanton *John Blanton Senr.(5th Grgrandfather) *John Blanton Jur. James Fugate Homer O. Chrisman Charles Noe James Trotter James Burgin George Trehill Jacob Lewis Senr. Jacob Lewis Junr. James Lewis Quillen Noe John Miller Samuel Howard John Hoover Junr. Henry Hoover Ralph Hall John Wallen Wm. Roberts Senr. Wm. Robert Junr. William Roberts Stephen Hall Thos. Rogers Senr. Dan Z. Rogers Senr. Dan Z. Rogers Junr. William Engram George Herd Obadiah Pain Cager Bunch Israel Bunch Andrew Cope Mathew Wallen Philip Hanks Job Hobbs *William Blanton Junr. Christopher Hobbs *George Blanton (4th grgrandfather) James Mayfield James Vanbibber Stephen Jones Sumuel Conn Justus Cocke Senr. Justus Cocke Junr. Jacob Cocke Nathaniel Hines John Noe Junr. John Jones Moses Ball Segn. John Ball David Yeary James Huff Samuel Thurston Jno. Hamblen Joseph Doherty William Yeary James Alley Hartwell Martin Nat Bevahouse Jeremiah Lewis Thomas Crabtree Man Smith Isaac Mullen William Simsby Alexander Stuart Andrew Demoss Danl. Callams Elizah Callams George Callams Gilbert Callams James Callams Jno. Collins Harry Hoskins Jno. Hoskins King Hoskins Henry Colson George Ball Segnt. George Yeary Enos Smith Wm. Cope Shotwell Martin Josiah Cox John Campbell William Waxtise Walson Cox William King James Johnson David Chadwell George Abett George Ball David Bledsoe Cjar. Cpclle, John Gibson Joseph Franks David Hargraves Thomas Mcnight James Arven Autrey Mcnight William Martin W.L. Wilcocks Jno. Willcocks William Willcocks Segr. William Williams William Willcocks Jnr. Josiah Willcocks John Turner John Bond These names have been rendered as faithfully from a copy of the original as possible.  However, it is possible that mistakes have been made in the spelling of the names. Transcribed by Bashie W. Kinkaid of Rose Hill, VA.
This can also be found at http://thistleandbee.com/1700va/lee-petition.html
The Long Hunter by Emory L. Hamilton, p. 29, The Mountain Empire Genealogical Quarterly, Spring l984.
Originally posted at http://www.angelfire.com/co3/Skaggs/stories/long.html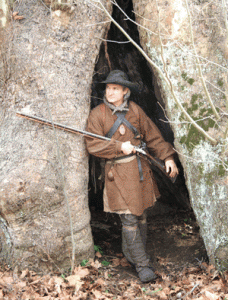 The Long Hunter was peculiar to Southwest Va., only and nowhere else on any frontier did such hunts ever originate. True, there were hunters and groups of hunters on all frontiers in pioneer days, but they were never organized and publicized as the long hunts which originated on the Va. frontier. Most, if not all of the long hunts originated on the Holston in the vicinity of present day Chilhowie, but were made up of hunters who lived on both the Clinch and Holston rivers. The idea of this manuscript is to prove, beyond a reasonable doubt, that these long hunters were native to the area and were land owners, or residents along the waters of these two rivers.
Perhaps no group in history, who contributed so much to the knowledge of the topography of our county, have been so nearly completely by-passed by historians as have the long hunter of the late colonial days. In almost every instance when the pioneer settler moved toward the extreme frontier, he had long since been proceeded by the long hunter. When the first settlers were arriving at Wolf Hills (Abingdon) and Cassell's Woods in l768 and l769, the long hunters had long ago by-passed these points and were then hunting far away in the Ohio and Cumberland river basins of Ky. and western Tenn.
Most of the rivers and streams, gaps, salt licks, mountains and valleys had long ago been named by these hunters. When the lst settlers arrived, they, in most cases, adopted the names bestowed by the long hunters on natural land marks, with very few changes, and we are still using most of them after a lapse of nearly two centuries. Dr. Thomas Walker, on his trip to the Ohio, entered in his Journal on April 9, l750, this statement: "We traveled to a river, which I supposed to be that which hunters call Clinch's river, from on Clinch a hunter who first found it." This entry was made almost twenty years before a settlement was made on the Clinch River and leaves little doubt as to how the river got its name.
In the annals of American history there is no braver lot than these early hunters. Not only did they endure the rigorous winters in crude shelters, but the danger of sickness, privation, exposure, hunting accidents, and the very real and ever present danger of being scalped by the Indians. They were especially disliked by the Indians, being looked upon as robbers of their hunting grounds, which they truly were, and also, as forerunners of the ever-spreading, land-clearing, soil-tilling settler.
Just why was this particular group of men given to hunting, instead of tilling the soil as most settlers? Perhaps there are three answers to this question; first, the spirit of adventure born in some people which they are unable to quell, among whom were James Dysart and Castleton Brooks who were quite well-to-do, as well as Colonel James Knox, who is referred to as the leader of the long hunters and who later became very wealthy. Secondly, there were those who enjoyed, above all else, the spirit of the hunt, among whom were Elisha Wallen, William Carr, Isaac Bledsoe, and others, who, all their lives were hunters and nothing but hunters. The last answer, but certainly not the least, was the profit derived from these hunts. it was not uncommon for a hunter to realize sixteen to seventeen hundred dollars for his season's take, and this was far in excess of what he could earn in almost any other lucrative endeavor. The hides and pelts were sold along the coast, where animals were not longer plentiful, and in England, for making leather, especially buffalo skins. The British market was lost at the outbreak of the Rev. War and the long hunts were never again pursued after the Rev. War began.
The long hunter today would be called a scientist, naturalist, explorer, or some other high-sounding name, for he had to be master of many arts. He knew the sky and what a sunset foretold; he knew the wind and could tell it by smell, as to weather dry or moist, and could wet his finger with spittle and tell in which direction it was blowing. He could, in numerous ways, tell the seasons, predict the weather, and by the stars he could tell the time and direction. He knew the plants and where they grew, and by feeling the moss and shaggy bark of a tree, determine the north and find his direction by night. He knew the medicinal properties of plants and how to treat his wounds and ailments there from.
He knew his rifle, how to use it, repair it, and even in some instances how to make one. He knew the use of the hunting and skinning knife, the tomahawk, and other tools and weapons of the hunt and the kill, which was often times the kill of an Indian whose skill and cunning he was forced to match and outwit in order to survive. He was aware of , and knew the habits and animals and birds and was able to distinguish the true call of such from the imitation by an Indian. He received his training from masters of natural history to survive. The very toys of his childhood were imitations of his future life.
The long hunters usually went out in Oct. and returned the latter part of March, or early in April. Their winter's take consisted of both fur pelts and hides, especially the hides of buffalo which were want only slaughtered for the hides only, the carcass left to be devoured by animals and vultures. There are recorded events where hundreds and, a few times, where thousands were slain, and certainly the Indian was justified in his feelings that his hunting grounds were being robbed.
The best descriptions of the long hunters have been left to us by John Reed, who knew many of them intimately, both in his native Pittsylvania Co., and also in Powell Valley when he came to Martin's station in l775.
According to Reed, the long hunters seldom hunted in parties larger than two or three men. their reasons for this were two-fold: first, larger parties were more apt to scare game away, and secondly, the Indians were less likely to become suspicious of a small group robbing their hunting grounds, not to mention that smaller parties were less likely to be discovered by the Indians. Redd tells a very interesting story about Powell Valley that was related to him by the long Hunter, William Carr.
"Twelve miles south of Martin's Station on Powell River, there was a very rich piece of bottom land call "rob Camp". In this there was the remains of an old hunting camp from which the land took its name. Some five years before Martin's Station was settled (Martin first came to Lee county in l769, explored the valley, but stayed only a few days. He returned in l775 and established his Station, hence the referred to event must have taken place in l770), three men, with two horses each, and with their traps, guns and other necessary equipment for a long hunt, settled down in the bottom above alluded to; built a camp and spent the fall, winter and part of the spring there in hunting."
At that time peace existed between the whites and Indians. These hunters were very successful in killing game and lived in perfect harmony with the Indians, who frequently visited the hunters and congratulated them upon their success in taking game. This intimacy continued until the spring, at which time, the hunters concluded that they had as much fur and skins as they could conveniently carry home. Accordingly, they commenced packing loaded their horses and were in the act of setting off for home, with the earnings of their successful hunt, when twelve or fifteen Indians came up, took possession of their horses, furs, guns, and in fact all the hunters had, and in exchange gave them three of their old guns, and told the hunters that the land they were hunting on belonged to the Indians, and also the game, that they would spare their lives that time, but cautioned them never to return.
Reed tells of another interesting camp he saw in Powell Valley. He states: " I was b. on the 25th day of Oct. l755. In Jan. l775, when we were on our way out to settle Martin's Station in Powell's valley, in going down Wallen's Creek, near its junction with Powell river, where the hills closed in very near the creek, was found the remains of an old hunting camp, and in front of the camp the bones of two men were lying bleached. they were said to be the bones of two men who went out hunting in the fall of l773 and never returned. their names I have forgotten.
In another letter to Dr. Lyman C. Draper, Redd has this to say in his answer to a query made by Draper: "The remains of the camp I saw in Powell Valley were on its north side; and as well as my memory serves me, were within forty or fifty yards of the mouth of Wallen's creek at the ford of Powell/s river. The camp was built beside a large limestone rock which served for the back of the camp. The names of the persons whose bones I saw there I should be unable to accurately distinguish were I to hear them. This may be possibly the camp pitched by Bonne's war party. The bones I saw were not known certainly to be those of the two long hunters having gone on a long hunt in Powell Valley in l773, who had not returned. The camp was eight or ten miles from Martin's Station.
Redd's reference to "Boone's war party" must be a reference to the spot where Daniel Boone's party camped in l773 to await the party coming to join them from Castlewood, which was ambushed and massacred near the head of Wallen's Creek on Oct. l0, l773. the location described by Redd also fits the general location of Elisha Wallen's hunting camp of l76l.
Redd says the long hunters set out with two pack horses each a large supply of powder and lead, a small hand vise and bellows, a screwplate and files for repairing their rifles, and while he makes no mention of it, they also carried a supply of flour and bread. In fact, on the way out they could carry quite a lot of supplies as each hunter had two pack horses.
The long hunters went out together in large parties, built a station camp, then fanned out in twos and threes to range and hunt over large areas. The first known station camp established in Powell's Valley was that of Elisha Wallen in l76l. It is thought his party consisted of eighteen or nineteen men, but since no list has been preserved, only the names of a very few are known certainly to have been in the party. Wallen's station camp, set up at the mouth of Wallen's Creek, was probably like other station camps, built of poles, sometime only eight-ten feet, covered with puncheions or bark, walls on three sides the front open, along which a fire was built for warmth. Upright poles were set up—often a forked pole was driven into the ground, with a cross pole on which the bark or pucheons were laid, sloping toward the back in order to drain melting snow or rain away from the fire. This type of shelter was known as "Half-faced" camps. Other times an extra large already-fallen tree or large rock was used for the backwall of such a camp shelter. Some of Wallen's party are said to have seen the eleven-year-old carving of the name of Powell and so named the valley, river and mountain. Ambrose Powell had been a member of Dr. Thomas Walker's exploring party of l750.
Redd says that when he knew Wallen on Smith's river in Pittsylvania Co. in l774, he was then some forty years old and had been a long hunter for many years before. that he usually hunted on a range of mountains lying on the east of Powells' Valley and from Wallen to the mountain took its name. Wallen described the ridge and surrounding country on which he hunted as abounding in almost every known specie of game. The animals and birds had been intruded on so seldom that they did not fear his presence, but rather regarded him as a benefactor, but soon learned to flee from his presence.
Wallen, along with Blevins and Coaxes, who were connected by marriage, lived on Smith's river in Pittsylvania Co. in l774. they owned no land, but were squatters. During the Rev. War, the Va. Legislature passes a law that British subjects who owned land must come in and take the oath of allegiance or their lands would be confiscated. Redd says that some in Pittsylvania Co. did this, and Wallen, the Blevinses and Coxes, packed up "enmass" and moved to the frontier for fear they would have to pay many years back rent as squatters. He states that the Blevins and Cox families settled on Holston River, above Long Island,, (now Kingport) and that Wallen settled on the Holston about eighteen miles above Knoxville, and that in l776 he stopped by to see him, and was informed by Wallen's wife that he had then been on a hunt for two months. Redd further states that Wallen later moved to Powell Valley, lived there a short time and then moved to Mo.
Redd's statement of Wallen's movements is borne out by a letter written to Dr. Draper by F.A. Wallen, a nephew to Elisha, from Fairlan, Livingston Co., Mo., dated Oct. l5, l853, in which he says: "He (Elisha) moved from Va. to Tenn. thence to Ky., thence to Washington Co. Mo. at a very early date."
That Elisha Wallen lived for sometime in Powell Valley, near Martin's Station is further proven by a letter to Col. William Martin, son of Gen. Joseph Martin who built Martin's Station. This letter is dated Dixon Springs, (Tenn.) 7 July l842, and is also to Dr. Draper. In the letter William Martin tells of going on hunting trips with Wallen who lived near his father's station in Powell Valley. He said Wallen told him of going back and forth to Pittsylvania Co. where he lived, of his helping col. (William) Byrd establish fort Chiswell (l76l) of being at fort Loudon, and of building a fort at Long Island of Houston. Col. Martin says that he was intimately acquainted with Wallen in his latter days. The time col. Martin knew Wallen was in l785 and thereafter, as he did not come out to his father's station in Powell Valley until l785.
In Wallen's party of l76l, some were known to hunt as fart away as the Cumberland river in western Tenn. Among those known to have been in this party, besides Wallen, there was his father-in-law Jack Blevins, his brother-in-law, William Blevins, Charles Cox, William Newman, William Pitman, Henry Scaggs, Uriah Stone, Michael Stoner; James Harrod and William Carr. At this time, William Pittman was in his early twenties, six feet tall and of fine appearance. There were several Pittmans and more than one named William.
Of this William Pittman, John Redd says; "In the latter part of Feb.l776, Pittman and Scaggs came to Martin's Station in Powell Valley. They were returning from a long hunt they had taken in the "Brush" on the northwest side of Cumberland Mountain. They returned earlier than usual and their reason for doing so was that they had seen a great smoke some distance off which they knew was Indian "ring-hunting", and besides, they had seen Indian tracks through the woods, where they were hunting; whereupon they set out for home. They spent some eight to ten days at the Station. While they were with us, they showed some silver ore they had found on top of a little hill in their hunting ground.
They said that while they were hunting, a snow fell some twelve to eighteen inches deep. Scaggs and Pittman went out through the snow to kill some game. after going a short distance from their camp, they discovered that on top of a certain hill, there was no snow, while all the surrounding hills were covered with it. This led them to go upon the hill and see the cause of its not being covered with snow like the rest. On arriving at the summit of the hill, they discovered that it was covered with a very heavy kind of ore. Each of them put some of the ore in their shot bag and returned to camp."
"When they arrived at the camp, they took some of the ore, and by means of their hand bellows and some thick oak bark, it was melted and they found it to be silver ore. They brought it back with them to Martin's Station—the silver they had extracted and some of the ore. The silver was pronounced by all who saw it to be very pure."
"Scaggs & Pittman were said to be men of a very high sense of honor and very great truth. By the next fall the war with the Indians broke out and they went no more on their long hunts." He further states that in l776 Scaggs and Pittman lived on New river.
In Washington Co., Va., Land Entry Book I, p. 86, dated Nov. 8, l782, I find where William Pittman once owned the land on sugar Hill, overlooking St. Paul. Va. This is the land upon which John English settled in l772, where his wife and children were killed by Indians in l787, and which he sold to the Bench Baron Pierre De Tubeuf in l79l, and the site where the Baron was murdered in l795. The land had changed hands many times by assignment of warrant before the Baron bought it. English obtained it from Henry Hamlin who had obtained it from Joseph Drake, another long hunter, and Drake had gotten it from William Pittman, who in turn had received it from Thomas Pittman and Joseph Drake. Just what relation Thomas was to the long hunter, William Pittman, is unknown.
Henry Scaggs left the area and moved on into Ky., dying on Pittman's Creek in Taylor Co., Ky., about l808 or l809, upwards of 80 years old. Collins, in his "History of Ky.", says: "He was six feet tall, dark skinned, bony, bold, enterprising and fearless. He and his brother (Perhaps Charles) were noted hunters, and nothing but hunters. It was from Scaggs that Scaggs Creek in Rockcastle Co., Ky., got its name.
In l779 Henry Scaggs wads living on the Clinch in Tenn. He had been hunting for twenty years on the other side of the mountain, and this fall in addition to a party of upwards of twenty men, with extra pack horses, he took his young son. In Powell Valley, his party had the not-very-unusual luck of being attacked by Indians, who, though they killed no man, took eleven of their horses. All the hunters turned back except Scaggs, his son, and a man remembered only by the name of Sinclair (undoubtedly this was Charles Sinclair who lived on New river at Sinclar's Bottom). Scaggs' young son sickened and died on this trip and because of the severe winter of l779-80, the ground was so frozen he had to bury him in a hollow tree." the severity of this winter is attested in many Rev. War pension claims.
Of William Carr little is known, except the little left to us in the Reminiscences of John Redd, who says: "He was raised in Albemarle Co., Va., and at a very early age removed to the frontier. In l775 I became acquainted with him in Powell's Valley. He lived on the frontier for twenty years or more and had spent the whole time hunting, Carr hunted over in Ky., beyond the Cumberland Mountains to the right of Cumberland Gap in a place called "the bush". Carr always returned with his horses laden with furs and skins. He described the game as being so gentle the animals rarely run from the report of his gun."
"Carr was the most venturesome hunter I ever knew. He would frequently go on these hunting expeditions alone. After the breaking out of the Indian War of l776, few men ventured on these long hunts. Carr determined to take one more long hunt, and as no one would go with him, he determined to go alone.
I do not know just where Carr resided on the frontier. it is hard to trace the name since the records show both a William Carr and William Kerr, and whether they are one and the same I do not know. In a land suit in Augusta Superior Court in l809, (Fugate vs. Mahan) with the land in question lying on Moccasin Creek, Agness Fugate Mahan, widow of Francis Fugate, said: "that in l77l, Francis Fugate purchased the land in question from William Carr, a "Negro man of color", and that Carr was supposed to have bought the land from John Morgan, one of the first settlers in that area."
In the same suit John Montgomery, another witness said: "William Carr is supposed to be a near relation to Gen. Joseph Martin."
In connection with Agness Fugate Manhan's statement about William Carr being a Negro man of color, John Redd tells this intriguing story:
"William —–was b. in Albemarle Co., Va. He was the first son of his mother; notwithstanding his mother and her husband were both very respectable and had a fine estate, yet when William was born he turned out to be a dark mulatto. the old man being a good sort of a fellow and withal, very credulous, was induced by his better half to believe the color of his son was a judgment sent on her for her wickedness. William was sent to school and learned the rudiments of an English education and, at the age of eighteen he was furnished with a good horse, gun and some money and directed by reputed father to go to the frontier and seek his fortune and never return."
"In the early part of the spring of l775, I became personally acquainted with William at Martin's Station in Powells valley. He was then about forty years of age; he never married, and had been living on the frontier something like twenty years. He lived in the forts and stations and lived entirely by hunting. Notwithstanding his color he was treated with as much respect as any white man. Few men possessed a more high sense of honor and true bravery than he did. He was possessed of a very strong natural mind and always cheerful and the very life of any company he was in. He had hunted in the "brush" for many years before I became acquainted with him. He was about the ordinary height, little inclined to be corpulent, slightly round shouldered and weighed about l60 to l70 pounds and very strong for one of his age.
One William Carr was in Capt. Robert Doak's militia company June 2, l774, and a William Carr was also in the Cherokee campaign under col. Christian in the same year. Beckley, in his "History of Tazewell Co.", tells of a hunter named Carr making an early settlement in Tazewell Co., Va.
Another long hunter, who was in the Clinch area for sometime, was Uriah Stone, and it seems he made land improvements in many places where he hunted, probably with the hope of selling them as he did one in the present Tazewell Co., as shown by a land suit in Augusta Co. Superior Court, Maxwell vs. Pickens, filed l807. In this suit James Maxwell stated:
"In l772 I went from Botetourt co. where I lived to present Tazewell Co. to make a settlement. I was in company with Samuel Walker. found a tract with some improvements, viz.: the foundations of a cabin, some rails split and some trees deadened. That night we fell in with a party of hunters, among them Uriah Stone, who claimed to have made the improvement, and I purchased it."
In the same land suit Lawrence Murray stated: "Thirty-three years ago (l774) I was in Wright's Valley at Uriah Stone's cabin."
Another land suit in the same court, Wynn vs. Engle's heirs, the same Samuel Walker referred to in the other case, stated that he came to the head of the Clinch in l77l, and the following year he came again with Robert Moffett. Shortly thereafter two men came out, viz.: Uriah Stone and John Stutler.
Note from Ida—-You will note how often Martin's Station is mentioned. I found where Cherokee Rose or the Beloved Woman went to Martin's Station and warned them that the Indians were going to attack. I started wondering why an Indian woman would go to a station and warn them. What I found was that Joseph Martin was living with one of her daughters and he had a wife back in Va. The wife in Va. knew about the Indian woman. She died and he went back to Va. and Md. another white woman named Graves. Note that one line of Skaggs tie in with the Graves family. Cherokee Rose had another daughter living in the Martin's station. She did not want her daughters killed. Now who was Cherokee Rose. She was also know as Nancy Ward. There is a film that you can get at LDS about Nancy Ward. Nancy Ward was lst married. to an Indian. She went to battle with her husband against another tribe of Indians. Her husband was killed and she picked up his gun and continued to fight, because she did this she was given the title of Beloved Woman or Cherokee Rose. She later maried a man from England. Nancy Ward was given lot of power after she fought with her husband. She was given the right to decided who was to be burned at the stake and who wasn't. She saved a Mrs. Bean from being burned at the stake. The Nancy Ward film give all of her descendants. There are many Martin's listed. Apparently if you can tie in with the Nancy Ward lines you don't have any trouble getting a number.
James Smith, a Pennsylvanian, left his home in the fall of l765, and the following spring of l766 found him in the Holston country of Va. Where settlement was thickening in the general vicinity of Samuel Stalnaker's place.
There, Smith, in company with Joshua Horton, William Baker, Uriah Stone, for whom Stone's river in Tenn. was named, and another James Smith from near Carlisle in Pennsylvania, had gone west.
Stone returned to middle Tenn. again in l767, and at this time, or soon after, Stone made an improvement on a claim to "A certain place known as Stoner's Lick, on the east side of Stone's river. Stone was a juror in the Fincastle court of July 7, l773, and on this same date, he, along with Obediah Terrell, Gasper, Mansker and Castleton Brooks were witnesses in the case of John Baker versus Humphrey Hogan, all of whom were long hunters. Then again in the Fincastle court of Nov. 3, l773, there was a motion by Uriah Stone to stay the proceedings of a judgment obtained against him by Obediah Terrell. The last mention of Stone in the Fincastle records was on Dec. 6, l774, when Gasper Mansker was a plaintiff against Uriah Stone and Jacob Harmon.
Michael Stoner, whose real name was George Michael Holsteiner, along with Isaac Bledsoe, Gasper Mansker, John Montgomery and Joseph Drake were on the Cumberland in l767 and are said to have had a station camp in l768 on what is now Station Camp Creek, north of Cumberland in middle Tenn.
A group of hunters from South Carolina, who were on the Cumberland in l767, make mention of meeting James Harrod and Michael Stoner on Stone's river, who were from Fort Pitt by way of the Illinois.
This is the very same Michael Stoner who was at Castlewood and went with Daniel Boone in l774 to Ky. to warn the surveying parties of Indian dangers just prior to the outbreak of Dunmore's war, and without proof, there is every evidence that Stoner was much better acquainted with Ky. than was Boone, for Boone's first trip through Cumberland Gap was in l769, and after having missed finding the gap on previous trips, he was at this time led through the gap by John Findley, another long hunter and settler on the Cumberland River in Tenn.
While trying to find someone to send to Ky. to warn the surveying parties, on June 22, l774, Col. William Christian wrote to Col. William Preston that he was thinking of sending out a certain Crabtreee to search for the surveyors, having him do this as a sort of atonement for his late achievement in murdering some friendly Cherokees. Having some doubt about the ethics of this, however, he next thought of sending out Joseph Drake, who, as one of the long hunters, was tolerably well acquainted with Ky.
Col. Preston wrote Captain William Russell of Castlewood about this matter, and Russell, on the 26th of June, l774, answered Preston saying: "I have engaged to start immediately, on the occasion, two of the best hands I could think of, Daniel Boone and Michael Stoner, who have engaged to search the country as low as the Falls (Louisville), and to return by way of Gasper's Lick on Cumberland, and through Cumberland Gap."
Michael Stoner went to Ky. with Boone when he made his settlement at Boonesboro, and Cotterill, in his "Ky. in l774" implies that Stoner was with Boone's party when they made their unsuccessful attempt to settle in Ky. in l773, and that he had been a close associate of Boone for several years before, Boone and Stoner having first met on the New River, and that, when Boone's party was turned back in l773, he had probably been living with the Boone family on the Clinch.
Stoner, born about l748, was also a member of Boone's road-cutting party through Cumberland Gap and was still alive in l80l, when he made a deposition in Wayne Co., Ky.
He married a doughtier of Andrew Tribble. He was wounded at the siege of Boonesboro, fainted from loss of blood after he had refused to let anyone come to him, for he was outside the fort walls. His wounds were only flesh wounds, one in the hip and another in the arm. After losing his land grants he settled with his father-in-law near Price's Station.
Two other long hunters of Powell Valley were William Crabtree and James Aldridge, both of whom were probably in Wallen's hunting party of l76l. Of these two, John Reed, says:
"I have seen them both frequently, but know nothing of interest connected with their long hunts. More of an Indian scout and hunter than a farmer, William Crabtree was a real backwoodsman, tall, slender and with slightly red hair.
The Crabtrees lived on the Holston, a numerous family, with many of the same name, therefore it is hard to distinguish which William was the long hunter, but it is believed he was the William who was a son of William and Hannah Whittaker Crabtree whose residence was at the Big Lick near Saltville. If so, he was born in Baltimore Co., Maryland, circa l748. His first wife was Hannah Lyon, sister to the long hunter, Humberson Lyon. After her death he was married in l777 to Katherine Starnes and she died in Tazewell Co. in l8l8. The father of William Crabtree, whose name was also William, lived near the Salt Works (now Saltville) where he died in l777. -Note the name Humberson Lyon. Remember Aaron Skaggs was taken into court for cohabitation with Sarah Lyon. No one knows who Sarah Lyon was. Was she the wife or daughter. of Humberson Lyon. Also Humberson stole a bunch of furs from James Skaggs).
Redd says: "I know not where Crabtree was from originally. In l777 he was living on Watauga, not far above its junction with the Holston. I know not what finally became of him. He was about thirty years of age."
Of the long hunter, James Aldridge, this writer has been unable to recover any data of significance, as he seems to be mentioned in none of the court records. Some writers have said that he lived on the New River, but John Redd says he lived in the neighborhood with the Crabtrees on Holston. He is described as being about 30 years of age, a dark haired, heavily built man, stoop shouldered, but with a sprightly mind.
Humberson Lyon, was another of the long hunters who early hunted on the Cumberland. He was a brother-in-law to Willaim Crabtree, having married his sister, Hanna Crabtree. (Note from Ida—will if he was a brother-in -law of William Crabtree then he could not be the husband of Sarah Lyon as many think. Many say that Crabtree started the Rev. War when he killed the Indian. A good paper back book is, "The Last Frontier" by Alan W. Eckert. You can purchase this book at your local book store and it is not high. It give you a lot of back ground as to what was going on in that day & time.) Humberson will was exhibited in Washington Co., Va. court on March l6, l784, and proven by the oaths of Isaac, Job, and Hanna Crabtree, and who, along with William Crabtree were wit. to the will. Abraham Crabtree was administrator & his securities were William & James Crabtree. The will was probated march l6, l784, and he left his estate to his wife and sons, William, James, Stephan and Jacob, and daughter Susanna.
Humberson Lyon was a Juror in Fincastle Co. in l773, & was recommended Captain in the Washington Co., Va. militia, Oct. 9, l780.
In l769, a party of approximately forty hunters, with James Knox as their leader spent more than a year in the Cumberland country. Many conflicting account of this party of l769 have been written. Much of the confusion because the party split into several parties, each going in a different direction. Everybody is pretty well agreed that they went in a body over the Hunter's trail to Flat Lick (near Stinking Creek, about eight miles north and a little west of Cumberland Ford).
Just about all the long hunters heretofore mentioned in this manuscript were on this hunt, and those not mentioned previously being the Bledsoe brothers, Anthony, Abraham & Isaac, John Baker, Thomas Gordon, Jacob Harmon, Castleton Brooks, John Montgomery, James Dysart, Humphrey Hogan, David and William Lynch, Christopher Stoph, William Allen, Joseph Brown, and Ned Cowan.
The Bledsoe brothers, Antohony, Abraham, and Isaac were tall men of fair complexion and of English origin. Their parents had come from England to Culpepper Co., Va. Their mother died and they left home because of an unkind step-mother. They came about l767 to the New River country. Anthony, the eldest, married Mary, the daughter of Thomas Ramsey, a noted Indian fighter and active in the French and Indian War.
Abraham Bledsoe became a professional hunter, but Isaac and Anthony were interested in land. Both settled in middle Tenn. about l784. Isaac, at this time about twenty-four years old, and after surviving years of border warfare in Va. and Eastern Tenn. spent two or three years in Ky., and, when that was safe from the Indians, went back to Bledsoe's Creek, and there he was killed , as was his brother Anthony, by the Indians.
Isaac Bledsoe was a Captain in the Cherokee Campaign in l776. He lived on Highway 58, between Bristol and Gate City, about five miles outside of Bristol. His land is now the property of the Saphr family who bought from him in l782.
A very interesting letter is to be found in the Draper Collection written by General William Hall, of Lucustland, Tenn. , to Dr. Draper, dated 2lst. of July l845, wherein he says:
"Sir, you wish to know something about Col. Bledsoe's discovering Bledsoe's Lick and the route of the long hunters, and Col. Mansker's killing the buffaloes at Bledsoe's Lick for the tallow and tongues.
"The long hunters principally resided in the upper country of Va., and North Carolina, on the New River and Holston River, and when they intended to make a long hunt, as they called it, they collected near the head of Holston, near where Abingdon now stands. Thence they proceeded a westerly direction passing through Powell's valley crossing the Cumberland mountain where the road now crosses leading to the Crab Orchard in Ky. Then crossing the Cumberland River where the said road now crosses Rockcastle, and leaving the Crab Orchard to the right and continuing nearly the said course, crossing the head of Green River, going on through the Barrens, crossing Big Barren River at the mouth of Drake's Creek; thence up Drake'c Creek to the head, crossing the ridge which divides the waters of the Ohio river from the waters of the Cumberland, and the hunters, after crossing the ridge, either went down Bledsoe's Creek, or Station Camp Creek to the river and then spread out in the Cumberland ready to make their hunt.
The first trip that the long hunters made was about l772 or l773. There were several very enterprising, smart, active members along. I will name a few: Col. Isaac Bledsoe, Col. John Montgomery, Col. Gasper Mansker, Henry Scaggs, Obediah Terrell, two Drakes (this would be Joseph and Ephraim), and a number of other could be named.
When the hunters crossed the dividing ridge first named, they fell on the head of Station Camp Creek, and went down it about three miles and from Cumberland river, came to a very large, plain, buffalo path, much traveled, crossing the creek at right angles north and south. The south side of the creek was a pretty high bluff and a beautiful flat ridge made down to the creek. The hunters pitched their camp on the bluff and on the buffalo path, and they made that their Station Camp from which the creek took its name.
Col. Bledsoe and Col. Mansker, the first night they pitched their camp, agreed that the buffalo path that ran by their camp must lead at each end to Sulphur Licks or springs, and they made an agreement that night for Col. Bledsoe, in the morning, to take the north end of the path, and Col. Mansker to take the south side of the path, and each to ride one half day along the path to see what discoveries they could make and give themselves time to return to camp that night and report what they had seen.
They were both successful in their expectations. One found Bledsoe's Lick at the end of thirteen miles, and the other found Mansker's Lick at about twelve miles. They both returned that night, with great joy, to their companions at the camp, and made known their discoveries of the two licks.
Col. Bledsoe told me when he came to Bledsoe's Creek, about two miles from the lick, he had some difficulty in riding along the path, the buffaloes were so crowded in the path, and on each side, that his horse could scarcely get through them, and when he got to the bend of the creek at the Lick, the whole flat surrounding the lick of about one hundred acres was principally covered with buffaloes in every direction. He said no only hundreds, but thousands.
The space containing the Sulphur springs was about two hundred yards each way across, and the buffalo had licked the dirt away several feet deep in that space, and within that space there issued out about a dozen Sulphur springs, at which the buffalo drank. Bledsoe said there was such a crowd of buffaloes in the Lick and around it, that he was afraid to get off his horse for fear of getting run over by the buffaloes, and as he sat on his horse he shot down two in the lick and the buffaloes tread them in the mud so that he could not skin them. The buffaloes did not mind the sight of him and his horse, but when the wind blew from him to them they got the scent of him, they would break and run in droves."
(Note from Ida—Note the following info. Apparently this is Dr. Denumbreun family. Remember he is the one that has written books about Aaron Skaggs. He recently died.)
The same year that Bledsoe discovered the lick, a Frenchman by the name of Denumbre, who lived at Kaskaski on the Mississippi river, with a party of French hunters, in a keel boat, came up the Cumberland river to the mouth of Bledsoe's Creek, and came to Bledsoe's Lick and killed at the Lick, and around in the vicinity of the Lick a sufficient number of buffaloes to load their boat with tallow and buffalo tongues. The second year after, when Bledsoe and the long hunters returned, when they crossed the ridge and came down on Bledsoe's Creek, in four or five miles of the Lick, the cane had grown up so thick in the woods that they thought they had mistaken the place until they came to the lick and saw what had been done. Bledosoe told me that one could walk for several hundred yards around the lick, and in the lick on Buffalo bones. They then found out the cause of the canes growing up so suddenly a few miles around the Lick which was in consequence of so many buffaloes being killed.
Sir, you was mistaken in thinking that I told you that Col. Mansker was the person that had killed the buffaloes at Bledsoe's Lick for tallow and tongues.
The Frenchman referred to as Denumbre, in the foregoing letter, was really Demunbreun, and of him Willims, in his "Dawn of Tennessee History", states:
"Some long hunters about l766 or l767 observed on the bluff near French Lick, a hut or trading post—evidently that of Timothe Demunbreun who, about that time arrived at that place in a sail boat and began to trade with Indians and Hunter."
In a long footnote, Williams tells a lot about this Frenchman. The Footnote says in part: "He and his family for some time lived in a cave on the banks of the Cumberland between the mouth of Mill Creek and Stone's river. A marker at the cave has been erected by the Daughters of the American Rev. Demuenbreun had a lineage and a career more remarkable than our historians conceived. His name in full and correctly was Jacques Timothe Boucher de Montbrun, descendant of Pierre Boucher who was the first French Canadian to be raised (l66l) to the rank of nobility in recognition of his work in bringing colonists into Canada.