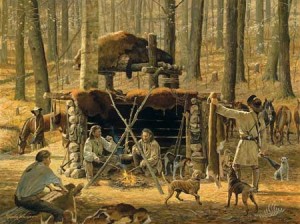 Rising between Blackwater Creek and Wallen's Creek, Powell mountain guards over the lands where my people have lived for more than 200 years.  They were among the first pioneers and settlers in this area, including long hunters such as Elisha Wallen, Abraham Bledsoe, William Roberts, and Big Bill Baker.  They came in search of game and settled here due to abundant natural resources such as salt and lead.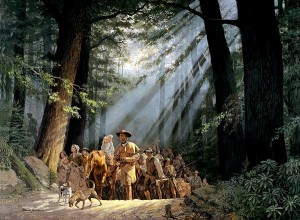 Adjacent to the Cumberland Gap, this area was the first gateway to the West.  Many settlers of the states of Kentucky, Ohio, Indiana, Illinois, Missouri, Kansas, Arkansas, Oklahoma, and Texas first came through here.  They followed the hunting paths made by the native Amerindians, who were simply following the paths made by their game.  These paths ran along creeks and rivers and through valleys and eventually became the highways that wind through Kentucky, East Tennesse and Southwest Virginia.  These include the "Wilderness Road" (US Highway 25), the "Daniel Boone Trail Highway" (US Highway 58), and the "Great Indian War Path" (US Highway 11).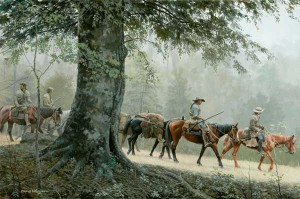 Although most of my ancestors' stories began at Plymouth Rock, they chose to settle in the Appalachian mountains here in Southwest Virginia and Northeast Tennessee.  On their journey Westward, they helped to pioneer Rhode Island, New Jersey, Pennsylvania, Virginia,  North Carolina, Tennessee, Kentucky, Ohio, and Missouri.  They were primarily Scots-Irish immigrants, and brought with them a stubborn, can-do attitude.
I can say that the heritage that I received from them is as follows:  Appreciation for hard work, stubbornness, independence, love of the outdoors, pride, patriotism, a fighting spirit, and a love for God and His Word.
My parents, Foyster and Evelyn (Baker) Roberts are the seventh generation of their families to live in this beautiful area.   Their home resides on AJ Osborne Highway in East Blackwater, Virginia, facing Powell Mountain.  Many times they have told me the stories of our families and this area.  I hope to share those stories with you.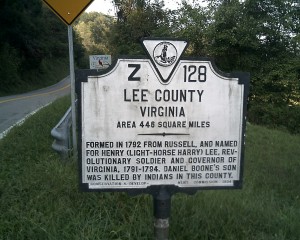 I want to thank Olonie ("O.C.") Helton, David Baker (my uncle), Joe Wallen (my distant relative in Tennessee), and Rudy Roberts (my distant relative in Oklahoma) for the valuable research that they shared with me.  I also want to thank Foyster and Evelyn Roberts (my parents), Ed and Nola Roberts (my uncle and aunt), Paul Roberts (my uncle), and Claude Baker (my grandfather) for the priceless family stories that they shared with me through the years.  Sadly, some of these folks have passed on.  But I look forward to seeing them and the rest of my family again when the Lord returns.
I also want to thank my lovely wife, Tracy (Patton) Roberts, for introducing me to WordPress.
I hope that this website is a blessing to you.  Thanks for stopping by.
Jeffery M. Roberts