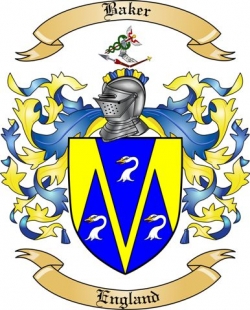 Our surname "Baker" comes from Old English "baecere", meaning "baker", and was an occupational name.  Variations of this name include: Bakere, Baiker, Backer, and others.
Our line of Bakers came from England.  Our earliest known ancestor was Simon Baker who was born @1500 and lived in Kent, England.It is believed that they were originally Normans that came over with William the Conqueror in 1066.  The earliest mention of this surname was of a William le Bakere in Norfolk in 1177.
The first Baker in our line to come to the U.S. was Andrew Baker, who came from Buckinghamshire to Plymouth Colony in 1624.