64th Virginia Mounted Infantry Regiment
Posted On March 3, 2014
Jesse Roberts, my great, great-grandfather, served in this regiment.  Here is a description from Wikipedia.org:
The 64th Virginia Mounted Infantry Regiment, consisting of troops raised in Lee, Scott, Wise and Buchanan counties in Virginia for service in the Confederate States Armyduring the American Civil War, served as an infantry regiment, a cavalry regiment, and a mounted infantry (dragoon) unit. It fought mostly in western Virginia and Tennessee.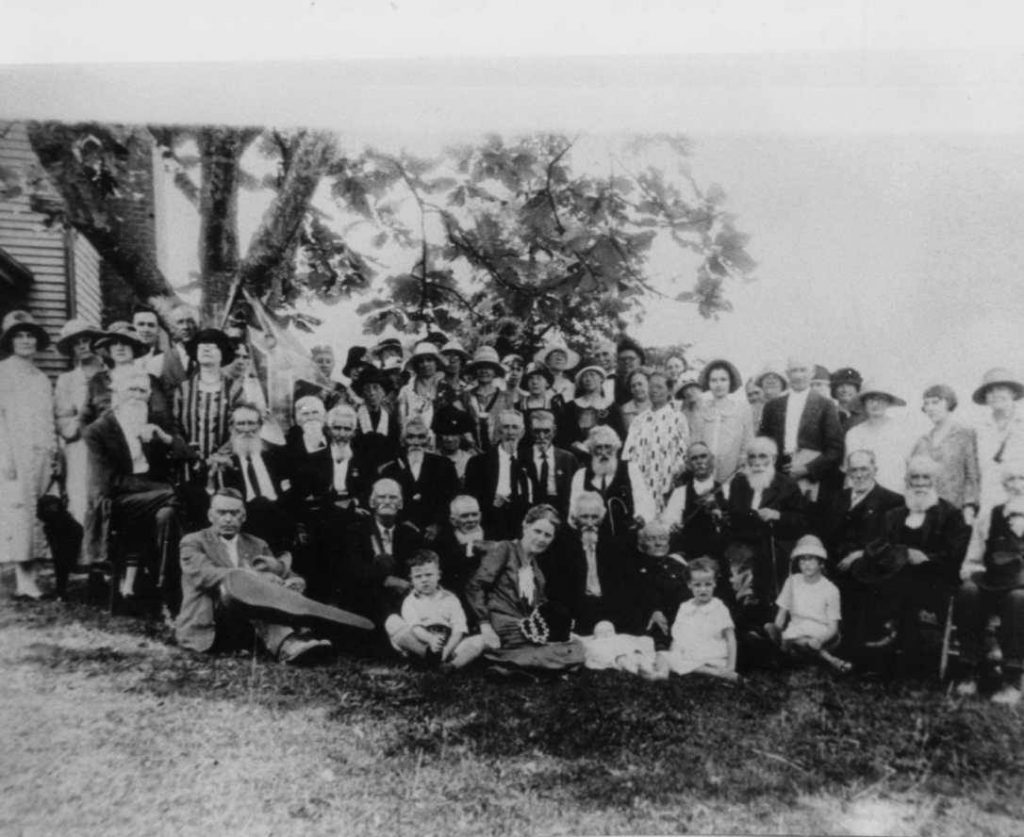 The 64th Regiment Virginia Mounted Infantry was organized in December 1862 in Abingdon, by consolidating the 21st and 29th Virginia Infantry Battalions. Prior to September 1, 1863, it was known as the 64th Virginia Infantry, and after that date it was also called the 64th Virginia Cavalry.
On September 9, a large part of this unit was captured at Cumberland Gap by Union General Ambrose Burnside. Which led to many of the captured men being sent toLouisville,Kentucky then later to Camp Douglas (Chicago). Later it served in Williams', Giltner's, and W.E. Jones' Brigade and confronted the Federals in various conflicts in East Tennessee, Western Virginia, and North Carolina.
During April 1864, it totaled 268 effectives, but in April 1865, less than 50 disbanded.
The field officers were Colonels Auburn L. Pridemore, a future Congressman, and Campbell Slemp, future Congressman Lieutenant Colonel James B. Richmond, and Major Harvey Gray.
Here is a link to a page that shows that Jesse was a Private in this regiment: http://files.usgwarchives.net/va/military/civilwar/rosters/va64th.txt
Here is the roster.  You'll see many familiar Lee County surnames:
Roster - 64th Virginia Mounted Infantry
ABSHER, WILLIAM: Corp., Co. B
ABSHER, JAMES M.: Sgt., Co. B
ADAMS, WILLIAM H.: 3rd Sgt., Co. E
ADDINGTON, CHARLES: Co. K
ADDINGTON, JAMES HENDERSON: Co. H
AGEE, WILLIAM H.: Co. C
AGNER, WILLIAM P.: Co. E
ALLEN, McDANIEL: Co. A
ALLEN, WILLIAM: Co. I
ALLEN, MOSES: Co. A
ALLEN, JAMES: Franklin's Co.
ALLEN, MARTIN: Co. F2
ALLEY, DAVID J.: Co. D
ANDERSON, S.: Co. D
ANDERSON, LEWIS: Co. D
ANDERSON, GEORGE W.: Co. D
ANDIS, SIMON P.: 4th Sgt., Co. K
ANDIS, WILLIAM: Co. I
ANDIS, JOHN M.: Co. G
ARNOLD, ALEXANDER T.: 2nd Lt., Co. G
ARNOLD, JAMES E.: Co. G
ASH, JOHN D.: Co. D
ASTON, C. C. J.: Asst. Surgeon, F&S
BAILEY, HENRY CLAY: Co. G
BAILEY, E. D.: Co. F2
BAILEY, JOHN W.: Co. F2
BAILEY, JOHN S.: Co. I
BAILEY, WILLIAM: Co. I
BAILEY, DAVID: 3rd Sgt., Co. G
BAILEY, PETER: Co. A
BAKER, L. T.: Co. I
BAKER, NOAH: Co. H
BAKER, E. L.: Co. D
BALL, JONATHAN K.: Co. B
BALL, WILLIAM N.: Co. A
BALL, THOMAS J.: Co. A
BALL, JONATHAN R.: Co. F2
BALL, JONATHAN: Co. B
BANKS, ALFRED: Co. A
BARBOUR, ABRAHAM: Corp., Co. B
BARKER, GEORGE WASHINGTON: Co. K
BARKER, JOHN B.: Co. A
BARKER, CHARLES W.: Co. A
BARKER, HENRY: Co. A
BARKER, JOEL: Co. K
BARKER, ELKANAH D.: Co. K
BARNES, SAMUEL: Co. K
BARNETT, W. H.: Co. C
BARNETT, JOHN: Co. C
BARNETT, ELI: Co. C
BARNETT, GEORGE WASHINGTON: Co. F
BARRETT, ROBERT JESSEE: Co. ?
BARRON, JOHN G.: Co. A
BAUMGARDNER, JOHN A.: Co. I
BEATTY, NAPOLEON EWING: M.D., Assistant Surgeon, F&S
BEATTY, WILLIAM H.: Co. A
BEATTY, JOHN ALEXANDER: Co. A
BELCHER, SIMEON: Co. F2
BELCHER, MILTON: Co. F2
BELLAMY, JOSEPH M. (W.?): Co. D
BELLAMY, JOHN W.: Co. D
BELLAMY, JAMES P.: Co. D
BELLAMY, WILLIAM: Fugate's Co. (Co. D)
BELLAMY, WILLIAM C.: Co. D
BENTON, ZACHARIAH: Co. C
BENTON, ADISON L.: Co. C
BENTON, WILLIAM: Co. F
BENTON, ROBERT C.: 1st Corp., Co. C
BERRY, JOHN A.: Co. C
BERRY, W. W.: Co. D
BERRY, M. D.: Co. C, PWR. BERRY, ADAM J.: Co. C
BEVERLY, JOHN F.: Co. H
BEVERLY, SYLVESTER: Co. H
BEVINS, GEORGE WASHINGTON: 2nd Sgt., Co. E
BEVINS, ISAAC C.: Co. E
BEVINS, JAMES S.: Co. E
BISHOP, HENRY: Co. I
BISHOP, ANDREW JACKSON: Co. I
BISHOP, JAMES W.: Co. I
BISHOP, M. W.: Co. A
BISHOP, LEWIS: Co. H
BISHOP, JOHN W.: Co. I
BISHOP, MATHEW: Co. B
BISHOP, MARTIN G.: Co. I
BLACKENBECKER, JOHN A.: Co. E
BLACKMORE, (first name not given): 3rd Sgt., Co. K
BLAIR, CHARLES: Co. H
BLAKEMORE, JOHN THOMAS: Co. B
BLAKEMORE, EDMUND D.: Co. B
BLAKEMORE, JOSEPH K.: Co. K
BLAKEMORE, CHARLES FRANKLIN: Co. B
BLAKEMORE, JOHN A.: Co. F
BLAKEMORE, SQUIRE ASBERRY: Co. F2
BLALOCK, ANDREW JACKSON: Co. E
BLALOCK, WILLIAM: Co. E
BLANKENSHIP, JOHN A.: Co. E
BLANTON, ISAAC: Co. H
BLEDSOE, JESSE FRANK: Franklin's Co.
BLEDSOE, JOHN L.: Co. C
BLEDSOE, NEWTON: Co. F2
BLESSING, SOLOMON: Co. K
BLESSING, ANDERSON: Co. K
BLEVINS, DAVID: Co. F2
BLEVINS, WILLIAM: Co. H
BLEVINS, JOHN RANSOM: Co. H
BLEVINS, JAMES: Co. H
BLOOMER, THOMAS J.: 5th Sgt., Co. C
BLOOMER, NATHANIEL B.: Co. I/C
BLOOMER, DANIEL: Co. I
BOATRIGHT, JOHN M.: Co. D
BOATRIGHT, JAMES V.: Co. D
BOATRIGHT, GRANVILLE H.: Co. D
BOBIN, EFFS: Co. A
BOGGS, DOCTOR FRANKLIN: 3rd Corp., Co. H
BOGGS, JESSE F.: 1st Corp., Co. H
BOLES, PRIOR W.: Co. B
BOLES, MARTIN V.: Co. A
BOLES, MARTIN VAN BUREN: Co. B
BOLIN, JAMES: Co. A
BOLIN, JAMES M.: 2nd Lt., Co. G
BOLIN, LEWIS: Co. A
BOLIN, ROBERT H.: Co. A
BOLIN, ELIN: Co. F2
BOLIN, BRITTAN: Co. A
BOLTON, WILLIAM: Co. D
BOND, WILLIAM W.: Sgt., Co. H
BOND, ISAAC M.: Co. H
BORDEN, JAMES B.: 1st Corp., Co. I
BOWLEN, JOHN J.: Co. I
BOWLEN, JAMES B.: Co. I
BOWLIN, ELBERT T.: Co. C
BOWLIN, WILLIAM H.: Sgt. Major, Co. C/F&S
BOWLIN, WILLIAM: Co. F2
BOWLIN, HIRAM C.: Co. B
BOWLING, JAMES B.: Sgt., Co. I
BOWMAN, JAMES: Co. G
BOWMAN, NATHANIEL: Co. F2
BOYD, J. M.: Co. H
BOYD, JOHN S.: Co. ?
BRADLEY, GEORGE WASHINGTON: Co. I
BRADLEY, WILLIAM: Co. H
BRAY, MICHAEL D.: Co. C
BREEDING, JASPER: Co. F2
BREEDING, J. H.: Co. K
BREMILLER, L. F.: Co. E
BREWER, HENRY K.: Co. A
BRIANS, HENRY C.: Co. H
BRICKLEY, DANIEL M.: Co. E
BRICKLEY, JAMES A.: Co. E
BRICKLEY, PARISH: Co. E
BROADWATER, JOHN: Co. E
BROOKS, BENTON: Co. F
BROWN, WILLIAM S.: Co. K
BROWN, WILLIS S.: Co. F2
BRUER, HENRY R.: Co. A
BRUMITT, ALEXANDER: Co. H
BRUMITT, GEORGE: Co. H
BRYANT, B.: Co. B
BRYANT, JEFFERSON J.: Co. A
BULL, ISAAC D.: Co. F
BUMGARDNER, WILLIAM A.: Co. F(2)/G
BUNCH, JESSE: Co. A
BUNCH, H. C.: Co. ?
BURCHETT, JAMES: Co. K
BURGEON, GEORGE: Co. F2
BURK, WILLIAM: Co. B
BURK, THOMAS J.: Co. B
BURK, ELI: Franklin's Co.
BURTON, WILLIAM L.: Co. B
BUSH, JAMES: Co. I
BUSH, CALVIN: Co. A
BUSH, ENOCH: Co. I
BUTLER, WILLIAM R.: Co. C
BYINGTON, WILLIAM J.: Co. A
BYINGTON, J. B.: Co. ?
CALLAHAM, EDWARD: Co. F2
CALLIHAM, JOHN: Co. F2
CALOW, WILLIAM J.: Sgt., Co. B
CALTON, DAVID: Co. A
CAMPBELL, ISAAC: Co. C
CAMPBELL, JOSEPH: Co. K
CANK, CHARLES: Co. F2
CAP, NASHAM: Co. I
CARD, WILLIAM: Co. B
CARDINE, J. J.: Co. H
CARNES, THOMAS P.: Ordnance Sgt., Co. A/F&S
CARNES, JOHN W.: Co. A
CARR, LEVI: Co. K
CARROLL, WILLIAM J.: Co. A
CARROLL, THOMAS JEFFERSON: Co. F2
CARROLL, JAMES W.: Co. A
CARROLL, JOHN: Co. K
CARTER, DALE WILLIAM: Co. C
CARTER, CHAREN P.: 3rd Lt., Co. H
CARTER, WILLIAM H.: 2nd Lt., Co. I
CARTER, NELSON P.: Co. C
CARTER, ANDREW JACKSON: Co. C
CARTER, RANSOM: Co. I
CARTER, WILLIAM: Co. I
CARTER, MORGAN C.: Co. C
CARTER, WILLIAM M.: Co. K
CARTER, JAMES A.: Co. C
CARTER, JOHN: Co. K
CARTER, GRANVILLE: Co. H
CARTER, JOHN F.: 3rd Sgt., Co. C
CASTEEL, WILLIAM F.: 2nd Sgt., Co. D
CASTEEL, JOHN D.: Co. D
CASTEEL, HENRY F.: 1st Corp., Co. D
CECIL, ZACHAIRAH THOMAS: Co. G
CECIL, JAMES WILKERSON: Co. A
CECIL, JOHN W.: 3rd Corp., Co. A
CECIL, EDWARD WITTEN: Co. F
CHANDLER, S. T.: Co. B
CHEAT, CHARLES C.: Co. F2
CHEEK, OWEN: Co. B
CHEEK, ROBERT W.: Co. G
CHILDERS, GEORGE WASHINGTON: Co. I
CHILDRESS, HOUSTON: Co. C
CHILDRESS, ELIJAH: Co. C
CHRISTIAN, JAMES A.: Co. D
CHURCH, SILAS: Co. H
CHURCH, ISAIAH: Co. K
CHURCH, JOHN: Co. K
CLARK, WASHINGTON: 1st Sgt., Co. F2
CLARK, WILLIAM M.: Co. C
CLARK, LEVI: Co. ?
CLARK, GEORGE FIELD: Co. H
CLARK, BENJAMIN FRANKLIN: Co. K
CLARKSTON, THOMAS, Jr.: Co. I
CLARKSTON, JAMES: Co. I
CLARKSTON, JOHN: Co. I
CLAWSON, WILLIAM R.: Co. G
CLAWSON, THOMAS J.: Co. G
CLAWSON, JOHN A.: Co. G
CLEEK, MICHAEL L.: Co. E
CLEEK, JOHN R.: Co. E
CLENDENEN, JOSEPH S.: Co. C
CLIFTON, WILLIAM: Co. K
CLOUD, JOHN H.: Co. K
CLOUD, GEORGE W.: Co. K
COLDIRON, JAMES: Co. I
COLE, DAVID M.: Co. G
COLE, MATTHEW: Co. K
COLE, JEFFERSON: Co. K
COLEMAN, STERLING G.: Co. K
COLEMAN, JAMES: Co. I
COLLIER, AARON J.: Co. H
COLLIER, WILLIAM JASPER: Capt., Co. I
COLLIER, WILLIAM J.: Corp., Co. I
COLLIER, WILLIAM J.: Co. A
COLLIER, WILLIAM M.: Co. K
COLLIER, WILLIAM R.: Co. I
COLLIER, LEWIS: Co. I
COLLIER, THOMAS BENTON: Co. H/I
COLLINGSWORTH, GEORGE WASHINGTON: Co. B
COLLINS, ENOCH: Co. E
COLLINS, NOAH: Co. E
COLLINS, WILLIAM R.: Co. A
COLLINS, PERRY: Co. K
COLLINS, ARCHIBALD P.: Co. H
COLLINS, DAVID: Co. A
COLLINS, CLARK W.: Co. E
COLLINS, EVAN: Co. A
COLLINSWORTH, WILLIAM H.: Co. A
COMBS, SOLOMON: Co. K
COMBS, WILLIAM N.: Co. K
COMPTON, GREEN BERRY: Co. E
COMPTON, JASPER M.: Co. E
CONNER, L.: Co. K
COOK, WILLIAM A. D.: Co. A
COOK, SIMEON: Co. C
COOMER, WILLIAM: Co. I
COOMER, ANDREW JACKSON: Co. I
COOPER, HIRAM: 1st Lt./2nd Lt., Co. H
COOPER, GEORGE: Co. G
COUK, JOHN MARTIN: Ordnance Sgt., F&S
COUNTS, NOAH W.: Co. E
COX, JOBE C. S.: Corporal, Co. G
COX, WILLIAM R.: 1st Lt., Co. A
COX, WILLIAM H.: Co. E
COX, NATHANIEL SWORD: Co. I
COX, MITCHELL CECIL: Co. C/A
COX, FRANKLIN: Co. K
CRABTREE, JAMES PATRICK: Co. F2
CRAGE, WILLIAM: Co. F2
CRAGER, ANDREW JACKSON: Co. K
CRANE, WILLIAM: Co. ?
CREECH, WILLIAM: Co. A
CREECH, GENERAL LEE: Co. G
CREECH, WARD: Co. H
CREECH, JONATHAN: 1st Lt., Co. H
CREECH, ALEXANDER L.: Co. A
CREECH, IRA: Capt., Co. H
CRESS, HENRY A.: Co. A
CROOK, THOMAS JEFFERSON: Co. A
CROOK, ATLANTIC OCEAN: Co. I
CRUMBY, SAMUEL: 1st Sgt., Co. D
CRUMLEY, ISAAC: Co. K
CULBERTSON, LIVINGSTON: Co. H
CULLIME, WILLIAM J.: Ordnance Sgt., Co. B/F&S
DARNELL, MICHAEL (MITCEHLL) M.: Templeton's Co.
DAUGHERTY, MATHEW B.: Co. F
DAUGHERTY, SYLVESTER P.: 2nd Lieutenant, Co. E
DAUGHERTY, CHARLES: Co. I
DAUGHERTY, WILLIAM: Co. A
DAUGHTERY, JAMES W.: Co. I
DAUGHTERY, WILLIAM: Co. E
DAVIDSON, JOSEPH: Corporal/4th Sgt., Co. C
DAVIDSON, ROBERT: Co. C
DAVIDSON, J. H.: Co. I
DAVIDSON, WILLIAM: Comapny F
DAVIDSON, WAYNE: Co. C
DAVIDSON, GOLEMAN: Sgt., Co. K
DAVIDSON, JOSEPH: Co. C
DAVIDSON, JAMES K.: Co. C
DAVIDSON, GOOLMAN: Co. I
DAVIS, JAMES: Co. G
DAVIS, JOHN: Co. I
DAVIS, WILLIAM S.: Co. A
DAVIS, WILSON: Co. I
DAVIS, WILLIAM: Co. I
DAVIS, RANSOM R.: Co. I
DAWTON, I. H.: Co. A
DAY, LEXINGTON D.: Capt., Co. D
DAY, FREDERICK H.: Co. D
DAY, JACOB H.: Co. I
DAY, JAMES M.: Co. K
DEAN, WILLIAM: Co. K
DEAN, JEREMIAH L.: Co. K
DeBOARDE, WILLIAM B.: Co. K
DELPH, JOHN H.: Co. K
DEVAULT, ELDRIDGE F.: Co. K
DICKENSON, JOHN W.: Co. K
DICKINSON, E. R.: Co. B
DICKINSON, DANIEL S.: Capt. Assistant Commissary of Supply, F&S
DILLON, WILLIAM J.: 2nd Lieutenant, Co. ?
DISHNER, SAMUEL BUFFORD: Co. I
DIXON, WILLIAM: Co. D
DIXON, W. H.: Co. B
DODSON, ELI G.: Co. K
DORTON, JOHN M.: Co. I
DORTON, COALBERT C.: Co. I
DORTON, JOSEPH H.: Co. I
DRAKE, JAMES: Co. F2
DUFF, JEROME B. (HILL): Quartermaster Sgt., Co. A/H
DUFF, C. A.: Co. B
DUFF, SAMUEL HENRY: Co. F2
DUFF, J. M.: Co. B
DUFF, JOHN H.: Quartermaster Sgt., F&S
DUFF, WILLIAM: Co. G
DULANEY, WILLIAM L.: Musician, Co. E
DUNCAN, LEASON T.: Co. G
DUNCAN, CALVIN, Co. K
DUNCAN, CALVIN, Co. A
DUNCAN, L. L.: Co. G
DURHAM, WILLIAM: Co. K
DURHAM, FRANKLIN H.: Co. I
DYKES, JAMES M.: Co. D
EADINS, JOHN: Co. C
EAGLE, AMBROSE H.: Co. B
EAGLE, JAMES C.: 2nd Corporal, Co. B
EASTERLING, HENRY S.: Co. E
EASTRIDGE, GEORGE: Co. C
EDENS, ENOCH: Co. I
EDENS, DANIEL: Co. I
EDWARDS, THOMAS J.: Co. C
EDWARDS, JAMES R.: Co. C
EDWARDS, SAMUEL: Co. C
EDWARDS, WILLIAM: Co. C
EGAN, EMORY: Co. D
EGAN, ELIJAH: Co. D
EGAN, HENDERSON: Co. D
ELDRIDGE, JAMES: Co. H
ELDRIDGE, CARR: Co. H
ELKINS, JAMES, Co. H
ELKINS, JOHN M.: Co. H
ELKINS, WILLIAM B.: Co. H
ELKINS, JOSEPH M.: Co. K
ELKINS, THOMAS: Co. K
ELKINS, ELKANAH: Co. K
ELLIS, F. J.: Co. D
ELY, ALEXANDER: Co. F2
ELY, ANDREW JACKSON: Co. A
ELY, JAMES R.: Co. A
ELY, JAMES ROBERT: 3rd Sgt., Co. F2
ELY, JOSEPH: Co. K
ELY, JOHN H.: Co. K
ELY, GEORGE WASHINGTON: Co. A
ELY, JOHN ZION: Co. G
ELY, JOHN C. H.: 3rd Lieutenant/Private, Co. K
ELY, GEORGE WASHINGTON, Jr.: Co. A
ELY, NIMROD CHRISMAN, Co. K
ELY, DAVID: Co. K
ELY, COLUMBUS: Co. K
EMMERT, WILLIAM L.: Co. D
EMMERT, JOHN R.: 1st Corporal, Co. D
ENGLAND, JAMES: Co. I
ENGLAND, HIRAM: Co. I
ENGLE, FRANKLIN: Co. K
ENTWISTLE, ROBERT: Co. C
ERVIN, JAMES H.: Co. D
ESTEP, SAMUEL: Co. E
ESTEP, T. C.: Co. E
ESTEP, JOHN: Co. E
FAISON, T. L.: Co. B
FALIN, MARTIN: Co. I
FALIN, ELIJAH: Co. D
FALIN, WILLIAM A.: Capt., Co. C
FALIN, THOMAS: Franklin's Co.
FALIN, ENOCH: Co. C
FALIN, HEZEKIAH: Co. C
FALIN, THOMAS: Co. F(2)
FANNAN, THOMAS L.: Co. B
FANNAN, MARTIN L.: Co. B
FARLEY, JEROME H.: Co. B
FARMER, WILLIAM L.: Co. H
FERGUSON, GEORGE WILL M.: Co. B
FERGUSON, JOEL: Co. F2
FICKLE, JOHN BRADLEY: Co. C
FIELDS, JOEL: Co. E
FIELDS, WILLIAM: Franklin's Co.
FIELDS, ZACHARIAH: Co. D
FIELDS, TILMON: Co. B
FIELDS, JAMES: Co. D
FIELDS, JOHN: Co. C
FISHER, IRA J.: Co. C
FISHER, EDMOND: Co. C
FITTS, WILLIAM HOWARD: Capt., Co. K
FITTS, JOHN R.: Co. E
FLANARY, REESE DUFF: Sgt., Co. A
FLANARY, TRAVIS HORTON: Co. A/G
FLANARY, JASPER: Co. F2
FLANARY, JAMES M.: 4th Sgt., Co. G
FLANARY, ZION: Co. G
FLANARY, JOHN M.: Co. K
FLANARY, DAVID CROCKETT: 3rd Sgt., Co. A
FLANARY, SINKLER: Co. F2
FLANARY, CREED FULTON: 1st Sgt., Co. A/G
FLANARY, ELKANAH: Co. G
FLANARY, HARVEY: Co. I
FLEENOR, ELI: Co. I
FLEENOR, THOMAS W.: 1st Sgt., Co. K
FLEENOR, WESLEY J.: 3rd Lt., Co. A
FLEENOR, JOHN H.: 3rd Sgt., Co. K
FLEENOR, HARVEY G.: Musician (Drummer), Co. K
FLEENOR, CHARLES B.: Corporal, Co. K
FLETCHER, GEORGE R.: Farrier, Co. K
FLETCHER, JAMES L.: Co. D
FLETCHER, JORDAN T.: Co. D
FLETCHER, JAMES DYKES: 3rd Lieutenant, Co. D
FLETCHER, JONATHAN D.: Co. D
FLETCHER, JACOB M.: Co. B
FLETCHER, WILLIAM C.: Co. E
FLETCHER, L. H.: Co. D
FLETCHER, JESSE BORENDS: Co. D
FLETCHER, JENKINS: Co. D
FLETCHER, WILLIAM: Co. K
FORTNER, W. PERRY: 3rd Lt., Co. B
FORTUNE, WILLIAM: Co. A
FRALEY, CHRISTOPHER COLUMBUS: Co. E
FRALEY, WILLIAM: Co. F2
FRALEY, JEROME H.: Co. B
FRALEY, EPHRAIM: Co. C
FRANCE, WILLIAM: Co. C
FRANCE, HENRY: Co. C
FRANCE, ELIJAH: Co. C
FRANCE, WILLIAM H.: Co. A
FRANCISCO, WILLIAM F.: Co. E
FRANCISCO, CORNELIUS F.: Co. E
FRANKLIN, JAMES: Capt., Franklin's Co.
FRANKLIN, OWEN: Sgt., Franklin's Co.
FRAZIER, WILLIAM H.: Co. C
FRAZIER, WILLIAM: Co. A
FRAZIER, D.: Co. I
FRAZIER, WILLIAM A.: Co. D
FRAZIER, W. W.: Co. C
FRAZIER, J. D.: Co. ?
FRAZIER, W.: Co. B
FRAZIER, DANIEL: Co. C
FRAZIER, SOLOMON Jr.: Co. E
FREEM, M. L.: Co. H
FREEMAN, DAVID T.: Co. E
FREEMAN, JOSEPH T.: Co. H
FREEMAN, DANIEL G.: Co. E
FREEMAN, LARKIN: Co. E
FUGATE, HENRY: Co. B
FUGATE, JAMES C.: Co. E
FUGATE, MARTIN B.: 1st Lt./Capt., Co. E
FUGATE, JAMES P.: Corp., Co. D
FUGATE, JOSEPH C.: Musician, Co. D
FULK, CHRISTIAN P.: Co. D
FULLEN, JOEL K.: Co. E
FULLER, WHITLEY F.: Co. E
GARDNER, WILLIAM: Co. E
GARDNER, GEORGE WASHINGTON: Co. K
GARRETT, E.: Co. C
GARRETT, M. B.: Co. F2
GARRETT, ROBERT: Co. G
GARRETT, EDWARD: Co. G
GARRETT, THOMAS H.: Co. K
GARRETT, JOHN D.: Co. G
GARRETT, JOHN D.: Co. F2
GARRETT, FRANCIS: Co. K
GARRETT, MORRISON: Co. A
GARRISON, ALLEN: Co. A
GARRISON, JOHN R.: Co. F2
GARRISON, ANDREW JACKSON: Co. A
GARRISON, CHARLES G.: Co. ?
GARRISON, DANIEL BOONE: Co. A
GARROTT, L.: Co. K
GARROTT, JOHN B.: Co. F2
GIBBONS, HENRY: Co. B
GIBHONS, HENRY: Co. C
GIBSON, WILLIAM E.: Co. E
GIBSON, ZACHARIAH SMITH, Co. B
GIBSON, JORDAN: Co. K
GIBSON, HARVEY: Co. E
GIBSON, JOEL: Co. E
GIBSON, GEORGE: Co. E
GIBSON, J. L.: Co. A
GIBSON, JOHN B.: Co. K
GIBSON, JENKINS: Co. E
GIBSON, GILFORD: Co. A
GIBSON, JAMES K.: Co. E
GILBERT, LEANDER: Co. G/K
GILLENWATERS, HERALD S.: Co. D
GILLENWATERS, ELIJAH C.: Co. D
GILLEY, JOHN B.: Co. H
GILLEY, JOHN W.: Co. H
GILLEY, ABSALOM: Co. K
GILLEY, J. R.: Co. A
GILLEY, GEORGE G., Jr.: Co. K
GILLEY, FRANKLIN: Co. K
GILLIAM, THOMAS: Co. I
GILLIAM, FRANCIS MARION: Co. C
GILLIAM, JOHN R.: Co. C
GILLIAM, WILLIAM S.: Franklin's Co.
GILLIAM, PETER P.: Co. I
GILLIAM, PETER P.: Co. D
GILLIAM, THOMAS M.: Co. C
GILREATH, THOMAS S. A.: Franklin's Co.
GIVENS, THOMAS: Co. F2
GODSEY, WILLIAM: Co. C
GODSEY, MARTIN: 1st Sgt., Co. E
GOINS, BURTON M.: Co. A
GOINS, WILLIAM: Co. A
GOINS, HENRY CLAY: Co. B
GOLDEN, JOHN A.: Co. G
GOLIHER, ROBERT: Co. F2
GOLLAHON, HENDERSON: Co. K
GOLLAHON, WILLIAM: Co. K
GOOD, LAFAYETTE: Co. C
GOOD, TIMOTHY: Co. A
GOOD, W. P.: Co. D
GOODE, JOHN: Co. A
GOTT, DAVID: 3rd Corp., Co. E
GOTT, DANIEL: Co. E
GRAHAM, JAMES P.: 5th Sgt., Co. F2
GRAHAM, MADISON KYLE: Co. A
GRAHAM, J. B.: Co. B
GRAHAM, JAMES HENDERSON: 1st Sgt./1st Lieutenant, Co. A
GRAHAM, THOMAS N.: 1st Sgt., Co. B
GRAHAM, SAMUEL P.: Co. F2
GRAHAM, WILLIAM R.: 1st Lieutenant/Capt., Co. K/G/F(2)
GRAHAM, WILLIAM, Co. I
GRAY, HARVEY: Capt./Major, Co. E/F&S
GRAY, SAMUEL C.: 2nd Lt,. Co. D
GRAY, HENRY P.: Corp., Co. G
GRAYBILL, J.: Co. C, Served 2 years per PWR. GRAYBILL, JOSEPHUS: Co. F2
GRAYBILL, JACOB: Co. K
GREEN, WILLIAM M.: Corporal, Co. E
GREEN, DAVID C.: Co. E
GREEN, FRANCIS MARION: Co. E
GREEN, VANCE: Co. F2
GREEN, MORRISON: 3rd Corp., Co. B
GRIFFIN, EDWARD: Co. B
GRIFFIN, SAMUEL: Co. F2
GRIFFIN, WILLIAM: Co. B
GRIMES, CHARLES L.: Co. D
GRIMES, JOSHUA: Co. K
GRIMES, HENRY: Co. K
GRISHAM, JOHN: Co. F2
GRUBB, LEVI: Co. F2
GRUBB, BENJAMIN E.: Co. E
GUMM, JOHN: Co. E
GUNN, WILLIAM N.: Co. K
HABURN, GEORGE W. H.: Co. A
HABURN, BENJAMIN FRANKLIN: Corp., Co. A
HACKNEY, JOSEPH: Co. F2
HALE, JAMES C., Jr.: Co. I
HALE, ELISHA: 1st Corp./3rd Lt., Co. I
HALE, JOHN P.: Co. I
HALE, JAMES C.: 3rd Lieutenant/2nd Lieutenant, Co. I
HALE, JAMES C., Sr.: Co. I
HALEY, VIRGIL A. S.: Co. B
HALEY, JAMES A.: Co. B
HALL, DANIEL: Co. B
HALL, HENRY: Co. H
HALL, WILLIAM: Co. K
HALL, AARON C.: Co. D
HALL, A. Co. E
HALL, JOHN: Co. B
HALL, ARTHUR C.: Co. B
HAMBLINN, NEWTON: Co. K
HAMILTON, NELSON: Co. K
HAMMONDS, AMOS: Co. D
HAMMONDS, JENKINS: Co. D
HAMPTON, JAMES C.: Co. ?
HANDY, WILLIAM D.: Sgt./3rd Lieutenant, Co. B
HARBER, MILTON: Co. F2
HARBER, CHARLES: Co. G
HARBER, H. M.: Co. A
HARBER, CHARLES: Co. A
HARGREAVES, BENEDICT: Co. K
HARLESS, ISOM: Co. I
HARPER, EDWARD: 4th Corporal, Co. I
HARREL, J. M.: Co. D
HARRELL, MILTON: Co. D
HARRIS, ALEXANDER: Co. B
HARRIS, NATHANIEL: Co. A
HARRIS, DILWORTH: Co. B
HARRIS, CHARLES T.: Co. F2
HARRIS, ROBERT S.: Co. I
HARRIS, HIRAM: Co. F2
HARRIS, MARMADUKE: Co. C
HARRIS, DANIEL: Co. D
HARRIS, JOHN C.: Co. F2
HARRISON, WILLIAM E.: Co. D
HARRISON, HENRY: Co. D
HARRISON, JOHN R.: Co. D
HART, W.: Co. A
HART, ISAAC B.: Co. E
HART, S. B.: Co. E
HARTGROVE, WILLIAM W.: Co. K
HARTSOCK, AARON: Co. E
HARTSOCK, SAMUEL: Co. F2
HASH, AMBROSE: Co. G
HATFIELD, ANDREW JACKSON: Co. K
HAYNES, JAMES S.: Capt., Co. D
HAYNES, DAVID W.: Co. D
HAYNES, SAMUEL W.: Co. D
HAYS, JOHN: Co. H
HEAD, HEZIKIAH P.: Co. I
HEAD, JOHN B.: Co. C
HEAD, JAMES H.: Co. D
HEDRICK, JEFFERSON: Co. A
HENSHAW, LEONARD W.: Co. B
HENSLEY, ROBERT P.: Co. D
HENSLEY, ELI: Co. C
HENSLEY, JOHN P.: Co. D
HENSLEY, W. R.: Co. D
HENSLEY, WILLIAM H.: Co. D
HENSLEY, WILLIAM P.: Co. K
HERALD, WILLIAM: Co. D
HERALD, MILTON: Co. D
HERRON, HARVEY H.: Co. D
HERRON, LEWIS E.: Co. D
HIATT, JOHN A. G.: Sgt. Major/Lieutenant-Adjutant, Co. A/F&S
HIATT, ELI W.: 2nd Corporal/Private, Co. I
HIATT, MARION ELDRIDGE.: Co. I
HIATT, ENOS K.: Co. I
HICKAM, FRANCIS MARION: 2nd Lieutenant, Co. ?
HICKAM, GEORGE WASHINGTON: Co. B
HICKAM, ANDREW JACKSON: Co. B
HIGGINS, DAVID: Co. C
HILL, ISAAC W.: Co. D
HILL, JOHN: Co. D
HILTON, EMANUEL H.: Co. C
HOBBS, JOB: Co. G
HOBBS, ZION FLANARY: 4th Sgt., Co. F2
HOBBS, JOHN ZION: Co. A
HOBBS, Z. T.: 1st Lieutenant, Co. B, 29th Battn.
HOBBS, VINCENT: Co. G
HOBBS, JOSHUA EWING: Capt., Co. A
HOBBS, DAVID CROCKETT: 2nd Lieutenant, Co. A
HOBBS, AARON SPENCER: Co. G
HOBBS, HAMPTON B.: Co. F2
HODGE, EMANUEL: Co. I
HODGE, CALAWAY: Co. I
HOLCUM, THOMAS R.: Co. I
HOLT, ANDREW JACKSON: Co. A/F(2)
HONEYCUTT, VALENTINE: Co. E
HONEYCUTT, WILLIAM R.: Co. E
HOOD, WILLIAM "WHITT": 2nd Corp., Co. C
HOOVER, HENRY: Co. F2
HOOVER, JACOB: Co. G
HOOVER, HENRY: Co. I
HOOVER, MARTIN VAN BUREN: Co. I
HOPKINS, JACOB: Co. K
HOPKINS, REUBEN: Co. K
HORNE, STEPHEN: Co. H
HORNE, JOHN POLSON: Co. H
HORNE, SAMUEL P.: Co. H
HORNE, HENRY: Co. H
HORTON, J. H.: Co. D
HORTON, ENOCH H.: 5th Sgt., Co. C
HORTON, ROBERT H.: 1st Sgt., Co. C
HUFF, JOHN: Co. H
HUFF, WILLIAM T.: Co. H
HUFF, LORENZO DOW: Co. H
HUGHES, GEORGE WASHINGTON: Co. G
HUGHES, DAVID S.: Co. G
HUGHES, IRA G.: Co. G
HUGHES, JOHN T.: 3rd Corp., Co. G
HUGHES, WILLIAM: Co. A
HUGHES, JOHN: Co. K
HUGHES, TOBIAS V.: Co. G
HUNSUCKER, ARCHIBALD: 2nd Lt., Served in Co. E 29th Battn.
HUNSUCKER, JAMES: Capt., Co. E - 29th Inf. Battn.
HUNSUCKER, JONATHAN: Co. K
HYDEN, JOHN R.: Co. B
HYDEN, GRANVILLE: Co. B
HYDEN, WILLIAM: Co. B
HYDEN, JOHN M.: Co. B
INGLE, FRANKLIN: Co. K
INGLE, JOHN: Co. F2
INGLE, ISAAC: Co. B
INGLE, WILLIAM: Co. B
INGLE, JAMES: Co. B
INGLE, JACOB: Co. F2
ISOM, GEORGE: Co. K
ISOM, ISAAC: Co. H
ISOM, EDMUND: Co. K
ISOM, LANDON C.: Co. K
ISOM, JAMES: Co. K
ISOM, MORRISON: Co. H
JACKSON, JASON J.: Co. C
JACKSON, MORRIS: Co. K
JAMES, JAMES M.: Co. K
JAMES, ALEXANDER: Co. K
JAMES, WILLIAM: Co. A
JAMES, SAMUEL: Co. A
JAMES, NATHAN: Co. K
JAYNE, WILLIAM: Co. K
JAYNE, JOHN: Co. A
JAYNE, FRANCIS: Co. K
JAYNE, JOHN C.: 4th Sgt., Co. K
JENNINGS, HENRY J.: Co. C
JENNINGS, H. D.: Co. D
JENNINGS, MICHAEL M.: Co. E
JESSEE, SAMUEL PATTON: Co. A
JOHNSON, GORDON: Co. G
JOHNSON, HIRAM: Co. D
JOHNSON, JOHN, Jr.: Co. D
JOHNSON, CHARLES W.: Co. C
JOHNSON, J. C.: Co. C
JOHNSON, JAMES, Jr.: Co. G
JOHNSON, WILLIAM: Co. K
JOHNSON, ALFRED L.: Co. G
JOHNSON, ISAAC: Co. B
JOHNSON, WILLIAM: 2nd Corp., Co. D
JOHNSON, ANDREW JACKSON: Co. G
JOHNSON, JAMES: Co. H
JOHNSON, EDWARD: Co. G
JOHNSON, EPHRAIM: 4th Corporal, Co. G
JOHNSON, ANDREW: Co. F2
JOHNSON, BERDINE: Co. G
JOHNSON, FILBOURN: Co. F2
JOHNSON, JAMES D.: Co. D
JOHNSON, G. D.: Co. B
JOHNSON, GILBERT: Co. B
JOHNSON, HENRY: Co. B
JOHNSON, GEORGE W.: Adjutant, F&S
JONES, JONAS: Co. D
JONES, JAMES: Co. C
JONES, HARVEY: Co. H
JONES, JAMES A.: Co. E
JONES, E. R.: Co. D
JONES, GEORGE ROGAN: Co. E
JONES, ALFRED T.: Co. H
JONES, JAMES F.: Co. H
JONES, ANDERSON: Co. D
JONES, BENJAMIN: Co. G,
JONES, PERRY R.: Co. D
JONES, P. B.: Co. D
JONES, JOSEPH A.: Co. H
JONES, GRIFFITH R.: 4th Sgt., Co. D
JONES, GEORGE D.: Co. K
JONES, STEPHEN: Co. K
JONES, WILLIAM: 2nd Sgt., Co. H
JONES, HENRY: Co. D
JONES, JOHN: Co. D
JONES, Z. R.: Co. D
JONES, HENDERSON: 4th Corporal, Co. D
JONES, WILLIAM B.: Co. I
JONES, WILLIAM P.: Co. F2
JOSEPH, JOHN: Co. H
JOSEPH, REASON: Co. H
JOYNER, JOHN M.: Co. C/F
KELLER, L. J.: Co. F2
KELLY, VINCENT HOWELL: Co. G/I
KELLY, WILLIAM, Sr.: Co. H
KELLY, MATHIAS, Jr.: Co. H
KELLY, MATHIAS, Sr.: 4th Sgt., Co. H
KELLY, WILLIAM, Jr.: Co. H
KENZIE, GEORGE: Co. F2
KERIN, MADISON W.: Co. D
KEY, ISAAC: Co. A
KEY, JAMES: Co. A
KEYS, WILLIAM: Co. D
KILBOURN, PETER: Co. H
KILBOURN, JONATHAN: Co. H
KILBOURN, JOSEPH: 3rd Lt./2nd Lt., Co. H
KILBOURN, MARTIN VAN BUREN: Capt., Co. H
KILGORE, IRA H.: Co. K
KILGORE, GEORGE H.: Co. K
KILGORE, NELSON: Co. K
KILLION, WILBURN: Co. B
KIMBERLIN, JAMES L.: Co. B
KIMBERLIN, JACOB A.: Co. B
KIMBERLIN, HIRAM: Co. K
KINCER, JACOB: Co. F2
KINCER, JEFFERSON: Co. B
KINCER, JOSEPH: Co. F2
KINCER, JOHN: Co. F2
KINDRICK, GEORGE WASHINGTON: Co. E
KING, WILLIAM: Co. A
KIRK, RICHARD W.: Co. K
KIRK, JAMES: Co. K
KIRK, JAMES: Co. I
KIRN, MADISON W.: Co. I
LAMB, GABRIEL: Co. B
LAMBERT, WILLIAM: Co. K
LAMBERT, SAMUEL: Co. D
LAMBERT, JAMES M.: Co. F2
LAMBERT, PETER K.: Co. F2
LAMBERT, HARVEY: Co. B
LANDRETH, JOHN: Co. H
LANE, SAMUEL: Co. D
LANE, JOHN M.: Co. C
LANE, MARTIN: Co. D
LANE, SAMUEL PATTON, Jr.: Co. D
LANE, DALTON: Co. D
LANE, ABRAHAM: Franklin's Co.
LANE, NATHANIEL B.: Co. C
LANE, ELIJAH: Co. D
LANE, JAMES E.: Co. E
LANE, WILKERSON: Musician, Co. C
LANE, ELBERT: Co. D
LANEY, ROBERT K.: Co. C
LANGLEY, JAMES: Co. A
LANY, JOSEPH S.: Co. C
LARGE, ANTHONY: Co. E
LARK, JOSEPH: Co. D
LARMER, EMMIT B.: Co. A
LAWSON, WILLIAM M.: Co. B
LAWSON, HENRY P.: Co. C
LEEDY, JOSEPH: Co. F2
LEEDY, ALFRED: 3rd Corp., Co. F2
LEEDY, RUFUS: Co. K/I
LEEDY, RUFUS: Co. G
LEGG, THOMAS N.: Co. I
LEWIS, EVAN: Co. C
LEWIS, JORDAN: Co. B
LEWIS, MARTIN: Co. C
LEWIS, MARTIN VAN BUREN: Co. K
LITTON, THOMAS J.: Co. G
LITTON, HARVEY DUNCAN: Co. A
LITTON, ELIHU VERMILLION: 1st Lieutenant, Co. G
LIVESAY, LAFAYETTE: Co. B
LOCKHART, GARVEY: Co. B
LOCKHART, PUTNAM: Co. B
LOVE, THOMAS: Co. B
LOVE, WILLIAM J.: 5th Sgt., Co. K
LOVELL, JESSE: Co. C
LOVELL, WILLIAM: Co. C
LOVELL, CHARLES JEFFERSON: Co. C
LOVELL, JOHN M.: Co. C
LOVELL, THOMAS H.: Co. D
LOWE, HENRY: Co. B
LOWE, JEFFERSON: Co. K
LOYD, ALEXANDER L.: Co. G
LUCAS, IRA: Co. ?
LUCAS, THOMAS: Co. B
LUCAS, JONATHAN M.: Co. A
LUMKINS, WILOUGHBY: Co. K
LUMKINS, WILLIAM: Co. K
LUNDAY, BRITTON: Co. F2
LUNSFORD, WILLIAM: Co. A
LUSTER, GREEN BERRY: Co. F2
LYON, ANDREW JACKSON: Co. D
LYONS, C. B.: Co. D
MABRY, MARTIN: Co. ?
MACON, EDGAR BARBOUR: AQM, F&S
MANESS, HUSTON: Co. C
MARCUM, ROBERT: Co. B
MARCUM, WILLIAM C.: Co. B
MARCUM, JOSEPH: 1st Lt., Co. B
MARS, JAMES A.: Co. F2
MARSHALL, ROBERT P.: Co. K
MARSHALL, WILLIAM C.: Sgt., Co. E
MARSHALL, JAMES H.: Co. E
MARTIN, JOHN HENRY: Co. K
MARTIN, JOHN T.: Co. E
MARTIN, SILAS D.: Co. K
MASTEN, HENRY: Co. I
MAXWELL, AUDLEY: Co. B
MAXWELL, ANDREW JACKSON: Co. B
MAXWELL, HENRY R.: Co. B
MAXWELL, WILLIAM H.: Co. B
McCARDELL, THOMAS F.: Lieutenant, Co. C
McCLURE, ENOCH: Co. C
McCLURE, JOHN: Co. C
McCONNELL, WILLIAM GEORGE: Co. E
McCONNELL, HIRAM KILGORE: 2nd Lieutenant, Co. E
McCONNELL, STEPHEN CLAYTON: 1st Corp., Co. E
McCONNELL, BERRY: 2nd Corp., Co. I
McCONNELL, GEORGE WASHINGTON: Co. E
McCONNELL, COMPTON: Co. D
McCRACKIN, ANDREW: Sgt., Co. D
McCURRY, JOHN: Co. E
McDANIEL, JACOB: Co. ?
McDONALD, GEORGE: Co. F2
McDONNEL, FREDERICK: Corporal, Co. F2
McELROY, WILLIAM S.: Co. F2
McELROY, WILKERSON W.: Co. B
McELROY, CHARLES W.: Co. B
McGAHEY, J.: Co. D
McGAHEY, E. E.: Co. D
McKEE, BENJAMIN FRANKLIN: Co. F2
McKENZIE, DAVID: Corp., Co. D
McKEY, LAZARUS: Co. E
McKINNEY, DAVID: Co. A
McKINNEY, JOHN: Co. I
McKINNEY, WINFIELD S. R.: Co. B
McMULLEN, WILLIAM N.: Corp./Sgt., Co. E
McPHEARSON, STEPHEN: Co. F2
McQUEEN, SAMUEL: Co. K
McQUEEN, ORVAL: Co. G
MEAD, HENRY: Co. E
MEDLOCK, JESSE: Corporal, Co. H
MIDDLETON, CARR: Co. H
MILBOURN, HENRY: Co. G
MILBOURN, JOHN: Co. G/F(2)
MILES, FRANCIS: Co. B
MILES, F.: Co. A
MILES, HENRY B.: Co. A
MILES, CHARLES P.: Co. A
MILES, FRANCIS C.: Co. K
MILES, J. H.: Co. B
MILES, WILLIAM P.: Co. K
MILLER, HIRAM: Corporal, Co. H
MILLER, JAMES: Co. K
MILLER, JOHN: 3rd Lieutenant, Co. A
MILLER, GEORGE: Co. B
MILLER, JOHN: Co. F2
MILLER, JOHN: Co. K
MILLER, THOMAS: Capt., Co. F2
MILLER, DAVID: Co. E
MILLER, WILLIAM: 2nd Sgt., Co. F2
MILLER, MARTIN VAN BUREN: Co. B
MILLER, ALFRED: Co. F
MILLS, JAMES B.: Musician, Co. A/F&S
MILLS, C. P.: Co. F2
MINICK, GEORGE WASHINGTON: Co. E
MINICK, DAVID: Co. E
MINK, WILLIAM W.: Co. K
MINK, GEORGE: Co. K
MINTER, SAMUEL H.: Sgt., Co. A
MOBLEY, JAMES B.: Co. E
MONEY, PERRY S.: Co. K
MONK, JESSE S. P.: Co. E
MONTGOMERY, WILLIAM H.: Co. K
MOORE, WILLIAM: Co. H
MOORE, BASIL: Co. F2
MOORE, BOSWELL: Co. F2
MOORE, JOHN E.: Co. E
MOORE, ANDERSON: Co. C
MOORE, ROBERT J.: Co. C
MORADY, HENRY: Co. F2
MOREFIELD, ANDREW JACKSON: Co. A
MOREFIELD, DANIEL: Co. A
MOREFIELD, (MOWFIELD) H. JOHNSON: Co. F2
MOREFIELD, DAVID L.: Co. F2
MORGAN, J. T.: Co. F2
MORGAN, WILLIAM T., M.D.: Assistant Surgeon, F&S
MORRIS, WILEY G.: Co. I
MORRISON, MICHAEL G.: Co. I
MORRISON, LILBURN A. J.: Co. ?.
MORRISON, JOHN: Co. C
MULLINS, GILES: Co. I
MULLINS, JACOB M.: Co. I
MULLINS, STEPHEN: Co. E
MULLINS, LEWIS M.: Co. I
MUNCEY, WILLIAM J.: 2nd Lt., Co. K
MUNCEY, FRANKLIN: Co. K
MUNCEY, LEVI: Co. K
MUNCEY, SAMUEL J.: Corp./2nd Lt., Co. K
MUNCEY, JAMES J.: Co. G
MUNCEY, JONATHAN: Co. K
MURPHEY, ANDREW JACKSON: Co. H
MURPHEY, WILLIAM H.: Co. E
MURPHEY, JESSE: Co. K
MURPHEY, ROBERT L.: Co. C
MURPHEY, E. H.: Co. C
MURPHEY, ANDERS: Co. C
MYERS, JOHN P.: Co. ?
MYERS, WILLIAM M.: Co. B
MYERS, JOSEPH: Co. A
MYERS, WILLIAM: Co. G
NAPPIER, ROBERT W.: Co. K
NAPPIER, PIERCE: Co. K
NEELY, WILLIAM E.: Co. H
NEELY, ANDREW HARRISON: 1st Lt., Co. I
NEELY, WILLIAM E. Sr.: 4th Sgt., Co. I
NEELY, H. H.: Co. C
NEELY, SYLVESTER T.: Co. I
NEELY, WILLIAM E., Jr.: Co. I
NEIL, GEORGE WASHINGTON: Co. E
NEIL, HENRY: Co. E
NELSON, WILLIAM: Co. K
NETHERLY, JAMES: Co. A
NEWMAN, JEFFERSON: Co. C
NEWMAN, J. J.: Co. A
NICKELS, GEORGE WASHINGTON: Co. C
NICKLES, WILLIAM HENDERSON: Commissary Sgt., Co. C/F&S
NOE, JOSEPH: Co. B
NOE, SAMUEL: Co. B
NOELL, CHARLES: Co. F2
NOELL, JAMES R.: Co. B
NOLES, JOHN: Co. D
OAKES, ELBERT S.: Co. B
OATY, JOSHUAY: Co. F2
OLINGER, JOHN C.: Co. I
OLINGER, JACOB BLUBAUGH: 1st Sgt., Co. I
OLINGER, DAVID C.: Co. I
OLINGER, JOHN C.: 2nd Lt./1st Lt., Co. F2
OLINGER, ANDREW JACKSON: Co. E
OLINGER, CALVIN: Co. K
OLINGER, HARVEY GEORGE WASHINGTON: Co. A
OLINGER, WILLIAM P.: 3rd Sgt., Co. I
OLINGER, JACOB J.: Co. A
OLINGER, JOHN BELL COLLIER: 1st Corp., Co. A
OLINGER, JAMES M.: Co. G
OLIVER, WILLIAM: Co. K
OLIVER, JAMES: Co. K
ORR, JOHN M.: Co. G
ORR, HENRY WOODWARD: Sgt., Co. F2
ORR, DAVID MURPHEY: 3rd Corp., Co. F2
ORR, JOHN PRESTON: 2nd Lt., Co. F2
ORR, ROBERT WYNN: Co. F2
ORR, WILLIAM RUSSELL: Co. G
ORR, ALEXANDER R.: Co. G
OSBORNE, JOB: Co. G
OSBORNE, JAMES K.: Co. E
OSBORNE, ALFRED: Co. G
OWENS, JAMES C.: Co. D
OWENS, HENDERSON: Co. C
OWENS, WILLIAM N.: Co. D
OWENS, W. H.: Co. D
OWENS, WILLIAM H.: 3rd Corporal, Co. C
OXFORD, SAMUEL: 2nd Lt., Co. B
OXFORD, ISAAC: Co. D
OXFORD, WILLIAM M.: Co. B
OXFORD, WILLIAM: Co. B
PAGE, NATHANIEL: Co. C
PAGE, JOHN: Sgt., Co. D
PAGE, ZENITH: Co. C
PAGE, JAMES C.: 1st Sgt./Private, Co. D
PAGE, SAMUEL P.: Co. ?
PALMER, SAMUEL: Co. D
PALMER, WILLIAM HANSHAW: Franklin's Co.
PANE, DANIEL: Co. I
PANE, JESSE: Co. I
PANE, SOLOMON: Co. A
PANE, ABRAHAM: Co. A
PANNEL, JOSEPH: Co. E
PARKER, HENRY: Co. A
PARROTT, WINTON: Co. K
PARSONS, JOHN B.: Co. G
PARSONS, JOHN: Co. G
PARSONS, ZION: Co. A
PARSONS, WILLIAM G.: Co. G
PARSONS, JAMES MONROE: Co. G
PARSONS, SAMUEL D.: Co. I
PARSONS, JOHN M.: Co. I
PARSONS, IRA: Co. I
PARSONS, JOSIAH M.: Co. I
PARSONS, THOMAS: Co. I
PARSONS, WILLIAM: Co. I
PARSONS, WILLIAM J.: Co. G
PARSONS, MITCHELL CECIL: Co. G
PARSONS, WILLIAM A.: Co. G
PARSONS, DAVID PERRY: Co. G
PARSONS, WILLIAM S., Jr.: Co. G
PAYNE, JESSE: Co. I
PAYNE, ALEXANDER: Co. A
PAYNE, SOLOMON: Co. A
PENDERGRASS, IRA: Co. F2
PENDLETON, L. D.: Co. C
PENDLETON, LILBURN H.: Co. C
PENLEY, WILLIAM T.: Franklin's Co.
PENNINGTON, EDWARD: Sgt., Co. A
PENNINGTON, WILLIAM: Co. A
PENNINGTON, ELKANAH: Corporal, Co. A
PENNINGTON, ABRAHAM: 4th Sgt., Co. A
PENNINGTON, JOHN ZION: Co. A
PENNINGTON, WILLIAM MITCHELL: Co. G
PENNINGTON, M.: Co. D
PENNINGTON, ZION: Co. G
PENNINGTON, CRAIG: Co. F2
PERRY, LILBURN ROGAN: Co. E
PERSELL, AUSTIN: Co. D
PERSON, WILLIAM: Co. C
PETERS, ROBERT L.: Co. D
PETERS, SAMUEL R.: 1st Lt., Co. D
PETERS, TILMAN H.: Co. C
PETERS, ZACHARIAH T.: Co. D
PETERS, WALES WELLINGTON WALLACE: Co. D
PETERS, ELKANA K.: Co. D
PETERS, J. T. L.: Co. D
PETERS, GEORGE WASHINGTON: Co. D
PETERS, CHRISTOHPER COLUMBUS: Sgt., Co. D
PETERSON, ABSALOM Y.: Co. I
PHILIPS, FRANK: Co. B
PHIPPS, SILAS B.: Co. F2
PHIPPS, ABRAHAM: Co. G
PHIPPS, ELKANAH: Co. B
PLEASANTS, JOHN R.: Co. B
POE, DANIEL: Co. C
POFF, ANDREW: Co. B
POTEET, JOHN: Co. G
POTEET, NIMROD: Co. B
POTEET, WILLIAM H.: Sgt./Sgt. Major, Co. B/F&S
POTEET, HENRY CLAY: Co. B
POTEET, BENJAMIN FRANKLIN: Capt., Co. B
POTEET, JACOB: Co. G
POTEET, DAVID P.: Co. B
POTEET, WILLIAM L.: Sgt., Co. B
POTEET, GEORGE: Co. B
POTEET, DAVID: Co. B
POTEET, JOB: Co. B
POTEET, SAMUEL: Co. F2
POTEET, BENJAMIN B.: Co. B
POWERS, HIRAM: Co. ?
POWERS, THOMAS JEFFERSON: Co. C
PRICE, SAMUEL: Co. F2
PRICE, GEORGE W.: Co. E
PRIDEMORE, HIRAM DEMOSTHENSE: 1st Lt./Capt., Co. C
PRIDEMORE, AUBURN LORENZO: Lieutenant Colonel/Colonel, F&S
PRITCHETT, THOMAS J.: Co. ?
PUGH, NICHOLAS: Co. K
PUGH, ELISHA M.: Co. K
PURSELL, JOHN B.: Fugate's Co., (Co. E)
QUAILS, SAMUEL R.: Co. F2
QUARY, JAMES M.: Co. F2
QUILEN, HENRY: Co. G
QUILEN, JOSEPH A.: Co. D
QUILEN, LEVERN: Co. G
QUILEN, JAMES MONROE: Musician, Co. E
QUILEN, FRANKLIN: Co. A
QUILLEN, WILLIAM M.: Co. A/G
QUILLEN, J. R.: Co. D
QUILLEN, JOSEPH: Co. D
QUINLEY, CALEB: Co. F2
QUISENBERRY, CHARLES: Co. G
RAMEY, DAVIS: Co. C, Enl. on ?
RAMEY, PATTON: Co. E
RAMEY, HARVEY W.: Co. E
RAMEY, BENJAMIN: Co. A
RAMEY, HIRAM: Co. A
RATLIFF, JOHN: Co. F2
REASOR, ANDREW JACKSON: Co. A
REASOR, WILLIAM ANDREW JACKSON: Co. A
REASOR, DANIEL SHEFFY: 2nd Lt,. Co. A
REASOR, JAMES HENDERSON: Co. A
REASOR, ANDREW JACKSON "JACK": Co. F
REDMAN, HENRY B.: Sgt., Co. C
REDMAN, JAMES M.: Co. C
REDMAN, JOHN H.: Co. C
REDMON, J. C.: Co. ?
REDWINE, JOHN C.: Co. K
REDWINE, JEROME B.: Co. A
REDWINE, DAVID B.: Co. A
REDWINE, JOSHUA NEWTON: Co. A
REDWINE, CHARLES: Co. K
REDWINE, JOSHUA REYNOLDS: Co. A
REED, AMOS: Co. E
REED, HUMPHREY: Co. E
REESE, ISAAC: Co. A
REESE, HIRAM W.: Co. B
REESE, DAVID G.: 1st Sgt./1st Lt., Co. I
REESE, JOHN V.: Co. I
REESE, ALEXANDER: Co. B
RENFRO, JOHN W.: Co. E
REYNOLDS, THOMAS E.: 1st Lieutenant, Co. ?
REYNOLDS, JAMES: Co. K
RHODES, N. J.: Co. A
RHOTON, H.: Co. F2
RICE, CHARLES L.: Co. D
RICE, JOEL: Co. I
RICHMOND, JAMES BUCHANAN: Major/Lieutenant Colonel, F&S
RICHMOND, JONATHAN W.: 2nd Lt., Co. C
RICHMOND, WILLIAM: Co. A
RICHMOND, WILLIAM: Private/Capt., Co. I
RICHMOND, HENRY CHARLES TAYLOR: Co. I
RICHMOND, JA.: Co. C
RIDDLE, FREDERICK F.: Co. H
RIDDLE, WALTER H.: Co. H
RIDDLE, FRANKLIN T.: Co. I
RIDDLE, WALTER R.: 2nd Lieutenant, Co. I
RIDDLE, F. S.: Co. G
RIDDLE, WILLIAM H.: Co. H
RIDDLE, JOHN V.: Co. I
RIGGS, LAFAYETTE M.: 2nd Sgt., Co. H
RILEY, JAMES: Co. C
RILEY, ALEXANDER: Co. C
RINIS, WILLIAM: Co. A
RITCHIE, JOHN S.: Co. A
RIVERS, WILLIAM: Co. A
ROACH, WILLIAM P.: Co. H
ROACH, JAMES H.: Co. H
ROARK, W. T.: Co. G
ROBBINS, JAMES M.: Co. D
ROBERTS, JOHN: Co. B
ROBERTS, C. H.: Co. D
ROBERTS, RALEIGH D.: Co. H
ROBERTS, WILLIAM: Co. B
ROBERTS, JESSE I.: Co. C
ROBINETT, SAMUEL E.: Co. C
ROBINETT, ZACHARIAH O.: 3rd Sgt., Co. D
ROBINETT, FRANKLIN J.: Co. E
ROBINETT, ISAAC W.: Co. D
ROBINETT, E. S.: Co. C
ROBINETT, D. J.: Co. D
ROBINETT, JESSE F.: Franklin's Co.
ROBINETT, GEORGE WASHINGTON: Co. D
ROBINS, JAMES: Co. D
ROBINS, ISAAC: Co. D
ROBINSON, JOHIEL: Co. F2
ROBINSON, JAMES: Co. K
ROGERS, JAMES M.: Co. D
ROGERS, CALOWAY: Co. C
ROLLER, HIRAM P.: Co. ?
ROLLER, ANDREW JACKSON: Co. B
ROLLINS, WILLIAM S.: Corporal, Co. K
ROOP, ASA G.: Co. G
ROOP, LINDSAY CROCKETT: Co. G
ROOP, CHARLES: Co. B
ROOP, WILLIAM T.: Co. G
ROOP, JACOB A.: 1st Sgt., Co. K
ROSE, JOHN W.: Co. C
ROSE, JOHN: Co. F2
RUSSELL, THOMAS P.: Co. G
RUSSELL, EDWARD: Co. F
RUSSELL, DICKSON HENDERSON: Co. G
RUSSELL, ALEXANDER I.: Co. F2
RUSSELL, LORENZO DOW: Co. G
RUSSELL, JOHN W.: Co. ?
RUSSELL, GEORGE WASHINGTON: Co. C
RUTHERFORD, JOHN: Co. I RUTHERFORD, JOHN K. P.: Co. K
SALLEY, MARTIN: Co. I
SALLEY, THOMAS: Co. I
SALLEY, THOMAS: Co. H
SAMPSON, WILLIAM H.: Co. D
SARGENT, FOREST: Co. H
SARVER, JOHN: Co. A
SAUL, GEORGE: Sgt., Co. B
SCOTT, H. S.: Co. H
SCOTT, JOHN WINFIELD: Co. G
SCOTT, WILLIAM A.: Franklin's Co.
SEBERT, H.: Co. K
SELSON, LARKIN: 4th Corporal, Co. I
SERGEANT, JAMES: Co. K
SERGEANT, WILLIAM: Co. H/K
SERGENER, ABRAHAM K.: Co. B
SETTLES, HENRY P.: Co. E
SEXTON, BENJAMIN FRANKLIN: Co. E
SEXTON, HENRY A.: Co. B
SEXTON, ROBERT: Co. E
SHARP, JESSE: Co. G
SHEAN, K.: Co. H
SHEARER, WILLIAM: Co. A
SHELBOURN, LUCIUS CLARK: Co. A
SHELTON, WILLIAM: Co. F2
SHELTON, JAMES S.: Co. D
SHELTON, WILLIAM B.: 2nd Lt., Co. D
SHEPHERD, JAMES R.: Co. F2
SHEPHERD, JOSEPH A.: Co. I
SHEPPARD, SAMUEL A.: Co. I
SHIPLEY, JOHN J.: Co. I
SHOEMAKER, WILLIAM F.: Co. H
SHOEMAKER, HENRY: Sgt., Co. C
SHOOP, GEORGE WASHINGTON: Co. G
SHUT, NATHANIEL: Co. F
SIMPSON, CHARLES: Co. C
SIMPSON, JAMES: Co. ?
SKAGGS, JEREMIAH: Co. A
SKEEN, STEPHEN S.: Co. H
SKEEN, LILBURN H.: Co. H
SKEEN, ELIHU K.: Co. H
SLEMP, T. F.: Co. B
SLEMP, HUGHA P.: Sgt., Co. A
SLEMP, JOHN: Co. A
SLEMP, HENRY CLINTON: Capt. Asst. Quartermaster, F&S
SLEMP, CAMPBELL BASCOM: Capt./Lt. Col./Colonel, Co. A/F&S
SLOAN, ALBERT: Co. C
SLOAN, GEORGE WASHINGTON: Co. C
SLOAN, MORGAN: Co. C
SLOAN, HIRAM: Co. C
SLOAN, W. H.: Co. C
SLOAN, JAMES: Co. C
SLOAN, WILLIAM: Co. E
SMITH, ALEXANDER J.: Co. K
SMITH, BARCLAY F.: Sgt., Co. A
SMITH, D.: Co. G
SMITH, DAVID: Co. A
SMITH, JOHN T.: Co. E
SMITH, JONATHAN: Co. A
SMITH, LAFAYETTE: Co. F2
SMITH, LAFAYETTE: Co. K
SMITH, WILLIAM A.: Co. B
SMITH, WILLIAM: Co. A
SMITH, WILLIAM M.: Co. B
SMITH, WILLIAM: Co. D
SMITH, WILLIAM B.: Franklin's Co.
SMYTH, EDWARD McDONALD: Co. G
SMYTH, JOHN MORRISON: Co. G
SMYTH, ELBERT S.: Co. G
SNAVELY, LEANDER: Co. F2
SNAVELY, JOHN: Co. F2
SNODGRASS, EDWARD H.: Co. F2
SOUTHERN, CORNELIUS: Co. B
SPANGLER, LEVI B.: Co. I
SPANGLER, MICHAEL: Co. G
SPANGLER, JOSEPH K.: Co. A
SPANGLER, PETER: Co. G
SPANGLER, ABRAHAM: Co. G
SPANGLER, FRANCIS MARION: Co. A
SPANGLER, FRANK: Co. F2
SPARKS, SAMUEL: Co. B
SPEAK, N.: Co. I
SPEERS, WILLIAM HENRY HARRISON: Co. C
SPEERS, CHARLES H.: Co. C
SPENCER, ROBERT P.: 3rd Lieutenant, Co. K
SPRINKLE, GEORGE H.: Co. A
SPRINKLE, W. A. J.: Co. B
SPRINKLE, ELISHA J.: Co. F2
SPRINKLE, WESLEY C.: Co. F2
SPRINKLE, GEORGE: Co. B
SPROULES, JOSIAH B.: Co. I
SPURLOCK, THOMAS: Co. K
STAIR, OSCAR F.: Co. E
STANDERFORD, DAVID P.: Co. B
STANFERFER, WILLIAM J.: Co. B
STANLEY, GRANVILLE: Co. I
STANLEY, JOHN S.: Co. I
STAPLETON, JAMES: Co. G
STAPLETON, WILLIAM R.: Co. G
STAPLETON, JAMES: Co. D
STAPLETON, ROBERT C.: Co. C
STARNES, WILLIAM H.: Co. A
STATSER, ANDREW JACKSON: Co. I
STATSER, ANDREW W.: Co. I
STEELE, ISAAC F.: Co. F2
STEELE, REUBEN: Chaplin, F&S
STEELE, HARVEY G.: Hospital Steward, Co. C
STEELE, ALEXANDER: Co. F2
STEP, ANDREW JACKSON: Co. H
STEWART, JAMES W.: Co. C
STEWART, SAMUEL: Co. F2
STEWART, WILLIAM: Co. B
STEWART, ELCANA: Co. B
STEWART, WILLIAM H.: Co. I
STEWART, FENTON: Co. F
STIDHAM, ANDREW JACKSON: Co. H
STIDHAM, JOHN. W.: Co. B
STIDHAM, IRA: Co. K
STIDHAM, ADAM: Corp., Co. H
STIDHAM, SAMUEL S.: Co. K
STIDHAM, JAMES D.: Co. K
STIDHAM, SAMUEL: Co. K
STIDHAM, JOHN WESLEY: Co. K
STIDHAM, MARTIN: Co. H
STIDHAM, ADAM J.: Co. K
STONE, MARTIN G.: Co. I
STONE, STEPHEN J.: Co. C
STONE, WILLIAM H.: 2nd Sgt., Co. I
STONE, HENRY: Co. I
STONE, GEORGE WASHINGTON: Co. C
STONE, JAMES B.: Musician/3rd Lt., Co. C
STOUT, GODFREY DANIEL: Hospital Stewart, Co. F2
STRONG, GEORGE WASHINGTON: Co. D
STROUP, T. C.: Co. B
STURGEON, WILLIAM: Co. K
STURGILL, JOHN: Co. K
STURGILL, JOEL: Co. K
STURGILL, ANDREW JACKSON: Corporal, Co. H
SULLIVEN, RANSOM: Co. F2
SULSON, LARKIN: Corporal, Co. I
SUMMEY, ALEXANDER: Co. E
SUTTLE, ADAM WINCEL: Co. G
SUTTLE, ALEXANDER: Sgt./2nd Lt., Co. A
TACKETT, DENNIS: Co. F2
TANKSLEY, WILLIAM L.: Co. F2
TANKSLEY, GEORGE: Co. F2
TATE, JAMES G.: Co. D
TATE, JAMES F.: Co. D
TAYLOR, MARSHALL B.: Co. C
TAYLOR, WILLIAM P.: Co. D
TAYLOR, SAMUEL: Co. F2
TAYLOR, SAMUEL: Co. E
TAYLOR, JOHN: Co. F2
TAYLOR, JAMES: Co. F2
TAYLOR, ISAAC THOMPSON: 1st Sgt., Co. C
TAYLOR, W. B.: Co. B
TAYLOR, N. H.: Franklin's Co.
TAYLOR, CHARLES J.: Co. F2
TEMPLETON, JOHN D.: Franklin's Co.
TEMPLETON, E.: Co. D
TESTERMAN, JESSE: Co. G
TESTERMAN, PETER: Co. F2
THACKER, WILLIAM: Co. I
THACKER, ROBERT: Co. D
THACKER, MADISON: Co. D
THARP, JESSE: Co. G
THARP, BENJAMIN: Co. K
THARP, WILLIAM: Co. K
THOMAS, GEORGE S.: Co. A
THOMAS, ANDREW: Co. C
THOMAS, JOHN: Co. F2
THOMAS, JOHN: Co. A
THOMAS, PLEASANT P.: Co. K/A
THOMAS, JOSEPH: Co. F2
THOMAS, G.: Co. K
THOMAS, JAMES S.: Co. ?
THOMAS, CHARLES: Co. A
THOMPSON, HENRY: Co. D
THOMPSON, WILLIAM: Co. C
THOMPSON, WILLIAM H.: Co. C
THOMPSON, D. S.: Co. K
THOMPSON, JOHN: Co. F2
THOMPSON, ISAAC: Co. F2
THOMPSON, HENRY P.: Co. F2
THOMPSON, HENRY: Co. B
THOMPSON, DANIEL: Co. F2
THOMPSON, FRANCIS P.: Corporal/Sgt., Co. F2
THOMPSON, BENJAMIN FRANKLIN: 2nd Lieutenant, Co. G
TIPTON, EMORY: Co. C
TIPTON, JACOB: Co. C
TIPTON, JAMES: Co. C
TOMPKINS, BENJAMIN FRANKLIN: Co. H
TRAVIS, WILLIAM M.: Co. B
TRAVIS, JOHN R.: Co. G
TRAVIS, JAMES T.: Co. B
TRIMMER, J. H.: Co. C
TRITT, ALEXANDER: Co. I
TRITT, JAMES: Co. A
TRITT, ZION: Co. I
TRITT, ISAAC, Co. I
TRITT, ALEXANDER L.: Co. A
TRITT, JACOB E.: Co. G
TRITT, JAMES: Co. G
TRITT, SAMUEL: Co. F2
TRITT, JOHN: Co. I
TRITT, WILLIAM: 2nd Lt., Co. G
TRITT, SAMUEL: Co. B
TUCKER, DANIEL: Co. A
TURNER, JOEL: 2nd Sgt., Co. B
TYLER, GEORGE N.: Capt., Co. K
UMBARGER, JOHN D.: 2nd Sgt., Co. G
UMBARGER, JOHN: Co. A
UMBARGER, J. D.: Co. D
UNTHANK, CALVIN: Co. H
VANCE, LAWSON W.: Co. H
VANCE, DAVID D.: Co. H
VANDEVENTER, LARKIN: Co. B
VARNER, SAMUEL: Co. F2
VARNER, DEXTERITY: Co. K
VAUGHNER, WILLIAM: Co. K
VENABLE, ANDREW M.: Co. B
VENABLE, ISAAC: Co. C
VENABLE, JOHN: 2nd Lt., Co. C
VENABLE, JOSEPH L.: Co. K
VICKERS, WILLIAM: Co. E
VICKERS, THOMAS: Co. H
VICKERS, JOHN, Sr.: Co. H
VICKERS, WILLIAM H.: Co. H
VICKERS, JOHN, Jr.: Co. H
VILES, LEVI: Co. K
VOSS, JOHN C.: 1st Sgt., Co. B
WADDLE, JOSIAH: Co. I
WADE, OWEN: Franklin's Co.
WALLING, THOMAS W.: Co. H
WALLING, REUBEN: Co. C
WAMPLER, JOHN: Co. K
WAMPLER, JOHN W.: Co. K
WAMPLER, GEORGE BENTON: Co. H
WARD, STEPHEN D.: Co. D
WARD, HUSTON: Co. A
WARDEN, ADAM: Co. C
WARF, JOSEPH S.: Co. C
WARF, HENRY: Co. C
WARREN, LARKIN R.: Co. K
WASSUM, ANANIAS GREEVER: Co. G
WATKINS, JOSEPH JOHN: 2nd Lieutenant/1st Lieutenant, Co. C
WATKINS, GEORGE WASHINGTON: Co. C
WATTS, GRANVILLE: Co. C
WEATHERLY, A. H.: Co. C
WEBB, AUGUSTUS: Co. C
WEDDLE, ADDISON B.: 4th Sgt., Co. B
WEDDLE, JAMES F.: 3rd Sgt., Co. B
WELLS, JAMES: Co. G
WELLS, AARON: Co. K
WELLS, ANDERSON: 1st Lt., Co. K
WELLS, ANDREW H.: Co. K
WELLS, IRA: Co. H
WELLS, SOLOMON: 5th Sgt., Co. H
WELLS, WILLIAM: Co. H
WELLS, ANDREW JACKSON: 3rd Sgt., Co. H
WELLS, TAZEWELL GALLINGTON: Co. H
WESTON, JOHN D.: Co. F2
WESTON, ABNER: Co. F2
WHEATLEY, WILLIAM M.: 2nd Sgt., Co. K
WHEELER, JAMES M.: 2nd Corp., Co. F2
WHEELER, GEORGE WASHINGTON: Co. K
WHITE, W. H.: Co. C
WHITE, JAMES: Co. I
WILBOURN, JONATHAN: Co. H
WILLES, JAMES: Co. F2
WILLIAMS, NATHANIEL: Co. C
WILLIAMS, JOSEPH: Co. F2
WILLIAMS, MARTIN A.: Co. C
WILLIAMS, JOHN B.: Co. H
WILLIAMS, JOHN: Co. C
WILLIAMS, ISAAC: Co. C
WILLIAMS, DAVID C.: Co. H
WILLIAMS, ALBERT C.: 1st Sgt., Co. H
WILLIAMS, JEFFERSON, Co. C
WILLIAMS, JAMES W.: Co. C
WILLIS, JOHN D.: Co. A
WILSON, BRYAM F.: Co. A
WILSON, SAMUEL: Co. I
WILSON, JOHN: Corp., Co. I/G
WILSON, J. S.: Co. ?
WILSON, MARION: Co. H
WILSON, MARQUIS de LAFAYETTE: Co. A
WILSON, JAMES: Co. I
WINNEGER, JAMES D.: Co. D
WINNIGER, JAMES B.: Co. D
WITT, WILLIAM: Co. A
WITT, ALFRED: Musician, Co. A/F&S
WITT, JACOB: Co. A
WITT, JOHN: Musician, Co. A
WOLF, OMAR: Co. C, Pension list only. WOLFE, THOMAS B.: Franklin's Co.
WOLFE, SILAS: Co. A
WOLFE, JOSEPH: Co. C
WOLFE, ISAAC WILSON: Franklin's Co.
WOOD, W. R.: 3rd Lieutenant, Co. A
WOODS, STEPHEN: Co. F(2)/G
WOODS, ALFRED: Co. K
WOODS, RICHARD: Co. G
WOODWARD, GILBERT: Co. F2
WOODWARD, ELBERT S.: 2nd Lt./1st Lt., Co. F2
WOODWARD, WILLIAM W.: 1st Sgt., Co. G
WOODWARD, JOHN: Co. K
WOODWARD, NELSON: Co. K
WOODWARD, JAMES H.: 4th Corporal, Co. K
WOODWARD, WILLIAM W.: 2nd Corp., Co. K
WOODWARD, ALEXANDER FLETCHER: 2nd Sgt., Co. F2
WOOLIVER, FRANCIS D.: Musician, Co. G
WOOLIVER, ISAAC: Co. G
WOOLIVER, JOHN: Co. F2
WOOLIVER, GEORGE: Co. F2
WOORK, STEPHEN: Co. G
WORLEY, JOHN: Co. A
WORLEY, JAMES: Co. F2
WORREL, STOPHIN D.: Co. D
WRIGHT, HENDERSON: Co. K
WYGAL, CROCKETT: Co. B
WYGAL, MICHAEL B.: Co. B
WYGAL, NEWTON: Co. B
WYNN, JOB: Co. G
WYNN, JOSHUA: Co. F2
WYNN, ROBERT: Co. A
WYNN, WILLIAM W.: Capt., Co. G
WYRICK, AUSTON: Co. F2
YATT, MARTIN: Co. E or F
YEARY, DANIEL BOONE: Co. G
YEARY, DAVID: Co. G
YEARY, DAVID J.: Co. A
YEARY, DAVID NEWTON: Co. B
YEARY, HENRY M.: Co. K
YEARY, JAMES C.: Co. B
YEARY, JOHN JAMES: Co. A
YEARY, SAMUEL: Co. B
YEARY, WILLIAM D.: Co. K
YEARY, WILLIAM J.: Co. A
YEARY, WINSTON R.: 5th Sgt., Co. G
YOUNG, DAVID Y.: Co. K
YOUNG, HIRAM: Co. K
YOUNG, JAMES: Co. K
YOUNG, JAMES: Co. F2
YOUNG, SAMUEL: Co. F2
YOUNG, WILLIAM: Co. K
YOUNT, J. T.: Co. B
ZION, JOHN P.: Co. G
ZION, WILLIAM PARSONS: Co. A