Austin Bledsoe Cemetery, Blackwater, VA
The Austin Bledsoe Cemetery is located on Flower Gap Road just off 604 in Blackwater, Virginia, behind the Robinette Funeral Home.  My uncle Paul Roberts advised me that it was a "Republican cemetery", and that typically only people who considered themselves staunch Republicans were buried there.  You can find a listing of graves in this cemetery at https://www.findagrave.com/cemetery/49487/memorial-search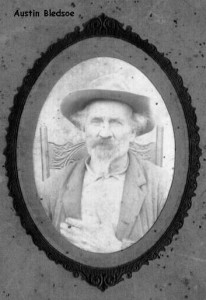 Austin BLEDSOE was the son of Isaac R. BLEDSOE and Milly (Unknown). He was born 7 April 1833 in Scott County, Virginia. He died 20 March 1915 and is buried in the cemetery that bears his name. He married Elizabeth ROBINETTE on 7 January 1857 in Scott County, Virginia. She was the daughter of Jesse ROBINETTE and Susan ROBERTS. Austin was a brother to Andrew BLEDSOE, the father of Hiram BLEDSOE.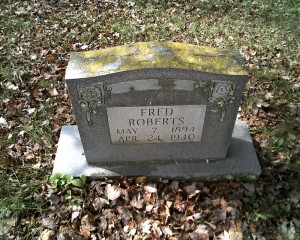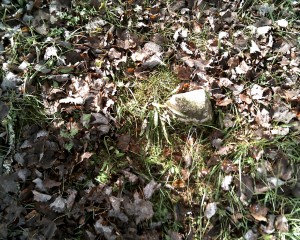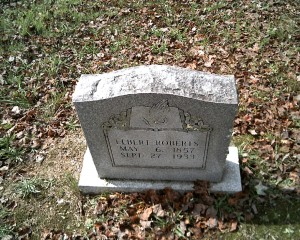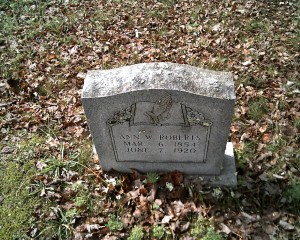 Below are the headstones or grave sites for some of my family members.  My oldest great aunt, Hettie (Roberts) Nickels and her husband are buried between my grandfather and great uncle Sug.   But there are no markers for their graves.  It is believed that her sister, Ada P. "Addie" Roberts, who died in 1914 at age 21, is also buried there.
Since there was no space left next to my grandfather for my grandmother, Esta Mae (Wallen) Roberts, she is buried next to her father in the Baker Cemetery in Kyles Ford, TN.  I have a page for that cemetery on this site.
According to my uncle Paul Roberts, who helped dig one of the graves, and Governor Russell, who helped dig all of the graves, the headstones are not placed correctly.  This is due to them being placed in recent years by family members.  The graves are located near a large tree next to the fence on the lefthand side as you enter the cemetery.  Starting at the fence, the order is Bascum Roberts, Ann Roberts, Elbert Roberts, Fred Roberts, Hettie Nickels' husband, Hettie Nickels(Fred's oldest sister), and "Sug" Roberts.
My great grandparents had 5 children that died while infants or children.  It is believed that they are also buried in the Austin Bledsoe Cemetery with only rocks to mark their graves.
They also had 3 other daughters, Effie (Roberts) Stout, Virgie (Roberts) Morgan, Wortie (Roberts) Gregory, and Ann (Roberts) Quillen, who moved to TN, NC, and SC and are buried in those states.  They are included in my "Family Buried Abroad" page.