Burke Homeplace & Cemetery, Blackwater, VA
The Burke homeplace is located on highway 603 in Blackwater, Lee County, VA.  It is right at the Scott County line. The house was built in the late 1800s by Robert and Polly Burke, my great, great grandparents.  At least 3 generations of Burkes grew up in this house, including my great grandfather, Harrison Burke, and my grandmother, Nettie Mae (Burke) Baker.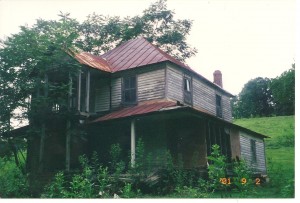 This picture was taken in September of 2001.  My understanding is that is has been renovated since then and is in much better condition now.  I will try to get a current picture uploaded at a later date.
Below I have posted some pictures of the headstones of my family buried in the cemetery on the old Burke property.  These pictures were taken by my uncle, David Baker, in September of 2001.  Before you see the pictures, I have to share the humorous story of that visit.
It was a warm day in September, and my uncle David had gotten permission by the current owners of the Burke property for us to go and take some pictures.  He was working on his own genealogy website and did not have any pictures of the Burkes' headstones.  My dad and I went along with him.  Being a Florida resident, I foolishly went in shorts, sandals, and a muscle shirt.  The old house and cemetery were very overgrown, as the owners were using the property to graze their cattle.  As we climbed up the hill to the cemetery, we had to cross a ditch that had barbed wire placed right at neck level.  We entered the cemetery with David in the lead, dad in the center, and me bringing up the rear.  As David starting taking pictures of headstones, dad doubled over and began to slap his legs, making a "Whoa! Whoa! Whoa, whoa, whoa!" sound.  David and I stared at him, wondering if he was doing a war dance.  Then, we began to feel the sharp stings, a couple at first, then several.  We realized that dad had stepped on a yellowjackets' nest and that we were being attacked.  We ran out of the cemetery in reverse order of our entry, bending sideways so that the barbed wire would not decapitate us.  We ran down the hill as fast as we could, slapping yellowjackets all the way and listening to David laughing till he was out of breath.  Ironically, David received the least damage although he was the last one out.  The next day, dad and I looked like we had both lost a fight.  David laughed for days about the incident.  Dad did not find it very amusing.