The Rebels pay an unwelcome visit to the Wallen's log cabin
Posted On August 27, 2010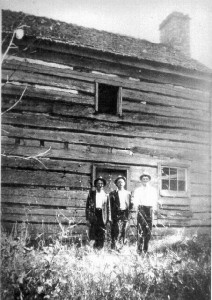 While William "Big Sandy" Wallen and his son, Joe Wallen, were serving during the Civil War in the 8th Tennessee Cavalry, USA, the rebels made a stop at their log cabin in Kyles Ford along the Clinch River.  They slaughtered their single milk cow, cooking it and eating it.  They then proceeded to throw the bones and scraps into the loft where Mrs. Jane Wallen and her children were sleeping.  One of these children was David Wallen, my great-grandpa.
In the morning, the soldiers loaded up all of her quilts and prepared to leave.  She begged them to leave the quilts, saying, "You've eaten all of our food and are starving us to death.  Please leave the quilts so my children don't freeze to death!"  The soldiers responded by throwing the quilts in the mud for her to retrieve.
Hawkins County was one of many areas that had boys serving on both sides during the Civil War.  Unfortunately, stories like this are not uncommon.  Feelings ran strong on both sides.
This would have happened after October 1, 1863, when the Wallen men enlisted in the army.  So that puts it sometime between that date and April, 1865, when William was mustered out of service.
Here is how the cabin appears today.  It was covered in siding a number years ago to protect it.