Elisha Wallen the Long Hunter
Posted On August 27, 2010
From: Pathfinders, Pioneers, & Patriots
originally posted at http://www.ancientfaces.com/research/story/383170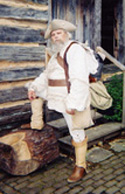 Born in 1732 in Prince George County, Maryland, Elisha Wallen was to become an important character in the history of the settlement of the West.
He stood about 5'10" tall and weighed about 180 lbs., was squarely built, and had a dark complexion with rough features. Although he had little education, he was quick witted, easy-going, and very honest and disciplined.  He lived entirely by hunting, and the knowledge he acquired on his expeditions did much to encourage settlers to follow.
In 1761, as soon as the Cherokee were pacified, Wallen gathered a group of relatives and friends for a big hunt far beyond the settlements in the valleys of the New River. With him were his father-in-law, brother-in-law, William and Jack Blevins, Henry Skaggs, Walter Newman, Charles Cox, and about a dozen other trained woodsmen (including Daniel Boone, who traveled with the party to Wolfe Hills, (Abingdon, Va.) ). They crossed the Blue Ridge Mtns., into the road leading beyond the New River and ranged into the hidden coves and valleys of the Holston, Clinch, and Powell Rivers. They followed buffalo paths to big licks, wandered up and down streams, and crossed rugged mountains. And they found a veritable hunter's paradise. They feasted on the game and collected many skins and furs for the Eastern Market. In camp they built pole scaffolds several feet above the ground on which they piled their pelts. A pole on top kept the skins packed together. An elk or buffalo hide, or strips of bark protected them from the weather. When enough were collected, the men folded and packed the pelts in bales weighing 50 – 100 pounds. Two bales made a horseload.
Their trip lasted for 18 months and covered much of the wild region between Long Island and Cumberland Gap – the country later traversed by the Wilderness Road. They named many ridges and streams. Wallen himself is remembered by Wallen's Ridge and at least two Wallins' Creeks.
Newman's Ridge was named for Walter Newman, a member of the party. Wallen's men changed Walker's Beargrass River to Powell River, because of the frequency with which they came upon "A.Powell" – carved by Thomas Walker's companion on beech trees along the bank. It is also likely that they changed the name of "Cave Gap", to "Cumberland Gap".to conform with the name by which the mountains were now being called.
In 1762, he participated in a second Long Hunt, travelling through Flower Gap to the New River. From there he proceeded over Iron Mountain at Blue Springs, down the South Fork of the Holston River and on to Elk Garden. Between Jonesville and Rogersville, he made a "station camp" for his hunting party to use as a base for their hunting.
In 1763, he went on his 3rd hunt, with approximately the same group as before. They followed the old trail through Cumberland Gap and trapped on the headwaters of the Cumberland River, in South Eastern Kentucky – notably "Stinking Creek", a tributary of the Cumberland, often mentioned in the annals of the Wilderness Road. They extended their hunt to Rock Castle Country, and Westward until they encountered flatter land. They came to a large crab orchard at some great springs. That spot, still known as Crab Orchard, became a significant point on the Wilderness Road. News of Wallen's profitable long hunts, stimulated others on the border. The fur trade was attractive and became an important way for settlers to supplement their income when crops were in.
In 1767, he was elected Captain of the County Militia under Major Theophilas Lay.
Later in his life he built a cabin and resided near his Wallen's Station between Kyles' Ford and Jonesville, Va.