Captain David Looney's Militia Roster, 1774 Fincastle County, VA
Posted On August 27, 2010
originally posted at http://listsearches.rootsweb.com/th/read/COPE/2001-04/0987874434
Capt. David Looney's CO 1774 Fincastle- 34 men listed and here are a few of these men.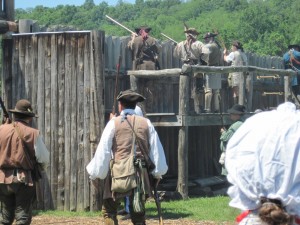 1) Lt. Daniel Boone- Jno. Anderson Ensign
2) Israel Boone
3) Joseph Blackmore- I believe this is Blakemore – has Fort ( 1774 Fincastle
) listed in Russell CO VA- found on petition for Lee CO VA with Copes.Joseph
Blakemore listed 1792 Russell/Lee CO VA petition next to William Cope and
Jeremiah BOLLING.Joseph Blakemore has dau. listed Molly who marr. Jesse Adams and he was killed by Indians in Russell CO VA.
4) Enoch Osborn- has his own Militia 1782 Montgomery CO VA – listed 1782
Mont. CO VA tax list by the Penningtons. I believe he is related to Caleb
Osborn who has a tax list 1761 Rowan CO NC with Ephriam Pennington, Morgan Bryan, John Willcockson, Benjamin Cutbirth and William Linville listed.
5) Edward Boackmore/Blackmore/Blakemore
6) Samuel and David Cowan
7) William, David and Henry Robertson
8) Ephriam OSBORN- 1782 in Capt. Osborn's Militia Mont. CO VA – 1761 Tax list of Caleb Osborn Rowan CO NC.
9) Stephen Osborn- 1777 Osborn Militia and 1782 Mont. CO VA tax list found by the Penningtons.
10) Edward Williams- collecting this name found in Rowan CO NC and KY.
11) Isaac Veaver/Weaver- this name found in a lot of listings including 1782
Mont. CO VA, 1787-1790 Wilkes CO NC.
12) Thomas Hash- 1782 Mont. CO VA tax list, 1782 Capt. Osborn's Militia.
13) William VAUGHAN- 1782 Elk Creek Militia with William and Andrew Cope- one listing shows a William Vaughn filed a pension 1832 Grayson CO VA- age 71- ?-
14) John Colin- 1782 Elk Creek Militia listed as Collings- my guess could be
related to the Melungeon Collins.
15) Deswell/Dosewell Rogers- 1777 mont. CO VA Militia Cox's list.
16) Jno. Rice- 1777 Cox's list and 1782 Elk Creek Militia
17) James WALLING- marr. mary White- died 1786 Mont. CO VA- son of Elisha & Mary Walling.
18) Joseph WALLING- marr. Millicent Jones- son of Elisha & Mary Walling.
19) George Jones
20) Micajah BUNCH- I believe this man related to Micajah Bunch list 1755
Orange CO NC as a Mullatoe. The Bunch family found 1830 Hawkins CO TN as
FPCs. This name found 1778 Wilkes CO NC. The Melungeons' are found 1780s and 1790s Wilkes CO NC and show up as Black on the 1800 Ashe CO NC census. They are Gibson and Collins who are are listed 1820 Floyd CO KY as FPCs.
21) Thomas WALLING- marr. Mary COX- son of Elisha Walling & Mary Blevins.
22) William ROBERTS- marr. Elizabeth Walling- dau. of Elisha & Mary Walling-
William Roberts believed to be a brother of Cornelius Roberts.
23) Cornelius Roberts.
Note: Cornelius Roberts – listed 1782 Montgomery CO VA tax list 17 names from William Cope.  Cornelius Roberts listed next on land deed 1783 Washington CO VA- Glade Hollow- branch of Cedar Creek- Cornelius still had land 1787 Montgomery CO VA  1787.